One of the best ways to earn points for free hotel stays is by using the promotions run by hotel reward schemes.
That's because it's often possible to hack (i.e. take advantage of) the promotions to earn a large number of points for a minimal amount of spend.
We booked a one-night hotel stay in February 2017 for less than $60. This earned us enough points for almost eight free nights in hotels. Here's how we did it…
Step 1 – Accelerate!
Shae and I are both members of IHG Rewards Club. From January 1 to April 15, they ran a promotion called Accelerate. With this promotion, every IHG Rewards Club member received a set of challenges.
These were targeted challenges, so they varied from person to person. My set of challenges wasn't too bad, but it required stays at four different IHG hotel brands to earn any worthwhile bonus points. We didn't have any major travel plans at the time, so we passed on my challenges.
Shae's set of Accelerate challenges was a different story. Here's what they were: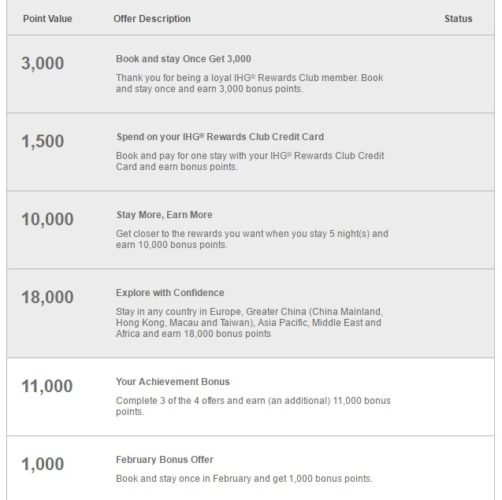 If she completed any of those challenges, she'd earn the number of points listed on the left. If she completed three of the four challenges shaded in gray, she'd also earn the 11,000 achievement bonus points listed below that.
Step 2 – Activate The Promotion
Even though we'd received emails about the promotion, we had to register in order to activate our participation. This was as simple as clicking a link in the email they'd sent, logging in to our account and checking a box to say she wanted to participate.
Step 3 – Maximize The Promotion
The great thing about the Accelerate promotion was that you could complete more than one challenge at a time.
Looking through Shae's challenges, it became apparent that we'd be able to complete many of them with just a single night's stay.
Here's why: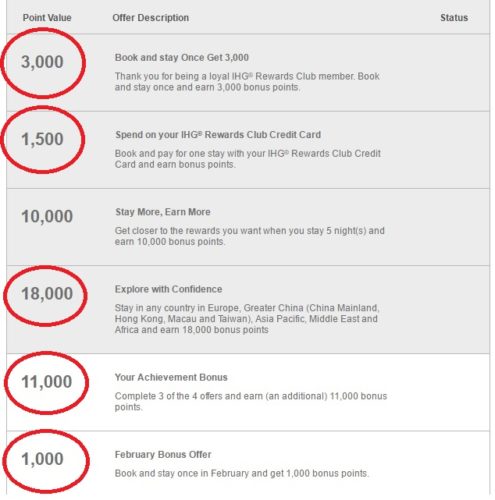 If we booked a one night stay at an IHG hotel outside of North and South America in February, we'd earn five of the six bonuses. The one night stay would complete the first and sixth challenges and we'd pay with her IHG credit card to complete the second.
The sticking point was the fourth challenge. We live in the US and didn't have any international travel planned. But where there are problems, there are also solutions.
All we needed was to find a way to book a one night stay overseas. That would complete both the fourth and fifth challenges.
Step 4 – Enlist Some Help
I'm originally from the UK, so still have family and friends there. While chatting to my sister, she mentioned she'd be picking up her roommate from Heathrow airport early one Sunday morning in February.
Checking IHG's website, I saw they had several hotels at Heathrow that weren't very expensive. So I made my sister an offer – would she like to drive up to Heathrow the night before and stay in a hotel so she didn't have to get up as early the next morning?
I think she was a little confused how we'd benefit so much from paying for her to stay in a hotel, but she was happy to accept. We booked a room for $58.30 and added her name to the reservation. We also added a comment asking them to let her check-in.
As we prepaid for the room using Shae's IHG credit card, we figured there wouldn't be an issue with my sister not providing the same card for incidentals.
We also clicked through to the IHG website from the TopCashback portal. This earned us $4.67 cashback, reducing the overall cost of the hotel stay to only $53.63.
(n.b. That link to TopCashback is our referral link. If you sign up at TCB using that link and earn $10 cashback, we'll get a $10 referral bonus – a few gallons of gas for our road trip 🙂 ).
Step 5 – Complete The Stay
February 25 came round and my sister was able to check in without any issue. She got a good night's sleep and was able to pick up her roommate without having to get up a couple of hours early.
Step 6 – Earn All The Points
This is always the fun part – watch as all the bonus points roll in after the stay! It took about three weeks for the different bonus points to post to Shae's account:
Here's a breakdown of the points:
730 points for a Qualifying Stay – these points are unrelated to the Accelerate promotion itself. You earn 10 points per dollar when booking a stay; Shae's also a Platinum member so she earns a bonus 5 points per dollar. 730 / 15 = 48.67 which was the room rate minus tax.
1,000 points for February Bonus Offer – that was the sixth bonus challenge.
3,000 points for Book And Stay Once Get X – in this case, Shae's X was 3,000 points and was the first challenge.
18,000 points for Explore With Confidence – this was the bonus we received because the hotel we booked was in Europe.
292 points for IHG Credit Card Spend – you also earn five points per dollar when paying for an IHG hotel stay with their own credit card. The room rate of $58.30 * 5 = 291.50 which they rounded up to 292.
1,500 points for Spend On Your IHG Rewards Club Credit Card – this is different from the 292 points listed above as these 1,500 points were from the second challenge.
11,000 points for Your Achievement Bonus – last but not least, we earned these points for completing three of the four Accelerate challenges shaded in gray.
That means we earned a grand total of 35,522 IHG Rewards Club points from a $53.63 hotel stay.
Step 7 – Spend The Points
We haven't spent the points yet but we know how we'll be using them on our 5 year, 50 state road trip.
IHG publish a list of PointBreaks hotels every three months. For that limited period of time, the hotels only cost 5,000 points. If you have the IHG credit card (as we both do), you also get a 10% rebate when redeeming points. This reduces the net cost of PointBreaks hotels to 4,500 points.
That means the 35,522 points we earned will get seven free nights at hotels on the PointBreaks list. In fact, that's almost enough for eight free nights as that'd cost 36,000 points.
How You Can Do This Too
OK, so this promotion has already ended so you can't do exactly the same as us. However, IHG have run several of these Accelerate promotions in the past, so hopefully they will again.
Therefore, the best thing to do is join IHG Rewards Club if you're not already a member – you can do that here. If you have a partner, register them too as they might get targeted with different challenges.
Then keep an eye out for emails from IHG and be sure to register for any promotions they send you.
Summary
If you want to maximize your travel and get free hotel stays, keep an eye out for different promotions run by hotel chains.
If that seems like too much effort, there's an easier way – simply sign up for our free email newsletter. We'll keep you updated on any lucrative promotions out there so we can help you travel more.