One of the ways that we can afford to go on our 5 year, 50 state road trip is by maximizing hotel loyalty schemes.
My favorite hotel rewards program is IHG Rewards Club – home to Holiday Inn Express, Holiday Inn, Crowne Plaza and several other brands. Although their status isn't great compared to other hotel chains, it's possible to earn a ton of free nights with them when using their reward scheme in the right way.
To help you also take advantage of what they have to offer, here's my guide to earning the most free hotel nights with IHG.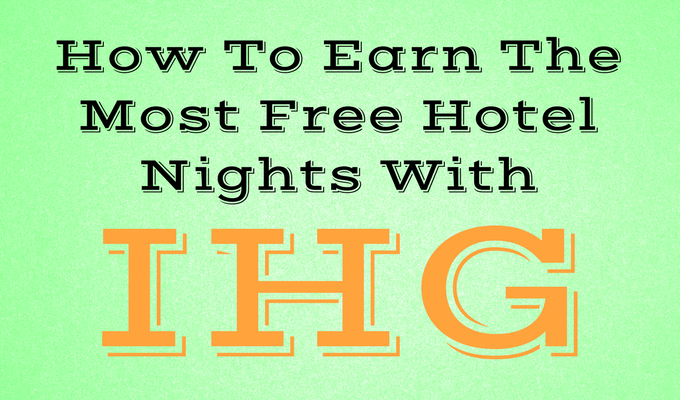 Earning Points
There are many ways that you can maximize your points-earning opportunities with IHG Rewards Club. Here are the most rewarding options.
1) Credit Card
I've written before about the IHG Rewards Club credit card, so check out this post for more in-depth information. There are several ways that it can help you earn more points:
Signup Bonus – The standard signup bonus is 60,000 points, but it frequently increases to 80,000 and even 100,000 points.
Platinum Status – The card comes with Platinum status. As a Platinum member of IHG Rewards Club, you earn a 50% bonus on base points earned when staying at IHG hotels.
Bonus Points – The card offers an additional five points per dollar spent at IHG brand hotels.
10% Points Rebate – If you own their credit card, IHG offer a 10% rebate when redeeming those points for reward stays. For example, if you redeemed 100,000 points, you'd get 10,000 points back.
Free Night – When renewing your credit card each year, your IHG Rewards Club account is credited with a free night certificate. This certificate can be used at any IHG hotel worldwide. It's possible for that free night to save you more than $2,000!
2) Register For Promotions
IHG frequently run promotions offering bonus points for stays; one common promotion is called Accelerate. The Accelerate promotions set you challenges to complete in order to earn the bonus points.
Everyone's set of Accelerate challenges is different, but it's sometimes possible to complete your challenges when staying just one or two nights. We've earned enough points from a one-night stay to get seven free nights in the past.
3) Dining Rewards
IHG Rewards Club has partnered with Rewards Network for you to earn points when you eat at select restaurants. To participate, you have to register any cards you'll be using to pay for your meals. It's a great way to earn bonus points for what you'd be spending money on anyway.
4) Transfer Partner
IHG Rewards Club is a transfer partner of Chase Ultimate Rewards. This isn't usually the best use of Ultimate Rewards, but if you'll be redeeming them in the method mentioned below, there's the potential to get some great value from them.
Redeeming Points
IHG officially have 11 categories of hotels requiring between 10,000 points to 60,000 points per night. There's an even sweeter spot than the 10,000 level though.
Every three months, IHG publish a list of dozens of hotels that only require 5,000 points per night which is known as the PointBreaks list. The hotels on this list change every three months and you can only book them at the reduced rate for stays during that three month period.
The US-based hotels on the list are frequently the Candlewood Suites, Staybridge Suites and Holiday Inn Express brands. This is perfect for our 50 state road trip as it means many hotels on the list are pet-friendly and we're traveling with our dog Truffles.
Having said that, the best value is often found at the overseas hotels on the list. That's because you can sometimes find InterContinentals and Crowne Plazas on the list.
There's limited availability of PointBreaks rooms at each hotel on the list. It's therefore important to book ASAP when each new list comes out. At the time of publishing this, the next update is due to be at some point towards the end of October 2017. There's not a regular date when it's updated every quarter, although IHG update this post on their blog a day or two before the new list goes live.
The IHG Rewards Club credit card can help you maximize PointBreaks even further. As mentioned above, it offers a 10% points rebate on reward stays. That rebate means PointBreaks nights only end up costing you 4,500 points per night.
If you get the credit card when it has a 80,000 signup bonus, you'd earn enough points for 18 free nights in PointBreaks hotels once you've met the minimum spend requirement on the card. That's incredible value.
Other Posts In This Series
Check out the other posts in this series to find out how to earn the most free hotel nights at:
Question
Do you have any other tips on how to earn and redeem points with IHG Rewards Club? We'd love to hear your suggestions in the comments below.