Starwood Preferred Guest (SPG) is Starwood Hotels's loyalty scheme for all their brands, which includes Sheraton, Aloft, W and Westin.
There are several ways that you can increase the number of Starpoints you earn, as well as a few ways that you can make your points go even further.
We'll be using these methods on our 5 year, 50 state road trip to help lessen our travel costs, so here's our guide to earning the most free nights with SPG.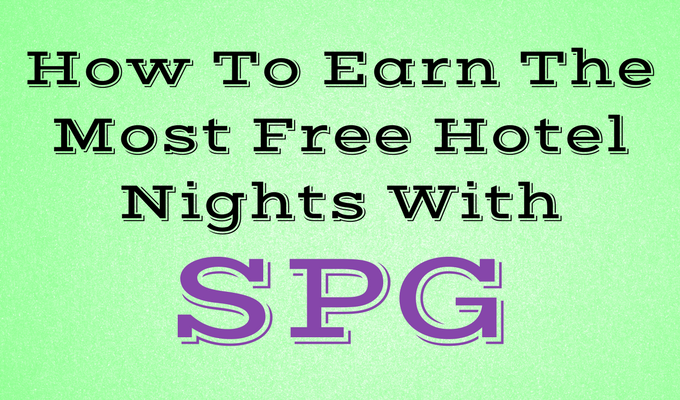 Earning Points
1) Public Promotions
SPG tend to have some kind of promotion running all the time. This will usually involve earning bonus points on stays, but can occasionally be something like "Stay three times, get a free night".
They have a specific SPG Promos site where you can see the latest promotion and register your account.
2) Targeted Promotions
SPG also frequently run targeted promotions, so be sure to check your emails for an invitation.
For example, Shae received an email in August offering double stay and night credits for stays between September 15, 2017 and December 15, 2017. Although this particular offer doesn't earn her additional points, it can halve how long it takes to earn a higher status level.
Unfortunately I wasn't targeted for the same promotion. I'm further along on the road to Platinum status, so this promotion would've been a nice boost for me.
3) Make A Green Choice
When you're staying for 2+ nights, you can earn bonus points with SPG's Make A Green Choice program. For each night that you decline housekeeping, you'll earn 250-500 bonus Starpoints (the number you receive is based on the brand you're staying at).
You can't take advantage of the program on your last night as your room has to be serviced in the morning anyway, hence why it's not available on one-night stays.
4) Status
If you have SPG Gold or Platinum status, you'll earn points at a higher rate (three points per dollar rather than two). The great thing is that there are a couple of ways to earn Gold status even if you haven't stayed at SPG properties before.
One possibility is if you have status with Marriott. As Marriott have bought Starwood Hotels and are in the process of merging the loyalty schemes, you can match Marriott Gold status to SPG Gold and Marriott Platinum to SPG Platinum.
Alternatively, one of the benefits of the American Express Platinum credit card is SPG Gold status.
5) Credit Card
SPG currently have two credit cards issued by American Express – one personal card and one business card. When paying for your stays at Starwood properties with one of these cards, you'll earn an additional two points per dollar.
Their signup bonuses sometimes go as high as 35,000 points which, in theory, can earn you more than 15 free nights in some Starwood properties (see the Redeeming Points section below to find out how.)
6) Transfer From Marriott
I mentioned above that Marriott are in the process of merging their loyalty scheme with Starwood's. One feature that's already been introduced is that you can transfer points between the two.
Three Marriott Rewards points convert to one Starpoint. That may not sound like a great deal, but you usually require far more points for a stay at Marriott's brands than at Starwood's, so it's a somewhat fair ratio.
7) Transfer Points
SPG allow you to transfer points to another household member in 1,000 point increments. That can be a great option if you wouldn't have enough points in your own account for a reward stay.
8) Fly Delta
If you have Gold or Platinum status with SPG, you can link that to your Delta SkyMiles account. You'll then earn one Starpoint for every dollar you spend with Delta.
Redeeming Points
There are a few ways to maximize your points for free nights with SPG:
1) Stay At Category 1 & 2 Properties
Although SPG have loads of luxury properties, the best way to make your points go further is to stay at category 1 and 2 properties.
Category 1 properties require 3,000 points for midweek stays and only 2,000 points at the weekend. Category 2 properties require 4,000 points for midweek stays and 3,000 points at weekends.
The downside for me and Shae is that there are only a couple of category 1 properties in the US. We'll therefore have to use our points at category 2 hotels on our road trip if we want to stretch our points. The good thing is that there's a ton of category 2 hotels in the US which'll help us maximize our points.
2) Get The 5th Night Free
Similar to Hilton and Marriott, SPG offer the 5th night free on reward stays. The downside with SPG's setup is that it's only for hotels in category 3 and above.
That means we likely won't take advantage of this opportunity as we'll only use points for category 2 hotels, but it might be a good option for you if you'll be staying at higher category level hotels.
3) Use Cash & Points
If you don't have enough points for a reward stay, some Starwood properties allow you to pay with a mix of cash and points.
There are a few downsides with this option though. The first is that you don't earn points on the cash portion. The second is that not all hotels offer this option.
The third issue is that the number of points required doesn't always provide great value. For example, I did a search for a three night stay in Virginia and here are some of the results.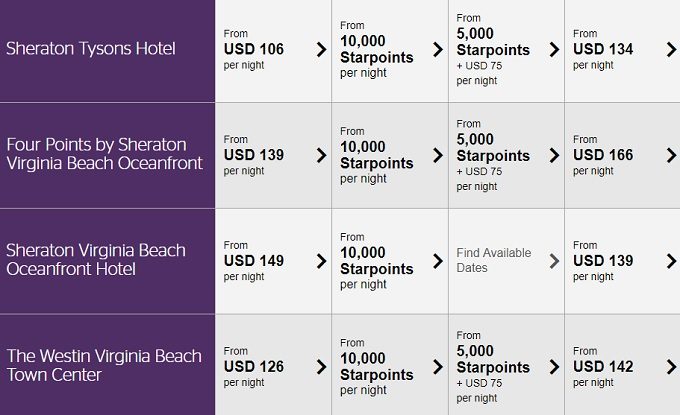 Let's take the first example in that list. The Sheraton at Tysons Corner would cost $106 (plus tax) per night versus 5,000 Starpoints and $75. You'd therefore only be saving $31 (plus tax) in exchange for using 5,000 Starpoints.
When redeeming your points with SPG you should be looking to get at least $100 in value for 5,000 Starpoints, so $31 makes this a poor redemption value.
Other Posts In This Series
Check out the other posts in this series to find out how to earn the most free hotel nights at:
Question
Do you have any further ideas about how to earn even more points with SPG? Or do you have any other tips for how people can make their points go further when redeeming them?
Please share your thoughts below in the comments.