After spending the afternoon at Wairakei Thermal Hot Spa, our final evening in New Zealand was spent going sailing on Lake Taupo.
The four of us booked tickets to go on a Sail Barbary cruise to view the Mine Bay Maori Rock Carvings.
We started boarding just after 5pm and, as we were the first in line for our boat, took a seat at the front of the boat.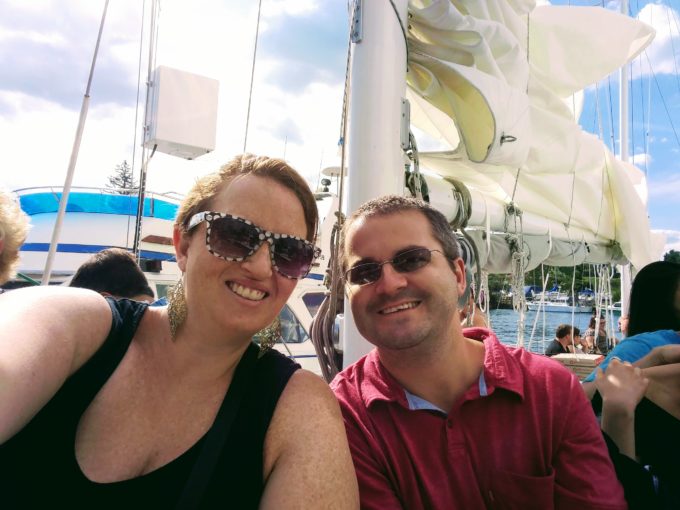 It didn't take long for everyone else to board, so we were soon on our way towards the carvings.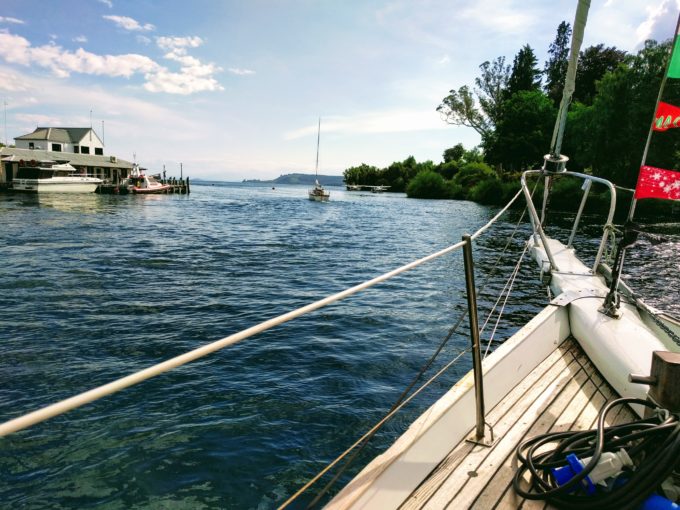 They had two boats going out at the same time, both of which were electric. That made leaving the harbor more enjoyable as it was much quieter than a normal engine, plus it meant there were no fumes.
The cruise included a few slices of pizza (delivered just before we left by Pizza Hut) and a choice of white wine, beer, Coke or Sprite. You can also bring your own food and drink, so we also brought along some bread, cheese, meats, chips and wine.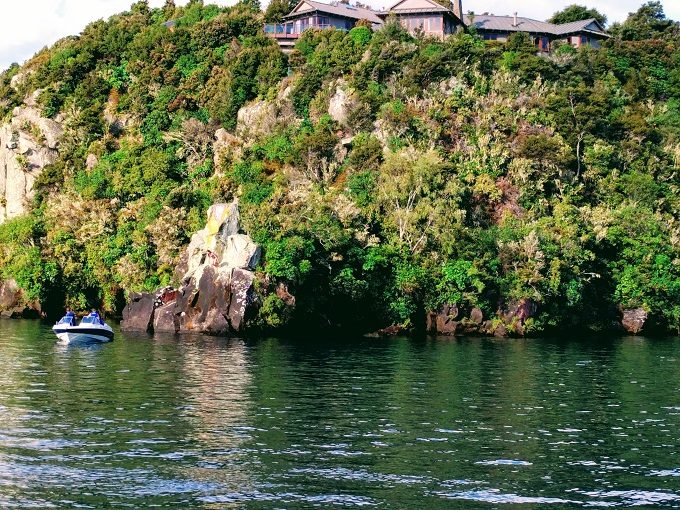 The journey out took something like 45-60 minutes, so we just sat back to enjoy the experience. As we rounded a corner, there were a couple of other boats standing still, so we figured that we were almost there.
Sure enough – we were.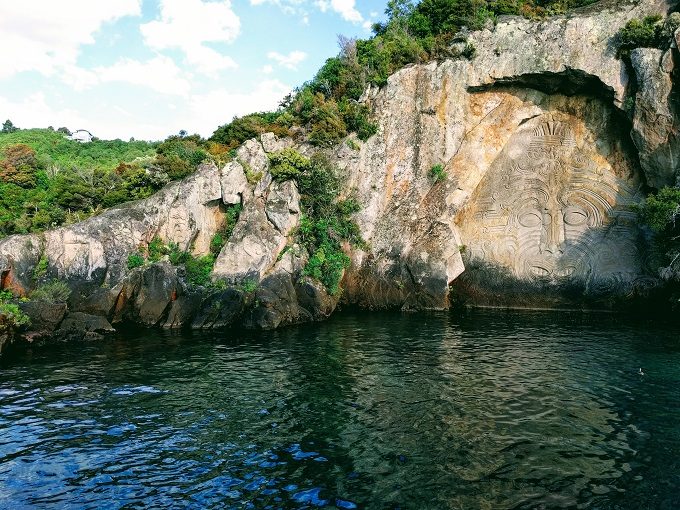 Kerry, the boat's captain, turned off the engine and started explaining the history of the rock carvings. I was only able to hear bits and pieces of what he had to say as we were the opposite end of the boat.
Having read about them after the trip, it turns out that the carvings are relatively new, having been completed in 1980. A carver – Matahi Brightwell – enlisted the help of four other artists in order to create the 14 meter high carving of Ngatoroirangi, his ancestor.
There were also several smaller carvings on the rocks to the left of the main carving.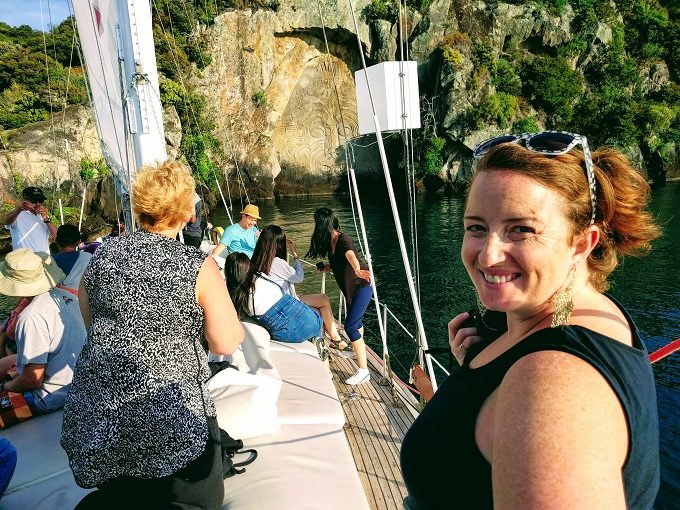 After he finished his explanation, the skipper asked if anyone wanted to go for a swim in Lake Taupo. We hadn't realized that was going to be an option, so we hadn't worn our swimsuits.
As we waited for a couple of people in our group to go swimming (who were prepared with swimsuits), we noticed a lady on a nearby boat stripping down to a T-shirt and her underwear. A few seconds later, she jumped in.
After a quick conversation between ourselves of "I'll jump in if you jump in," Shae, Shae's mom and I decided to take the plunge. Rather than stripping down, we figured we'd jump in fully clothed instead.
So we stepped to the ledge…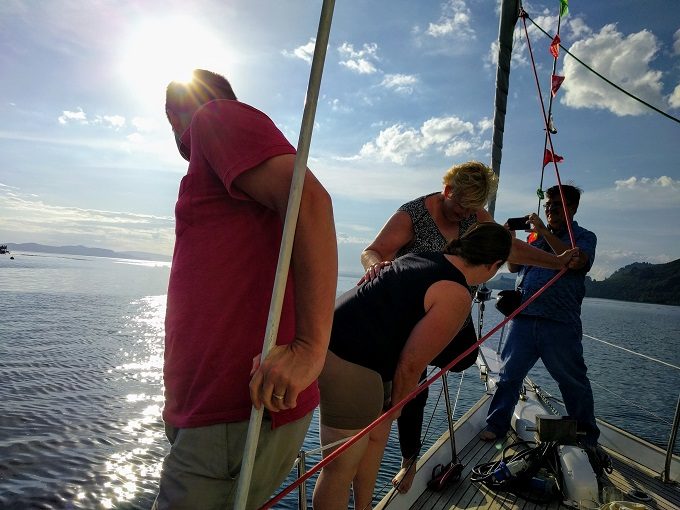 …and jumped in.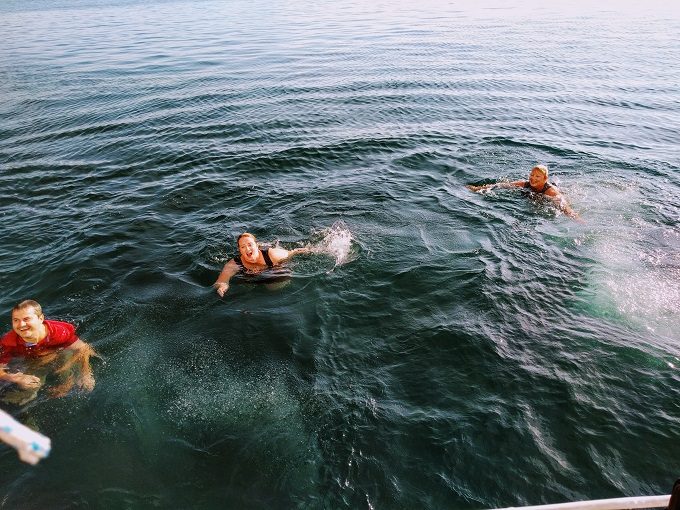 Shae was a little cold, so she made her way back on to the boat. Me and her mom didn't find the temperature as bad and, as we probably wouldn't get this opportunity ever again, decided to have a quick swim in Lake Taupo.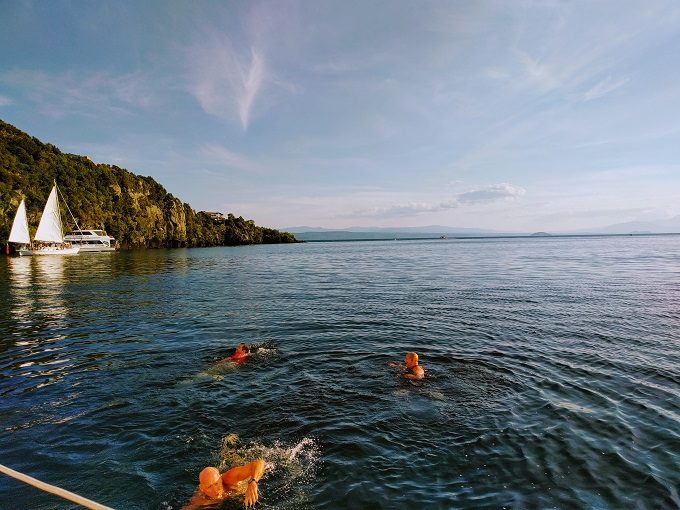 I'm so glad we decided to jump in. It would've been easy to just stay on the boat, but this was a spontaneous experience worth having.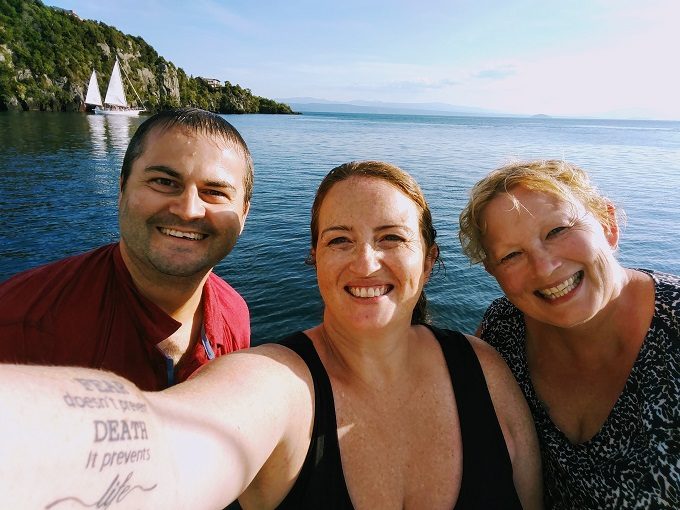 By the time we were back on the boat, the weather had started to turn and the wind picked up, making the sail back much more interesting.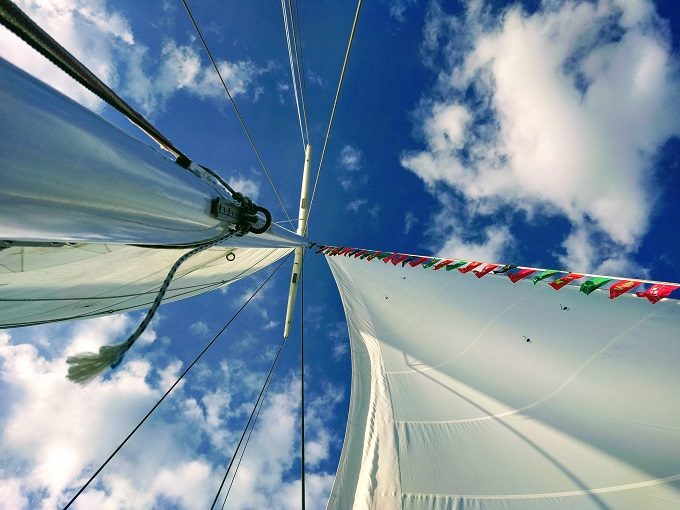 Thanks to the breeze on the way back, our clothes dried off pretty quickly. Lake Taupo had other ideas though – the water became more choppy and started spraying us as we sailed along.
We watched apprehensively as we saw a storm in the distance emptying itself on Taupo, hoping it wouldn't make its way over the boat to drench us any further.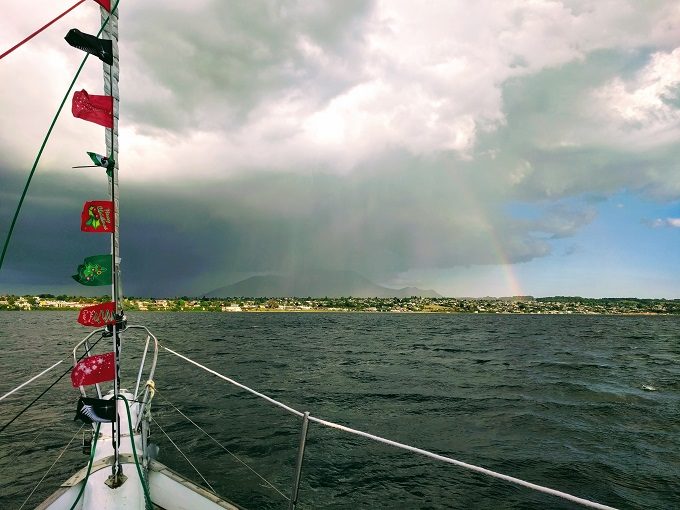 Thankfully the rain held off until we got back to the marina. The weather seemed highly localized though as there was a beautiful sunset behind us on the return journey.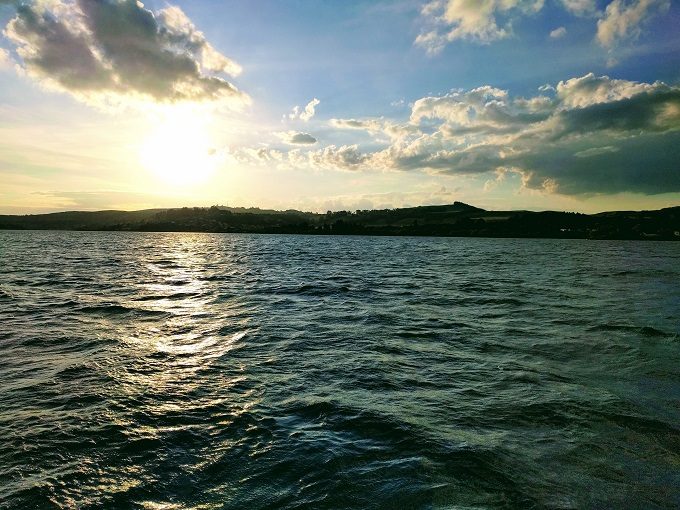 Final Thoughts
We had a great time on the Sail Barbary cruise to the Mine Bay Maori Rock Carvings. Our skipper Kerry was very friendly, the cruise was relaxing and spontaneously jumping into Lake Taupo was the icing on the cake.
If you find yourself at Lake Taupo, we highly recommend this cruise.
(n.b. We don't have any affiliation with Sail Barbary – we don't write sponsored posts or anything like that. We simply had a great time which is why we're recommending it.)
Follow Our Entire Trip Down Under
Be sure to also check out all our other posts from our trip to New Zealand and Australia:
Jumping In At The Deep End On Lake Taupo