Doctor of Credit had an interesting post the other day assessing his predictions for what would happen with travel-related credit cards in 2017.
Now that I have a blog, I thought it'd be interesting to do a similar bit of speculating. I've dusted off my crystal ball and peered into the next 12 months, so here are my predictions about what'll happen with travel credit cards and hotel loyalty schemes in 2018.
n.b. None of these predictions are based on insider knowledge – some of it's guesswork and some are probably more wishful thinking than anything else.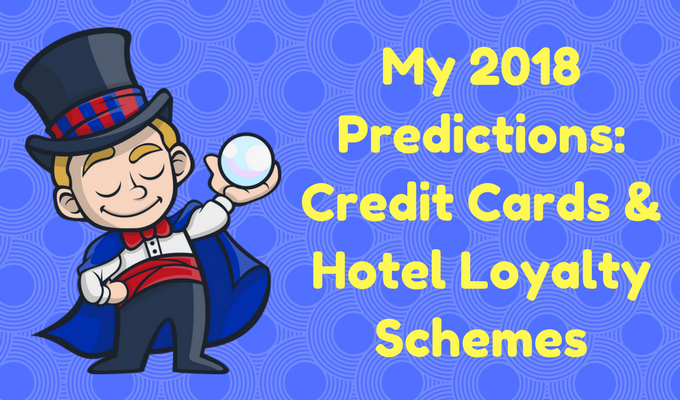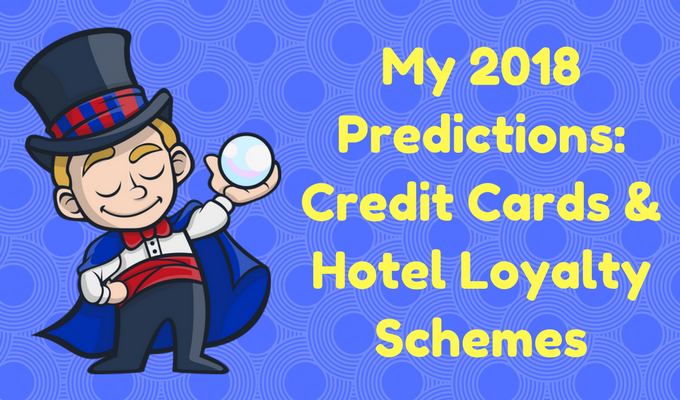 1) Marriott Added As A Membership Rewards Transfer Partner
Now that it's been announced that American Express are obtaining some of the Marriott credit card portfolio, I expect Marriott Rewards will become an official Membership Rewards transfer partner.
It's already possible to indirectly transfer American Express Membership Rewards to Marriott. Membership Rewards transfer to Starwood Preferred Guest (SPG) at a rate of 3:1. So long as your SPG and Marriott accounts are linked here, you can then transfer from SPG to Marriott on a 1:3 basis.
This seems like a needless workaround – especially given the new, closer relationship between American Express and Marriott – so I think this prediction is the one most likely to come true.
2) La Quinta To Launch A New Credit Card
La Quinta used to have a credit card issued by First National Bank of Omaha, but they stopped issuing it a few months ago.
My second prediction is therefore that they'll announce the launch of a new credit card at some point in 2018. Nearly every other hotel chain with a presence in the US has their own credit card, so I'd be surprised if La Quinta continued without one.
As a bonus prediction, I'm guessing that it'd be issued by Barclaycard. Barclaycard also issue the Choice Hotels and Wyndham credit cards, so them obtaining the portfolio for a limited service chain like La Quinta would be in keeping with that.
File this prediction under the wishful thinking column though. We'll likely stay at several La Quintas on our 5 year, 50 state road trip as they're dog-friendly and don't charge a pet fee. It'd therefore be nice to have a credit card for them which would provide some kind of status and bonus points when paying for the stays with their card.
3) IHG To Add Benefits To Spire Elite Status
As much as I love IHG Rewards Club for how easy it is to rack up free nights, their loyalty recognition is craptastic.
Their top status tier – Spire Elite – offers very few additional benefits. You don't get free breakfast, there's no lounge access (not that many IHG hotels have a lounge in the first place) and you're not even guaranteed a room upgrade.
I'd therefore hope that 2018 will be the year they do something about rewarding members with Spire Elite status. Of all the possible options, I'd guess a room upgrade guarantee would be the easiest – and cheapest – to implement. A more impressive enhancement would be to offer free breakfast.
4) Chase Will Increase The Number Of Cards Not Impacted By 5/24
At the moment, Chase have what's known as the 5/24 rule. As a brief explanation, if you've opened five or more credit cards in the past 24 months, they won't approve you for some of the credit cards they issue. Doctor of Credit has a more comprehensive explanation of the 5/24 rule.
Although there haven't been any rumors that anything will change, I'm predicting that they'll increase the number of cards not affected by 5/24.
My thinking on this is due to the two new Marriott credit cards they'll be issuing. Chase currently have two Marriott credit cards – the personal card is affected by 5/24 whereas the business card isn't. Neither of those cards will be continuing in their current form, so Chase (and presumably Marriott to an extent) will need to decide how strict they want to be with approvals for the two new cards.
I'd imagine they'd want to encourage as many signups as possible, so I think at least one of the new cards will be free from being affected by the 5/24 rule.
5) Hyatt Will Allow Rewards Stays To Count As Eligible Nights Towards Status
Hyatt disappointed many of their loyalists when they made significant changes to their loyalty scheme earlier this year. More recently, they appointed a new head of World of Hyatt.
I imagine that the new head will look to assuage some of those negative reactions by making some positive enhancements to the scheme.
One way she could do that would be to allow reward stays to count towards status. At present, only paid nights and Points + Cash nights are classed as eligible nights. This is in contrast to IHG, Hilton, Marriott and SPG which all allow reward stays to count towards status.
Again, file this under wishful thinking but as a logical possibility.
6) IHG Will Increase The Annual Fee On Their Credit Card
At only $49 per year, the IHG credit card provides amazing value. That $49 fee gets you a free night at any IHG hotel worldwide every year that you renew which can easily be worth $500+. This is such an excellent deal, I can't see it being around forever.
Having said that, the card has offered this benefit with a low annual fee for many years. I could therefore easily be wrong with this prediction and would be pleased if I was.
7) Citi Will Launch / Relaunch Spending Offers On Their Credit Cards
American Express have Amex Offers. Chase have Chase Offers. Bank of America have BankAmeriDeals.
These are all offers you can load to your credit cards which offer a statement credit when spending x amount at certain retailers. For example, you might have an Amex Offer for a $60 statement credit when spending $300 at Hilton. With BankAmeriDeals, you might get 10% back when using your card at Panera.
Citi used to have their own version of these spending offers but seemed to ixnay it in the past couple of years. Now that Chase have joined the fray, I'm predicting Citi will either relaunch their old version of the program or launch a brand new version in 2018.
Your Thoughts
What do you think of my predictions? Do you have any 2018 predictions of your own when it comes to travel credit cards and hotel loyalty schemes?
If so, I'd love to hear your thoughts in the comments below.