After leaving New Plymouth in the morning, we made our way northeast to Lake Taupo.
Located in the center of the North Island, Lake Taupo is the largest lake in New Zealand. We'd been drawn to Lake Taupo by the promise of all kinds of water-related activities, so we were keen to spend as much time there as possible.
Huka Falls
Having stopped for lunch along the way, we reached the lake by early afternoon. Our first stop was Huka Falls – a set of waterfalls on the Waikoto River. It's free to visit Huka Falls, so it's not surprising that it's New Zealand's most visited natural tourist attraction.
Before the water reaches the "falls" part, it passes through a channel that looks like it'd be the wildest whitewater rafting experience you could ever experience. The photo below doesn't do justice to the force of the water.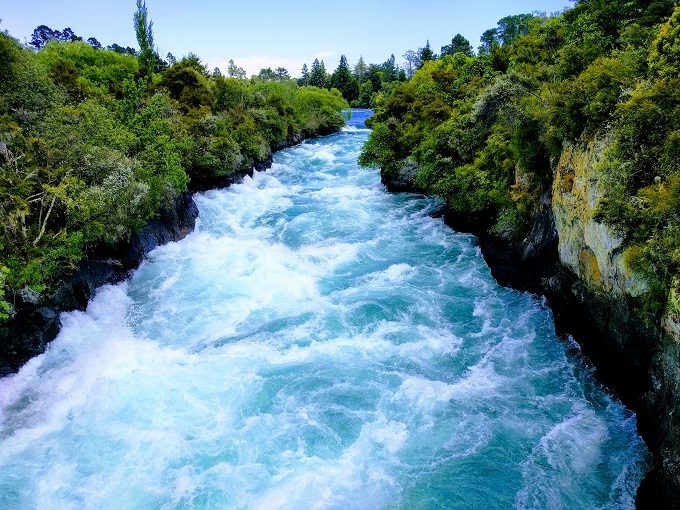 Having visited Mount Damper Falls a couple of days before this, the contrast between the two sets of waterfalls was striking. Mount Damper Falls was a bit of a trickle which dropped 74 meters (243 feet), whereas Huka Falls was a raging torrent but which only drops 11 meters (36 feet).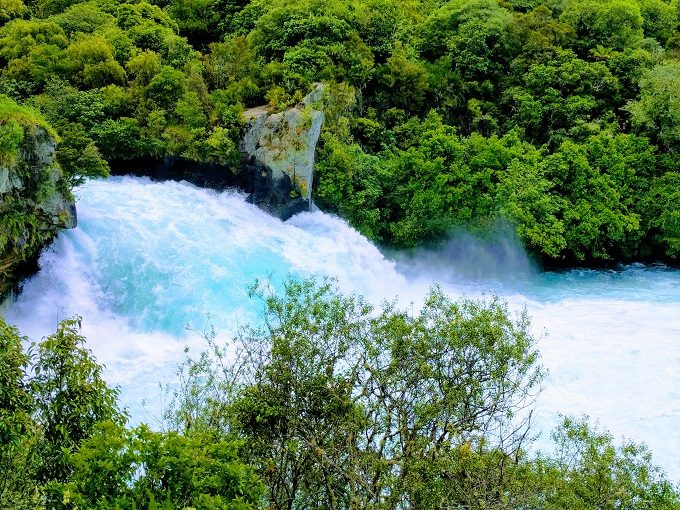 There are walkways on both sides of the falls, so you can view it from this side…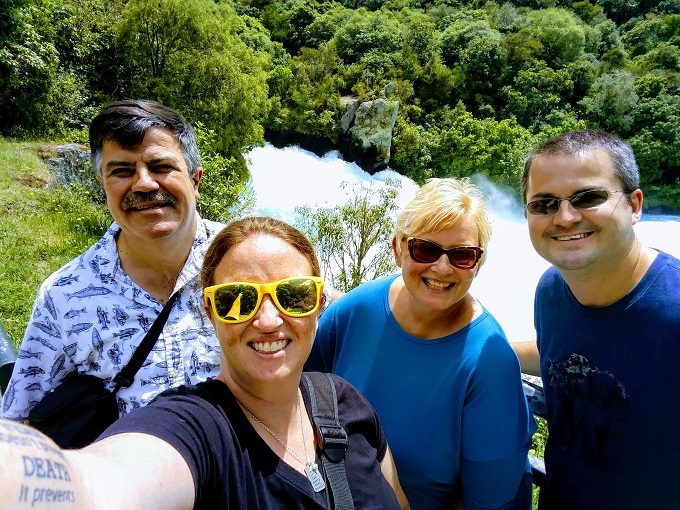 …and this side.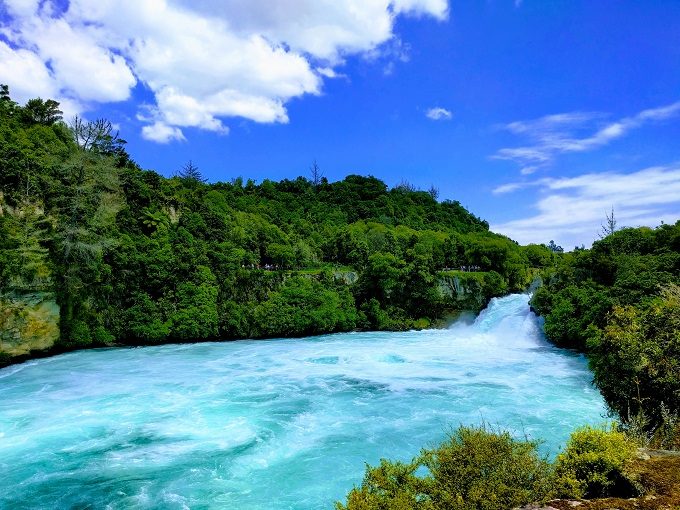 After spending a while at the falls, we made our way to our Airbnb property where we were greeted by the most delicious homemade raisin bread I've ever tasted. The four of us devoured nearly all of it that evening, with only a couple of slices left for breakfast the next day.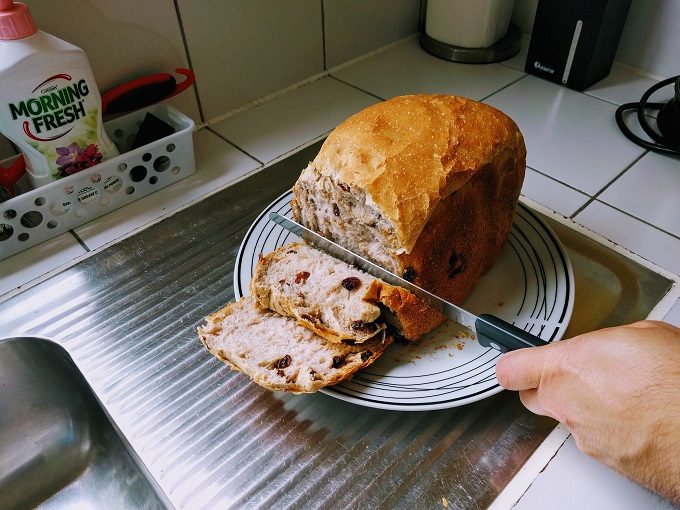 Hot Pool Fail
We'd read that there are various spots at Lake Taupo with free natural hot pools, so we made our way to one the next morning.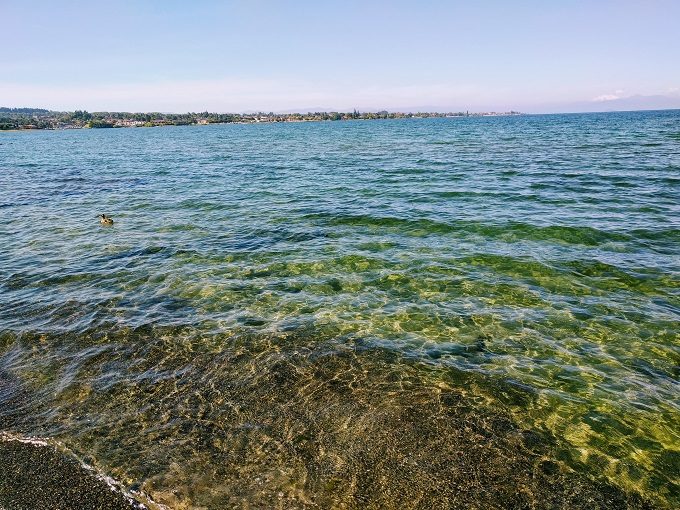 Although there was some hot water running into the lake, the coolness of the lake overpowered the heat, so this is as deep as I dared to go.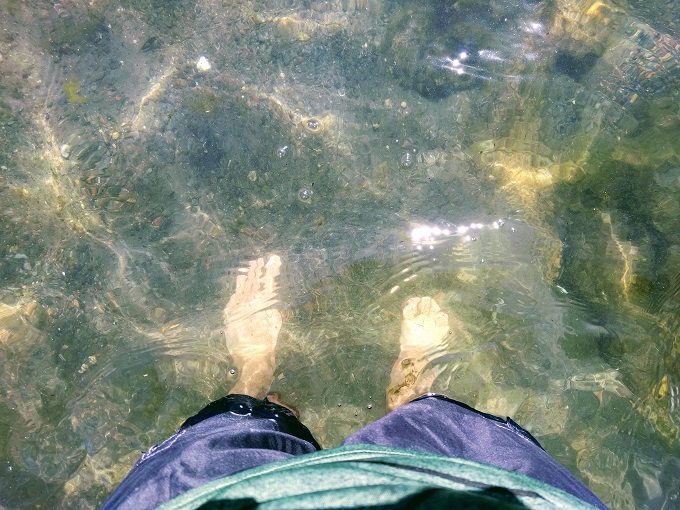 Hot Pool Success
Not to be thwarted, we made our way to Wairakei Terraces and Thermal Hot Spa. Pool entry cost $25 NZD per person (~$17.50 USD), with additional charges if you wanted to rent swimming costumes, towels, etc. We'd brought those with us, so we each paid our $25 and made our way outside to the pools.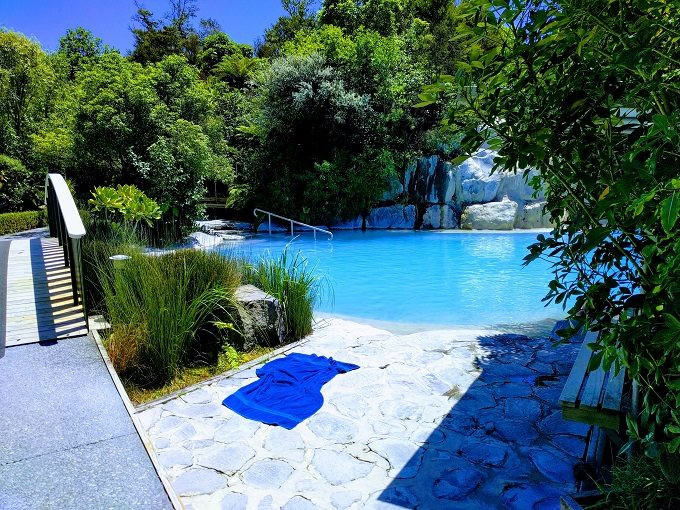 As soon as we saw the pools, we knew we'd made the right choice going to Wairakei Thermal Hot Spa. The pools were beautiful, the setting was peaceful and we knew we had several hours of bliss ahead of us.
After taking a few photos, we were more than ready to get in the pools. There were several of these covered benches with hooks, so we set our belongings on one and made our way in.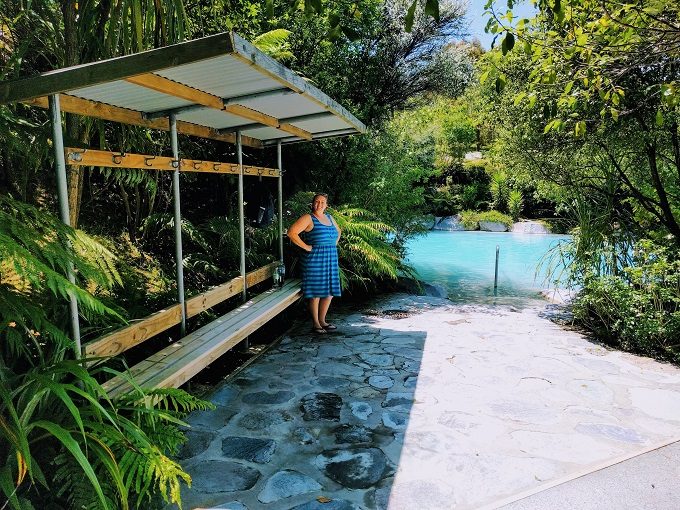 The water temperature was perfect. There were three main pool areas, two of which were hot and one which was cooler (but still warm enough to stay in comfortably).
This seemed to be the main pool area which was 36-38° C (96-100° F).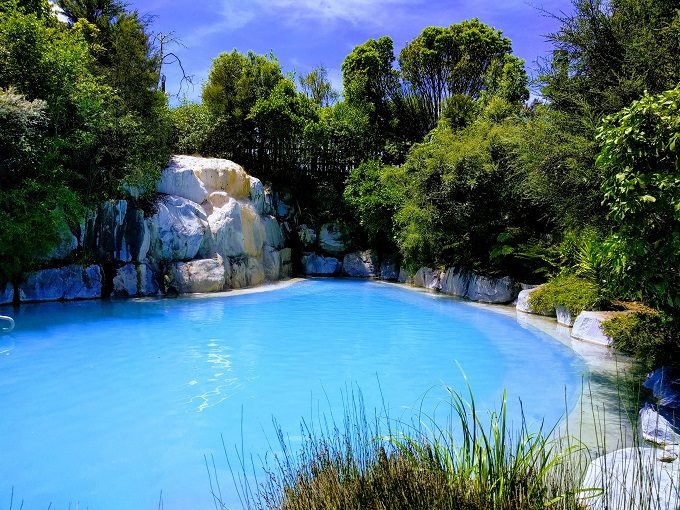 The water temperature peaked over by the waterfall as it topped up the pool with extra-hot water.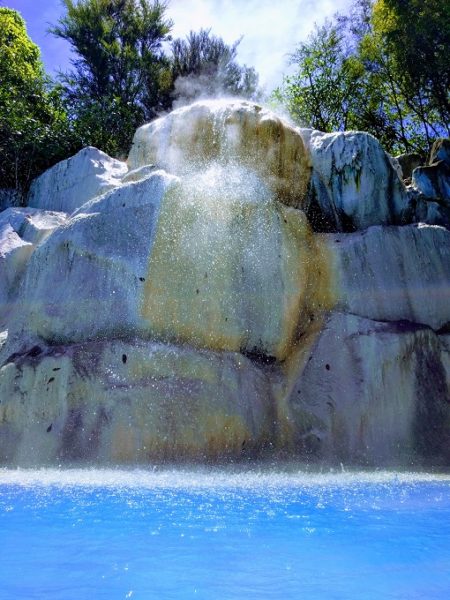 There were two other smaller pool areas. In the photo below, the top one was also in the 36-38° C (96-100° F) range, while the bottom one was much cooler (but still warm).
The top pool was fed with hot water rolling down these rocks.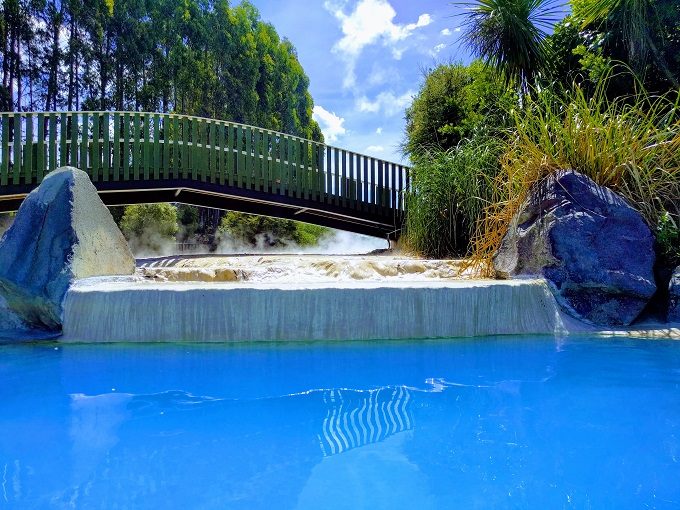 Now, I'm someone who gets bored incredibly easily. so I have a hard time sitting around doing nothing. However, Wairakei Thermal Hot Spa was so relaxing, I happily spent three hours in the water just chilling (or should that be heating?)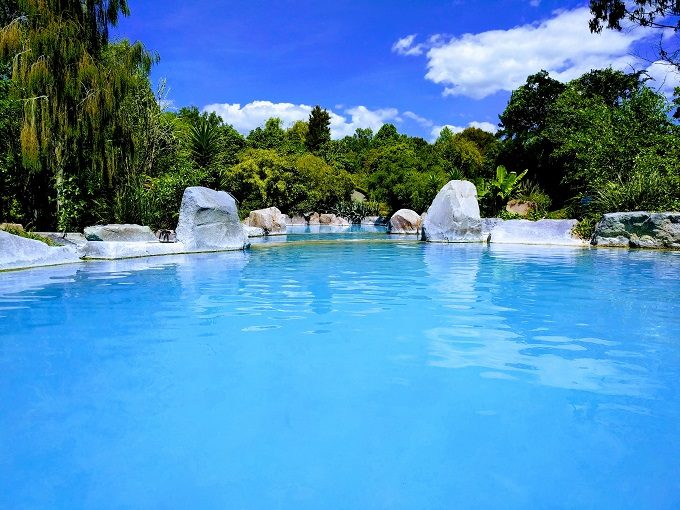 About an hour of that was spent in the shade of a tree in the cooler pool where I pretty much dropped off to sleep – it was that relaxing.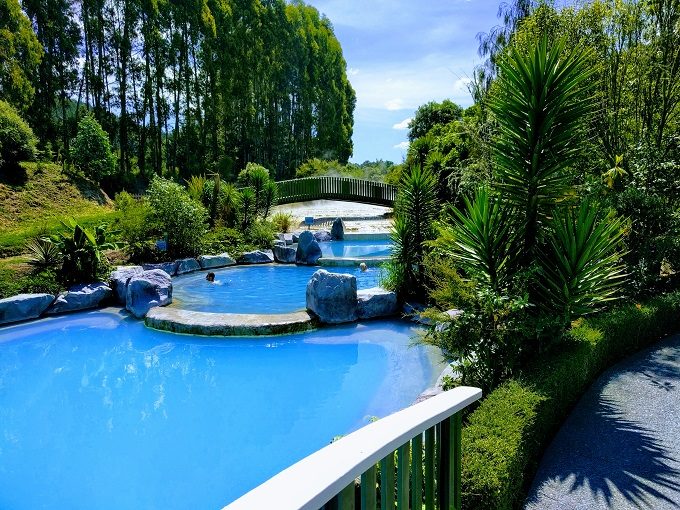 It was eventually time to make a move as we had other water-related plans for later that afternoon – more on that tomorrow.
Final Thoughts
We loved our first 24 hours in Lake Taupo. It was fun to see the force of nature which is the Huka Falls, plus it was free which made me love it even more 😉
It was also a great decision to visit Wairakei Thermal Hot Spa. I wasn't initially keen on spending the $25 NZD per person seeing as there were supposedly other free hot pools around. Three hours later though, I was convinced that it had been a worthwhile investment.
Follow Our Entire Trip Down Under
Be sure to also check out all our other posts from our trip to New Zealand and Australia:
Our First 24 Hours By Lake Taupo, NZ