I (Shae) follow many dogs on Instagram and Facebook.
It started with Doug the Pug and was closely followed by Life of Pikelet. Now it includes a huge array of puppers including Crusoe, Remix, LeScoob and many more. I'd like to say that I follow them on behalf of Truffles and that it's purely for her networking pawposes but that would be a lie.
I love dogs. Big dogs. Little dogs. Red dogs. Blue dogs…(Ok now I'm just quoting Go Dog Go! which I memorized at 2 years old and had everyone convinced I could read). But I really do love dogs. When I see puppers that aren't working (you don't pet service dogs) I ask to pet them. Truffles has had many times where she's been heckin' betrayed as I've come home smelling of other dogs.
In January, once I knew we'd be in Sydney in December later in the year, I reached out to Pikelet's Ma and Pa to try and arrange a meet up. They were so busy managing their wonderful foster work and promoting other foster work that I wasn't able to connect with them. While I completely understood, I was sad that I wouldn't be able to meet Pikelet, Patty (Fatty) Cakes and the Spinster Sisters.
And then it happened…
Like a Christmas miracle, the oppawtunity to meet Pikelet became available. He and his Ma wrote his extraordinary story down and had it printed. He was going on a book tour across Australia including three meet and greets with book pawtographing. Not only that, one of those dates would be in Sydney during the three days we'd be in Sydney!!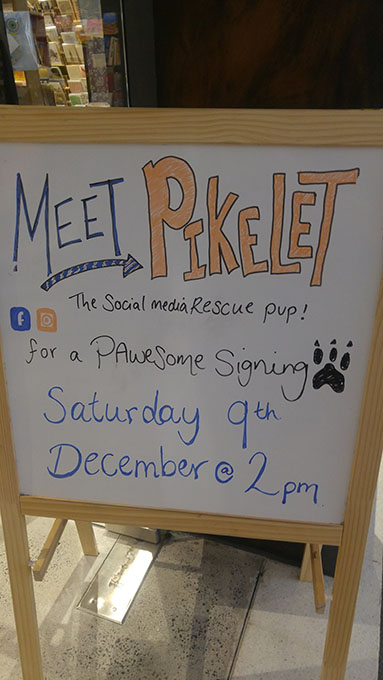 We planned our time in Sydney around two things – Kangarrific availability and Pikelet. Neither disappointed.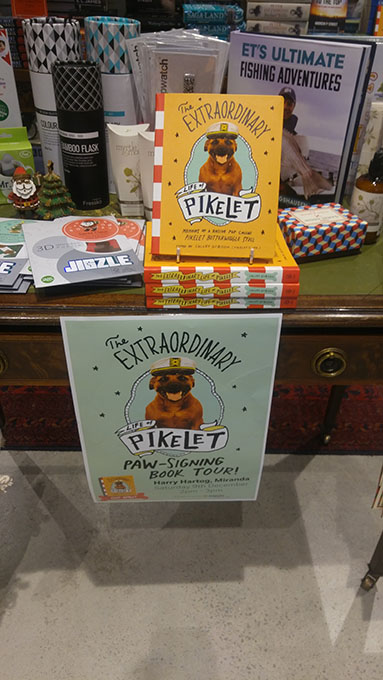 We took an hour train ride out to the suburbs of Sydney on the morning of the pawtographing, arriving at Westfield Miranda over an hour and half before the event was due to start.
Based on other times when Pikelet has been available for meet and greets, I was concerned there'd be a long line. As he only had an hour to meet everyone, I wanted to make sure I was in that line.
I'd preordered my book so it was pawtographed by the pupper himself in the back before the meet and greet started. We went and had lunch and then returned 40 minutes before the event to ensure I was in line.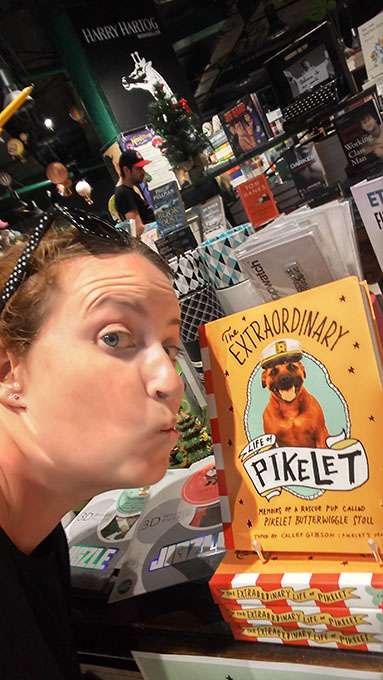 And in line I was…. I was FIRST! I got to watch them set up the area and signs in prepawration for this prestigious event. The staff at Harry Hartog Booksellers got into the spirit of the event as it got closer and closer which made the whole experience more fun.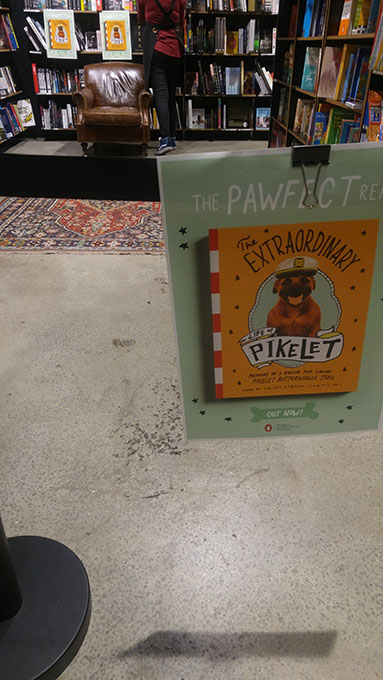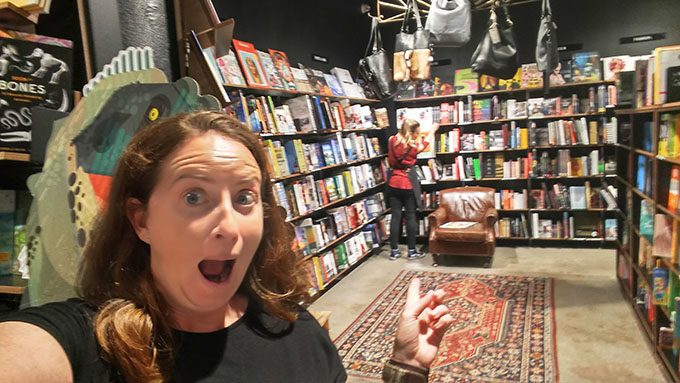 Then the door cracked open to the back storage and a nose peeked out. It was the nose. The nose I'd come to Sydney to see. Followed by a bow-tie and flannel shirt. Trailed by his signature 'butterwiggle' saunter and tail. Pikelet Butterwiggle Stoll was there right in front of me. As with most celebrities, he was shorter in person than I'd anticipated but no less impressive. Nor was I any less starstruck.
I got lots of pics of Ma, Pa and Pikey getting ready. Ma prefers not to have her picture taken which is why I'm honoring that and not posting any pics here but I have them in my heart (and on my hard drive) so I know it really happened. I was so glad to see (and meet!) the hoomans behind this wonderfully happy pupper and his efforts to bring rescue work, breed bias and Oscar's Law to the forefront in Australia.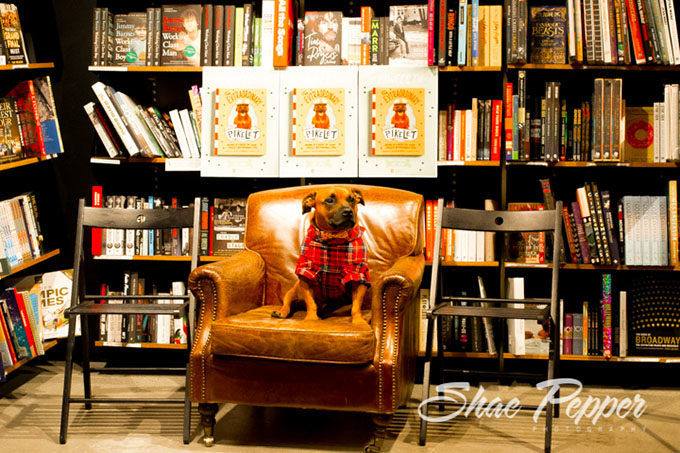 I was able to spend quite a bit of time with Pikelet. We patted his chin and belly. He gave us a little flop on his side for further belly access. We shared treats and paw shakes. It was a very sweet and memorable time.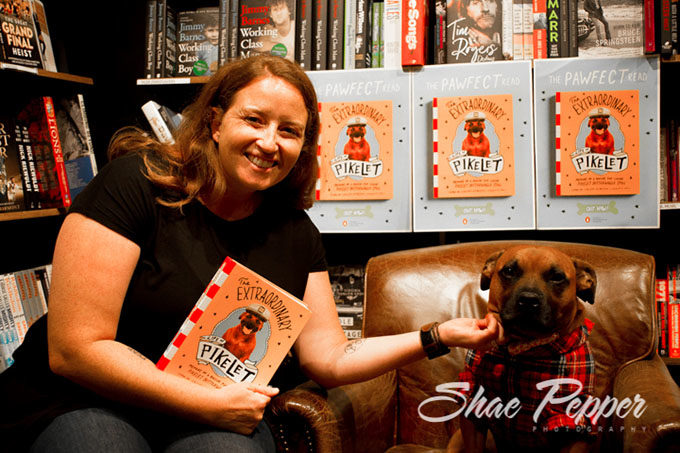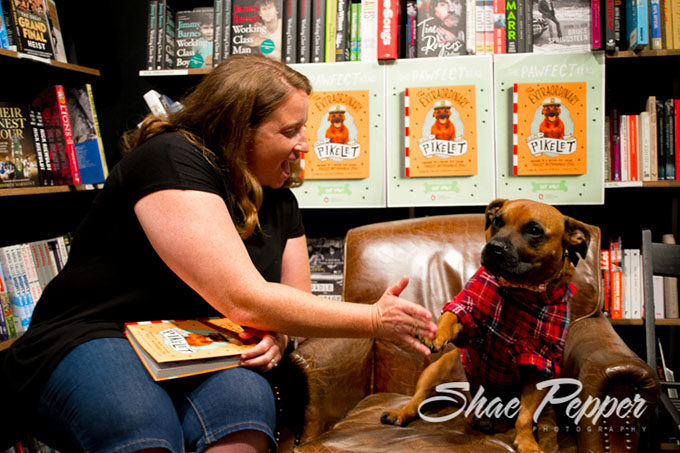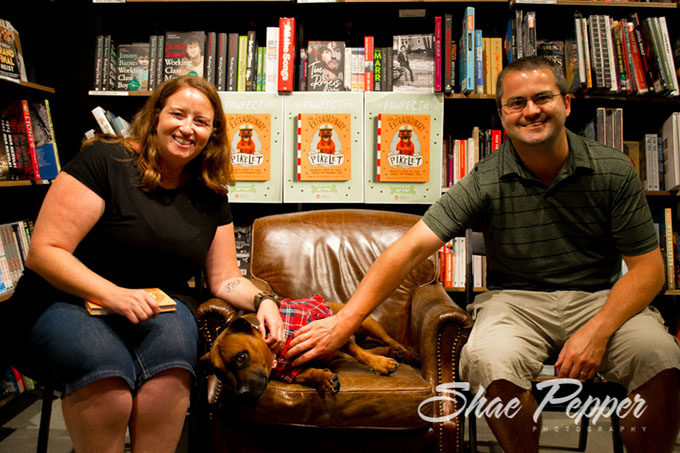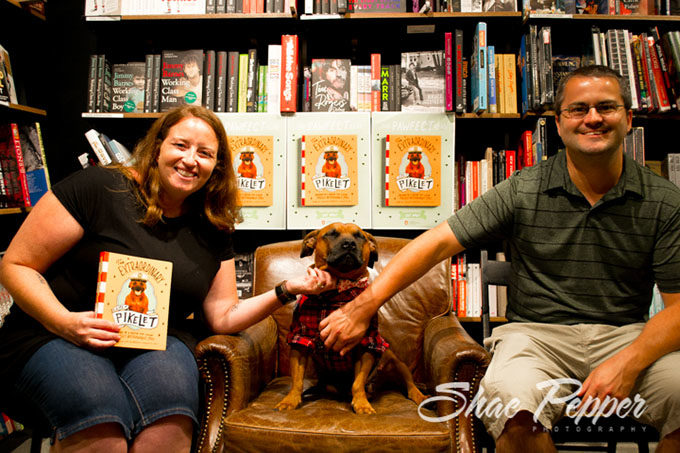 Finally it was time to say goodbye so everyone else in line could have a chance with the star of the show. As I left I went back to the line and assured them, 'it's every bit as amazing as you think it's going to be!' and off we went on our way with our pawtographed book and hearts full of pupper love for Pikelet and the whole Life of Pikelet family.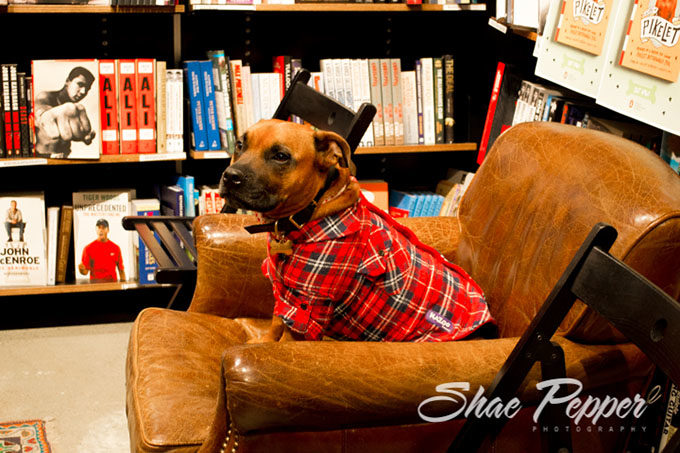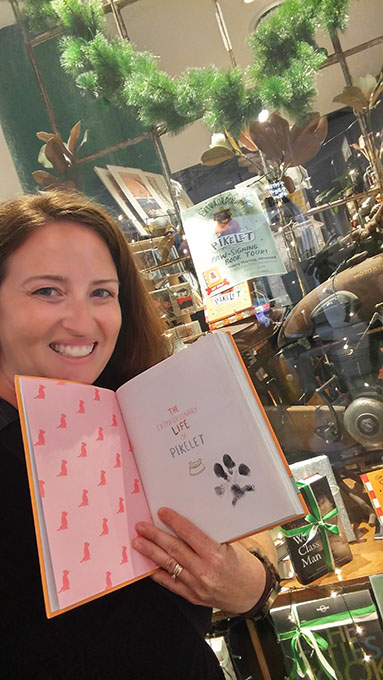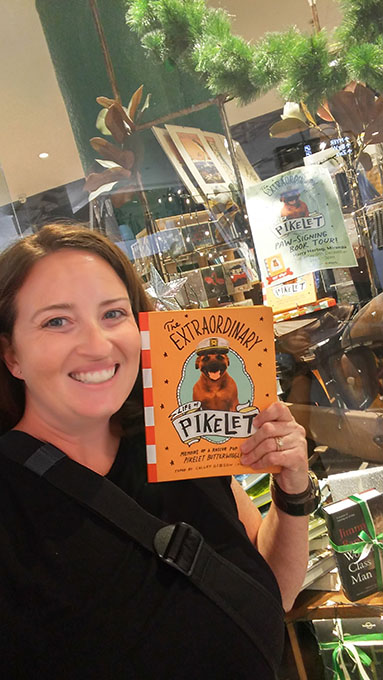 In short, the time was pawfection.
Follow Our Entire Trip Down Under
Be sure to also check out all our other posts from our trip to New Zealand and Australia:
Pawsome Pepper Participation In A Pikelet Pawtographing