Seeing as we're spending the next five years on the road, we're having to be incredibly judicious with what we bring (hence the extreme minimalism challenge!)
That means everything we keep has to serve a purpose and will ideally be as small as possible. That goes all the way down to our pockets and it's why I'll be keeping my Big Skinny wallet.
Just FYI – this isn't a sponsored post and I've never had any contact with Big Skinny other than when I first bought my wallet. I simply wanted to review my wallet because it's one of the best things I've ever bought and it'll be extremely helpful on our 50 state road trip.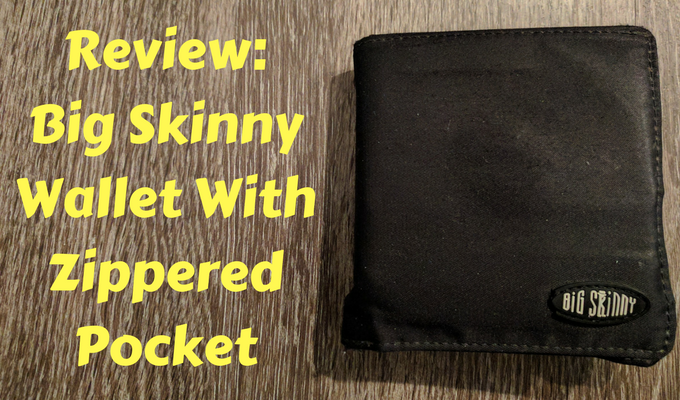 Big Skinny appear to have 100+ different wallets that have different designs and features. The one I own is the Thin World Bifold Wallet with Zippered Pocket.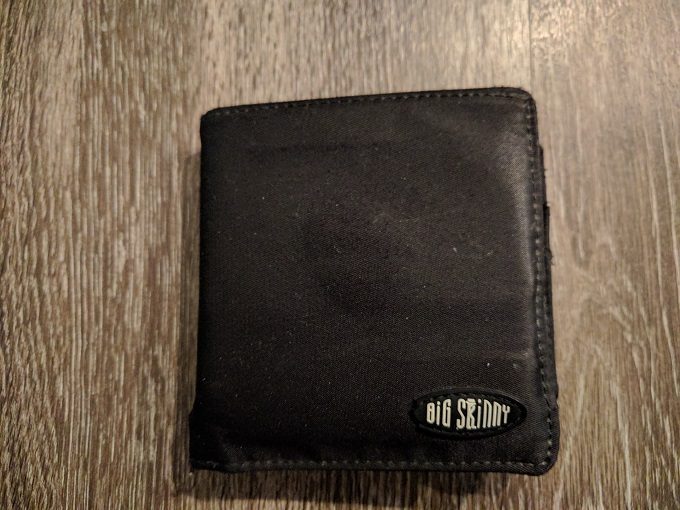 Material
Most of their wallets – including mine – are made of a nylon microfiber. It doesn't feel as luxurious as leather but it's much more functional. There are a couple of reasons why:
It means the wallets are so much thinner (I'll come on to that later on)
It's more resilient
The leather wallets I'd owned in the past tended to show signs of wear and tear after a year or two. Seams would break, the leather would get worn and so the wallets quickly showed their age.
I've owned my Big Skinny wallet for almost three years and it looks as good as new. No wear and tear and no torn seams.
Zippered Pocket
Although I hardly ever pay for anything in cash, it's helpful to have this zippered pocket at the back for loose change. One thing to bear in mind is that the more coins you keep in there, the thicker your wallet will be.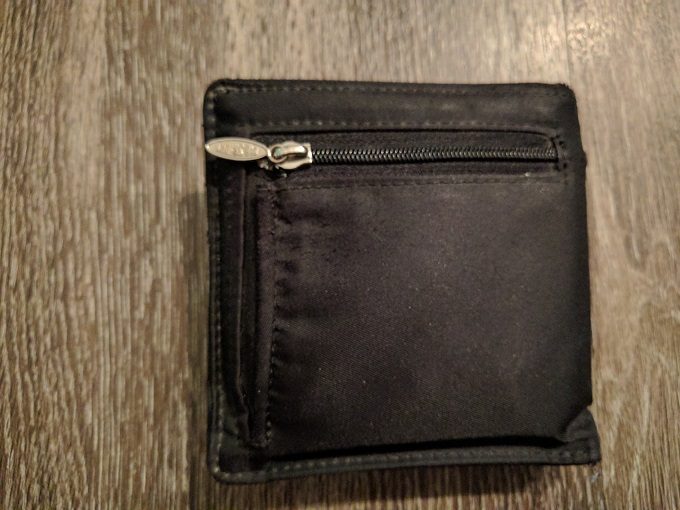 It may sound weird, but I also keep a few toothpicks in there. I really hate having food stuck in my teeth, so this means I'm never in that predicament.
Cards. So Many Cards.
One of my favorite features of the wallet is that it can hold so many cards. There are seven main card sections – four on the left and three on the right.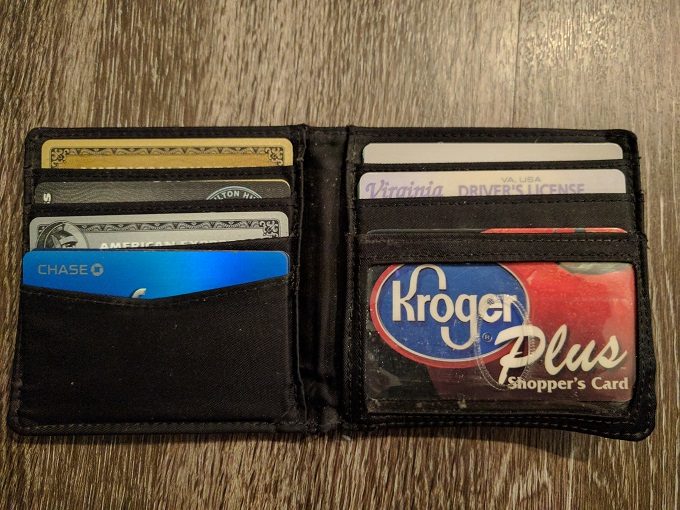 Big Skinny's website claims that you can fit 3-5 cards in each section, so in theory that means this wallet could hold up to 35 cards in those slots.
It all depends on the type of cards you're carrying. I've found that three credit cards is the most I like to fit in any one card slot. That's because they have raised card numbers which make the cards thicker.
Loyalty cards, gift cards, driver's licenses, etc. tend to be thinner than credit cards, so you can fit four or five of them in each slot.
The photo above shows my card with 18 cards and it could comfortably hold more. 18 cards might sound excessive, but I like to carry lots of different credit cards to maximize rewards – that's one of the ways we reduce our travel costs.
For example, I have one card I use at office supply stores, another for grocery stores and gas stations, another for dining, several American Express cards to take advantage of Amex Offers in-store, a debit card for the occasional time I need cash, etc. It'll also hold several hotel credit cards once we're on our road trip (starting January 1, 2018).
And Even More Cards
As if that's not enough, there are two additional card pockets on the inside.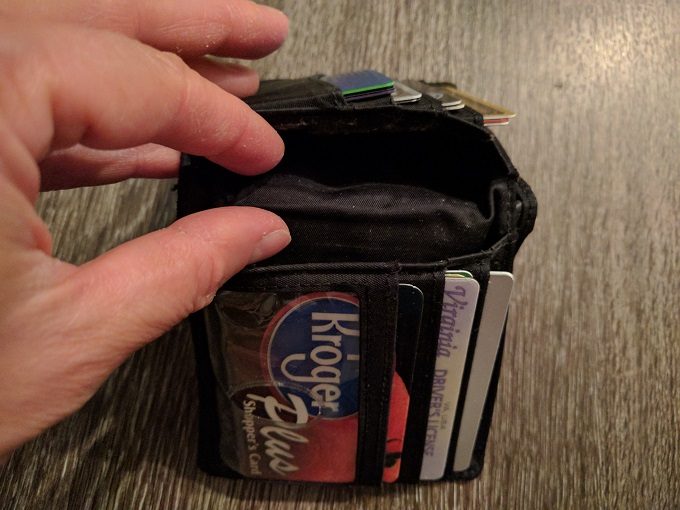 Shae sometimes asks me to carry her ID and cards if we're going out and she doesn't want to have to bring her wallet. Her cards slot nicely in one of these pockets to keep them separate from my cards.
Space For Cash
Like I mentioned earlier, I rarely pay for anything in cash (I'm all about the credit card rewards). It's still helpful though to have this sizable section for cash, receipts and any other miscellaneous stuff.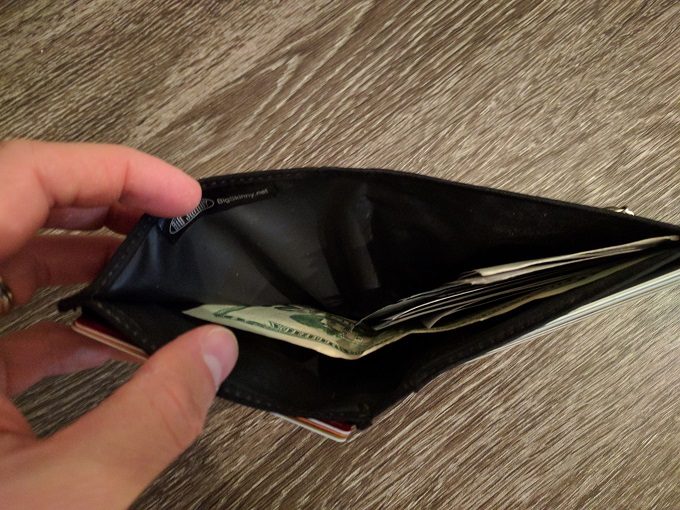 This particular wallet design is especially good for overseas travelers. That's because this cash section is taller than many other wallets and so fits larger currency from other countries. I'm originally from the UK and pound notes are much taller than dollar bills, yet they still fit in my wallet quite nicely.
It's So Thin
The best feature of Big Skinny wallets is that they're so thin. My previous wallet only held about ten cards but was more than two inches thick.
My Big Skinny wallet on the other hand currently holds 18 cards, some coins, notes, receipts and a few other bits. Despite all this extra stuff, this is the result: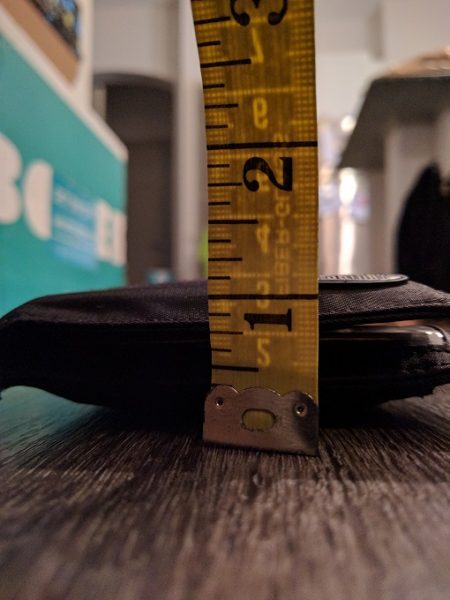 It's marginally thicker than an inch, so half the size of my previous wallet.
Thanks to its lightweight material, it also doesn't weigh much. I just weighed the wallet without removing any items and it was 194 g / 6 & 7/8 oz. It therefore doesn't feel at all heavy.
Just out of interest, I removed everything from the wallet and weighed it again. This time it weighed 53 g / 1 & 7/8 oz. Not quite as light as a feather, but not far off.
Does It Stretch?
I've owned this wallet for almost three years and at times have held 20-25 cards in it. That's meant the card slots have become slightly stretched compared to when it was brand new.
As a result, I'd been concerned that if a card was by itself in a slot which had previously held 3-4 cards, it might fall out.
To prevent this, Big Skinny have designed their wallets with a special non-slip coating in the card slots. To test this out, I placed a single card in a slot which had previously held four credit cards.
Holding the wallet open and upside down, the card remained inside. I had to shake it hard several times before it fell out, so I can't imagine it ever falling out during normal usage.
Where Can You Get One?
You can order their wallets directly on the Big Skinny website. Before getting one, be sure to check Groupon as they've provided discounts on there before.
I bought this wallet back in December 2014 when there was a Groupon where you paid $12 for a $25 voucher to be used on the Big Skinny website. A 25% off coupon code took the cost of the Groupon down to $9.
My wallet cost $26.50 and shipping was $3.45. As I'd paid $9 for $25 of value, I only had to pay the balance of $4.95. That meant the total cost of the wallet was $13.95 – an absolute bargain.
Or Check Amazon
If there's isn't a Groupon available, you might be better off buying the wallet on Amazon. That's because Big Skinny charge for shipping on orders less than $50, whereas you can get free Prime shipping on Amazon.
You can find all of Big Skinny's wallets here; you can find my specific wallet here.
Full disclosure – the two Amazon links above are affiliate links. If you purchase a wallet (or anything else on Amazon) using these links, it doesn't cost you anything extra but we earn a small commission from Amazon. That helps to fund our road trip, so we're obviously grateful if you use one of those links.
Be sure to check Groupon first though, as that can save you much more money compared to ordering it from Amazon.
Summary
So to quickly summarize why I love my Big Skinny wallet so much:
It holds a ton of cards
It's extremely thin considering everything it holds
It's incredibly resilient
It's not expensive – even when there's no Groupon available
It's perfect for traveling overseas with countries that use large notes
Question
Do you have a Big Skinny wallet? If so, which kind do you have and what do you love about it? Let us know in the comments below.