We headed down to Nags Head, NC for my half marathon a couple of days early so that we could enjoy being by the ocean.
After getting settled in at the Fin N' Feather Waterside Inn, the four of us were ready for some food. Shae's parents suggested Sam & Omie's – a restaurant that was only a few minutes away from our hotel – so we hopped in the car and drove down the road.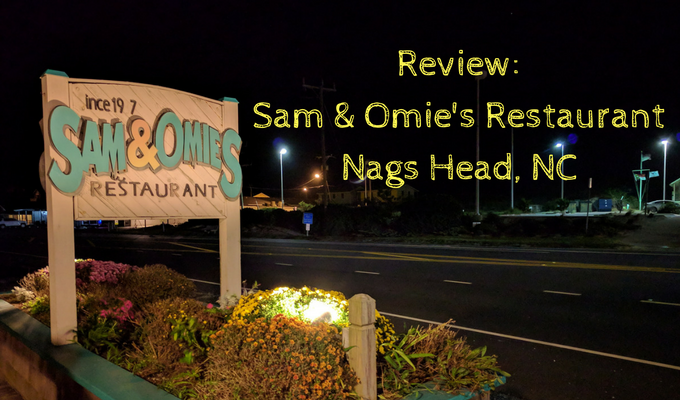 The restaurant was almost full when we arrived (apparently there was a party of 26 there), but we were lucky enough to get one of the last tables.
A lot of the restaurant seemed to be made up of booths, but we were seated at a round table with four seats. (n.b. the photo below was taken later into the meal after the large group had left.)
The restaurant had quite a lot of beach-themed artwork as you'd expect from a seafood restaurant by the ocean. They had some other unique pieces as well…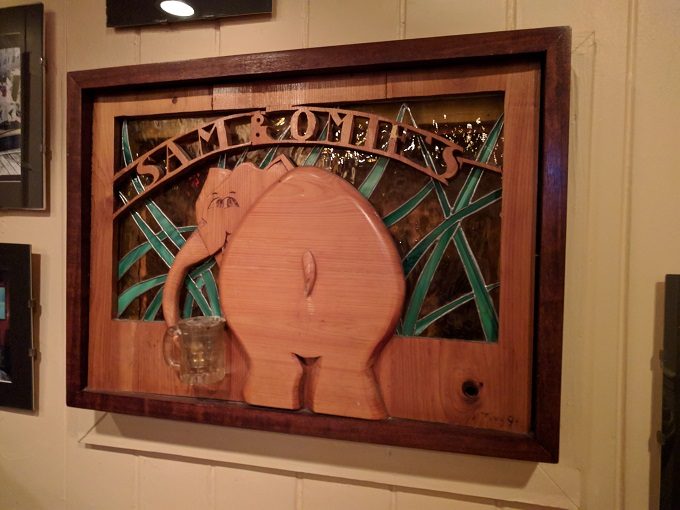 It took a few minutes for our server Cathy to come over due to how busy it was, but she was lovely and extremely apologetic when she arrived to take our drink orders.
While she went to get our drinks, we took a look at the menu and that day's specials.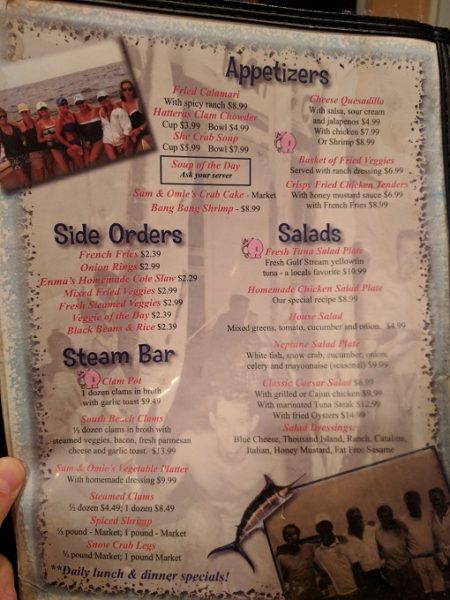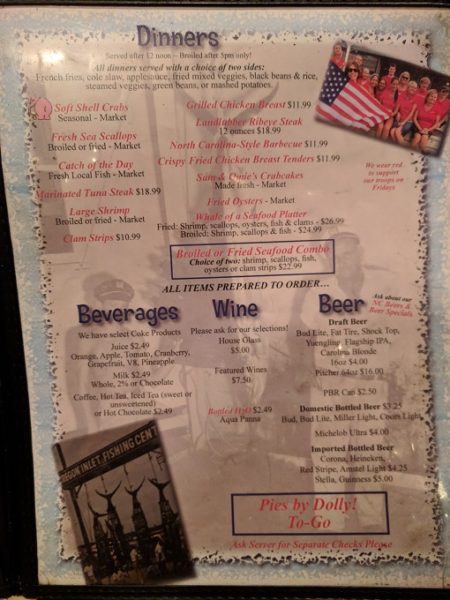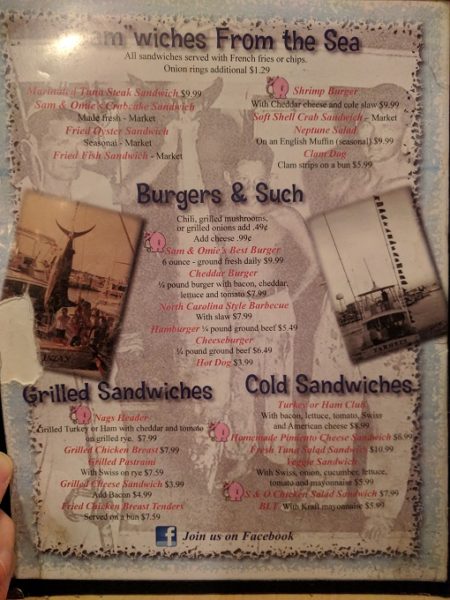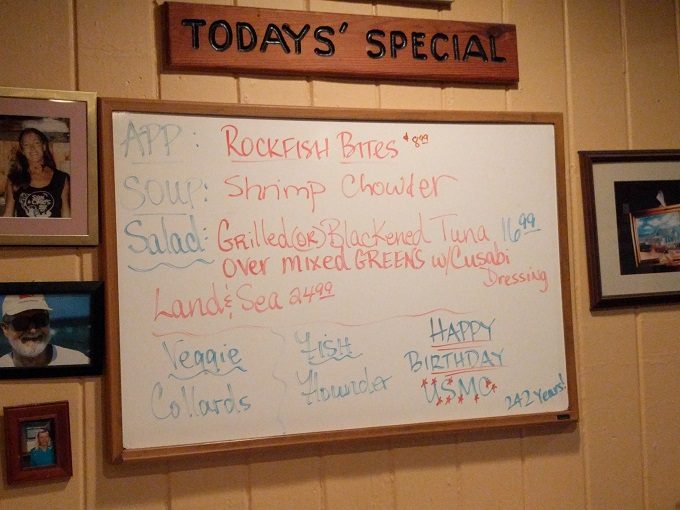 When Cathy came back to take our orders, Shae's mom asked for the shrimp chowder. Apparently they were running extremely low on the soup, so Cathy legged it back to the kitchen before taking the rest of our orders to make sure she'd get a bowl.
The shrimp chowder was apparently so delicious, Shae's mom ordered another bowl – thankfully there was enough left for another serving.
As tempting as their burgers and other fried food sounded, I figured I should be sensible seeing as it was only ~36 hours until I'd be running 13.1 miles. I therefore went for the fish of the day (flounder) with sides of rice with black beans and coleslaw.
Shae ordered the clam dog – a hot dog made with clam strips rather than over-processed meat – and fries. Her stepdad ordered fried shrimp with mashed potatoes, coleslaw and corn bread. Shae and her mom also ordered some snow crab legs to share which arrived shortly after and were very meaty.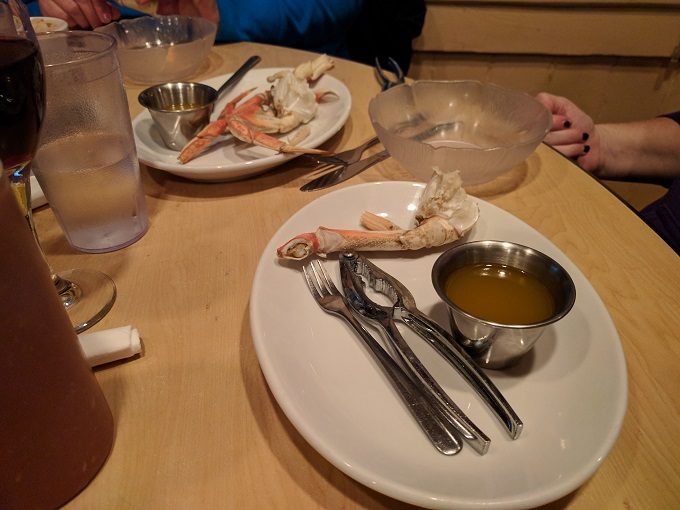 Despite how busy Sam & Omie's was that evening, it didn't take too long to get the rest of our food after it was ordered.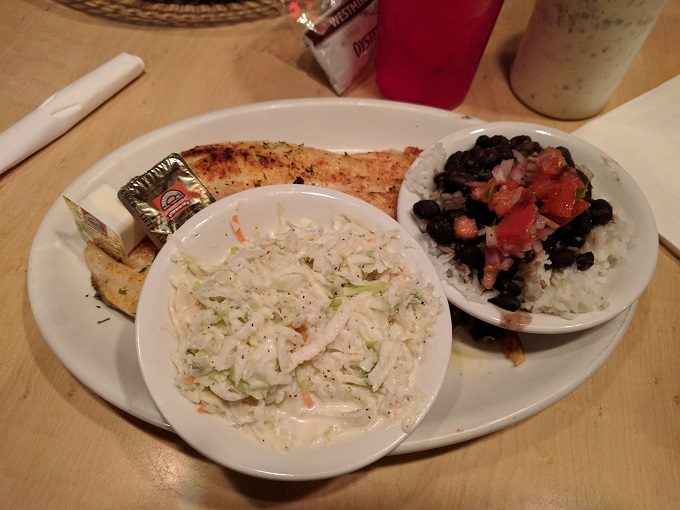 My meal came with a generous portion of coleslaw – much more than the shot glass-sized coleslaw servings you get as a side at some restaurants.
The rice and black beans were delicious; the beans had some kind of seasoning which made it much more flavorful than I was expecting.
The flounder on the other hand was a little disappointing. Don't get me wrong – it was a good amount as there were two fillets and it was broiled perfectly fine. There just wasn't much flavor, despite the seasoning on it. It certainly didn't taste bad, it just wasn't as delicious as I was hoping.
Shae's clam dog came piled incredibly high with clam strips and fries. I sneaked a couple of fries and clam strips and they were both nice and crispy.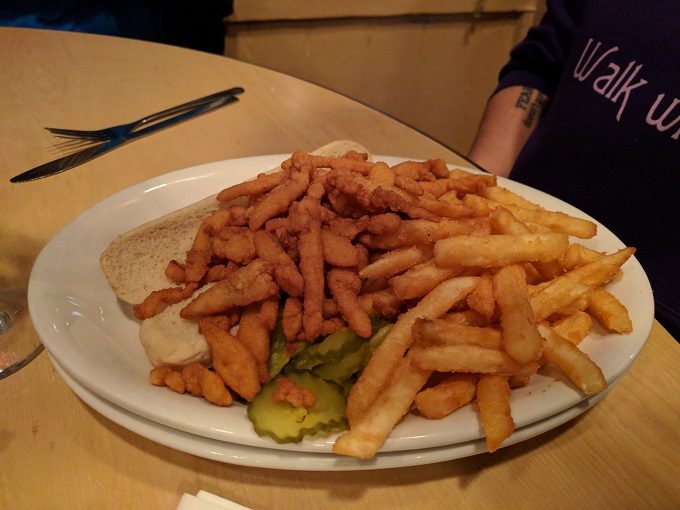 Shae's stepdad's meal also came loaded with food. I forgot to ask him if he enjoyed it, but his plate was empty afterwards, so it can't have been too bad!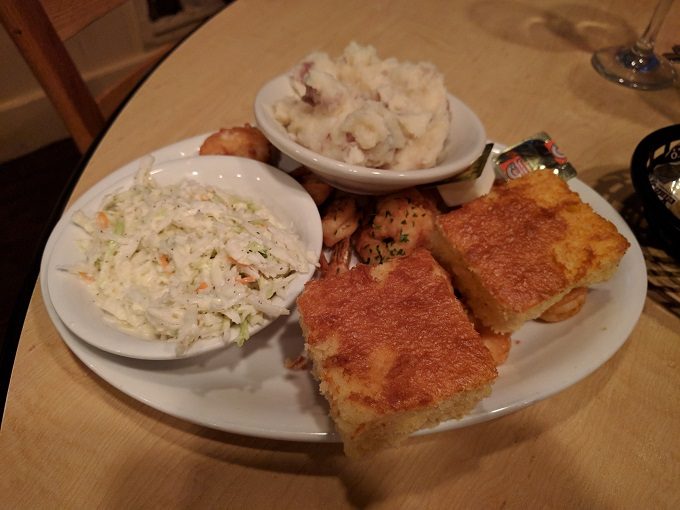 Sam & Omie's had a few dessert options – key lime pie, banana pudding, peanut butter cheesecake and one or two other options that I can't recall.
Shae's stepdad and I both went for the banana pudding while Shae ordered the cheesecake.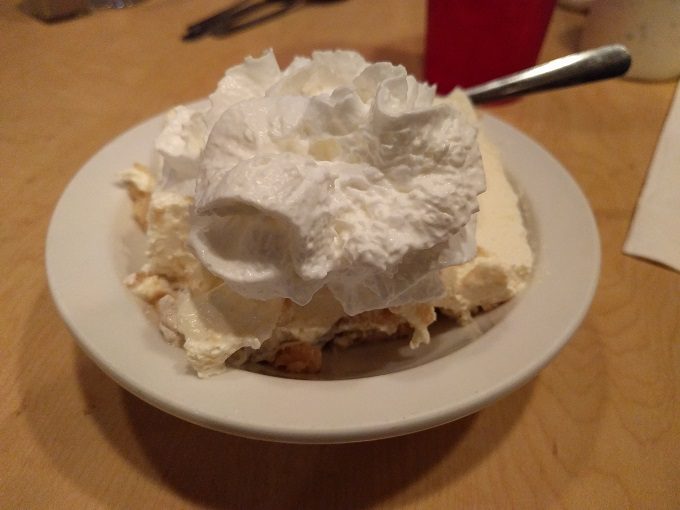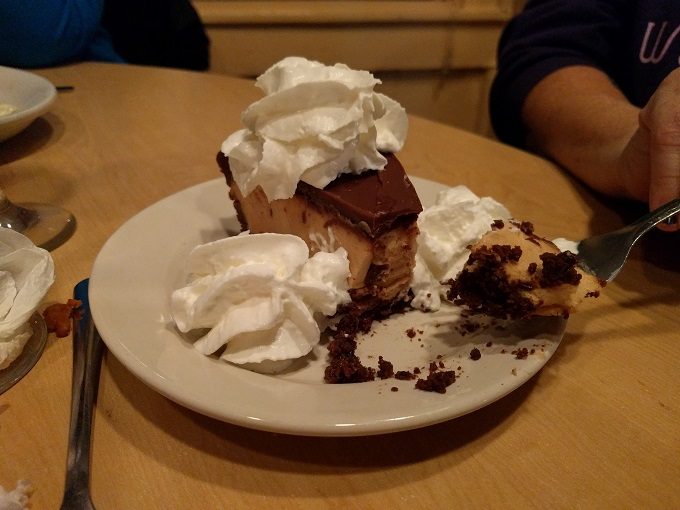 The banana pudding didn't seem like an enormous serving, but it turned out to be more than enough. I probably should've stopped eating a couple of spoonfuls early but, y'know, a guy's gotta have energy for a half marathon 😉
I've no idea personally if the peanut butter and chocolate cheesecake was any good as I don't care for peanut butter. Shae enjoyed it though and I think she finished it off.
Final Thoughts
I'm definitely glad that Shae's parents suggested eating at Sam & Omie's restaurant.
Although my fish wasn't overly flavorful, the rest of my meal was great. Everyone else seemed to enjoy their food and our server Cathy was extremely friendly and hardworking.
I'd therefore be interested in eating there again if we find ourselves back in Nags Head for a future half or full marathon.
Our Rating
Food = 4.25 / 5
Price = 4 / 5
Atmosphere = 4 / 5
Decor = 4.25 / 5
Service = 4.75 / 5
Total = 4.25 / 5
Address
Sam & Omie's Restaurant, 7228 S Virginia Dare Trail, Nags Head, NC 27959