Roanoke VA Mini-Trip Report
Review: Sheraton Roanoke Hotel
Shae, Truffles and I took a trip up to Roanoke VA the weekend of May 12-14, 2017. Shae's a huuuuuuge Harry Potter fan and Roanoke was putting on their first ever Harry Potter festival.
This festival was the same weekend as both the Virginia Tech and Liberty University graduations, so most hotels in the area were sold out. Those that weren't sold out were really expensive.
We'd initially booked in at the Hyatt Place Roanoke using points – it's a category 1 hotel and so only requires 5,000 points per night. A couple of days before our trip, I noticed there was some last minute availability at the Sheraton Roanoke hotel. I therefore cancelled our Hyatt Place reservation and booked us in for this hotel instead.
We actually stayed here last year when my parents came to visit from the UK. They wanted to visit the Blue Ridge mountains and this Sheraton's in a perfect location to do that. We'd enjoyed that stay and so were happy to return to the same hotel.
It's a category 2 hotel with SPG and therefore only costs 3,000 Starpoints per night at the weekend. The paid rate was about $220, so this meant we got a redemption value of 7.33 cents per point, which is excellent value.
We arrived at 8:30pm having driven for about four hours from Portsmouth VA. The weather had been bad the whole way and it was still raining by the time we got to the hotel.
Thankfully the Sheraton has a covered area as you pull up which allows you to unload your car in the dry. (n.b. the picture below was taken a couple of days later, hence the blue sky).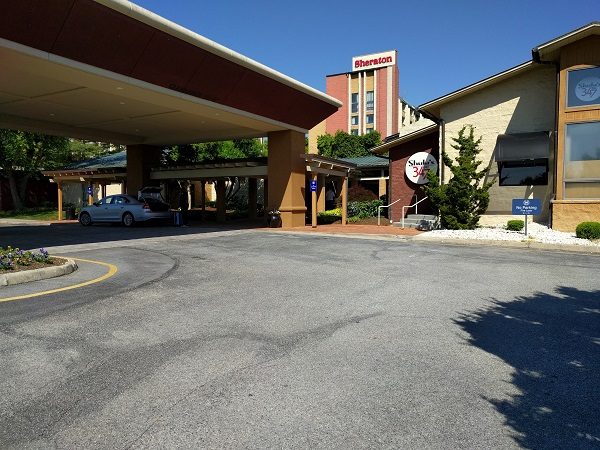 The hotel only appears to have a couple of luggage carts and they were already taken, so we had to carry in all our stuff. Truffles came on the trip with us, so we had her crate in addition to our carry-on suitcases and some other bits.
Entering the lobby, there are three check-in desks on the left and comfortable seating next to a fireplace on the right.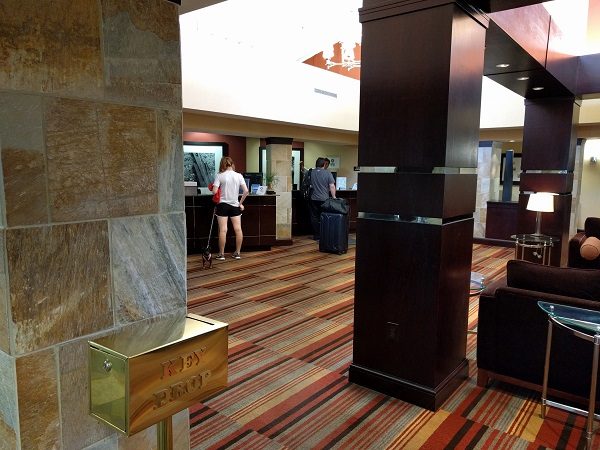 There's a business center with four computers the other side of the fireplace.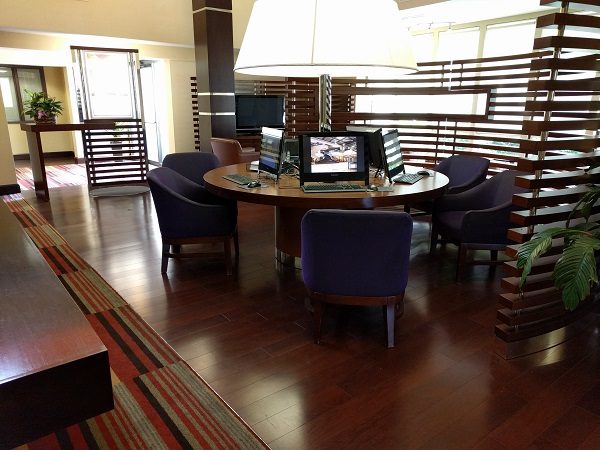 There had been a line to check-in when we initially arrived. However, by the time we'd unloaded and parked the car, we were next in line.
The check-in process was quick and only took a few minutes. It would have been much quicker but we had to fill out a pet waiver because of Truffles. When making our reservation, I'd mentioned in the comments that I had the SPG Business American Express credit card which gives free access to the Club Lounge. The person checking us in noticed that comment and rekeyed our cards to ensure we had access – more about the very disappointing Club Lounge later on.
We were assigned room 126 which is a dog-friendly room on the first floor. The hotel's quite spread out, so it took several minutes to walk to our room. It wouldn't be much of an issue normally, but it was a bit more inconvenient this time as we had to carry all our bags and Truffles' crate due to the lack of luggage carts.
King Bedroom
As we entered the King bedroom, the bathroom was to the left with the bedroom in front of us.
The bedroom was massive and had quite a bit of empty space, so we're wondering if it used to be a two queen bedroom rather than one king. The space might have been a good area for a sofa or armchair, but we didn't miss that there wasn't one there.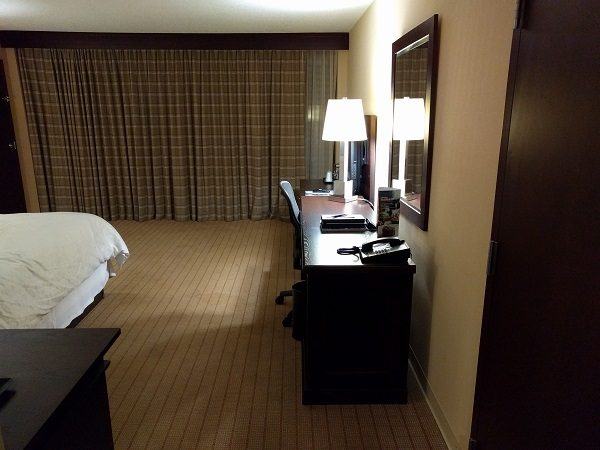 The comfortable king bed was on the left. There were two pillows on each side and a thick (but not hot) comforter.
There was a small clock radio on one bedside table. Unusually for many hotel rooms, there were two available outlets on both sides of the bed which were greatly appreciated.
The closet had folding doors and contained a luggage rack, ironing board and iron.
The room had a TV above a small desk with two padded stools beneath. To the right of that was a larger desk containing a couple of power outlets and a desk chair.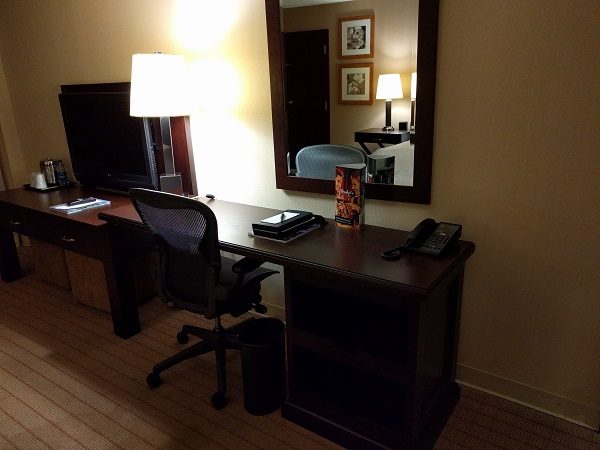 The room also has a cabinet containing a small fridge and a coffee maker with Starbucks coffee on top.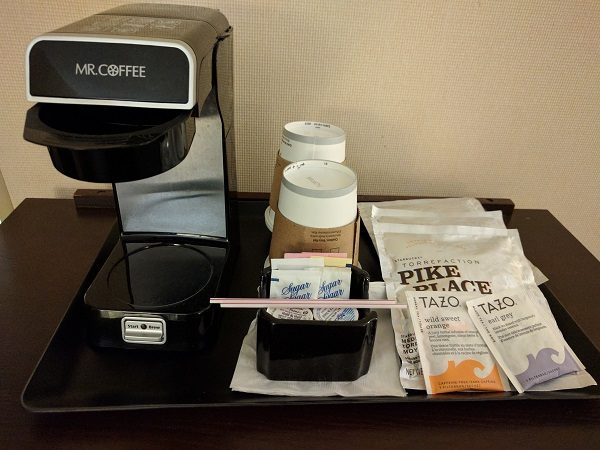 Something else noticeable about the room were all the stains on the carpet. As this is a dog-friendly room it wasn't a problem for us, although it might not be as pleasant if you're traveling without a dog.
The bathroom contained a bath with a fairly powerful and hot shower. There were your standard Sheraton toiletries containing shampoo, conditioner, lotion and shower gel, along with a couple of small bars of soap.
Another nice feature of this pet-friendly room is a patio door so you can take your dog outside without having to walk through the hotel to an exit. It means you don't have a great view, but we liked the convenience.
Hotel Amenities
This hotel has some great amenities, especially if you'll be staying for several days. There's a large gym with loads of exercise equipment that's open 24 hours a day.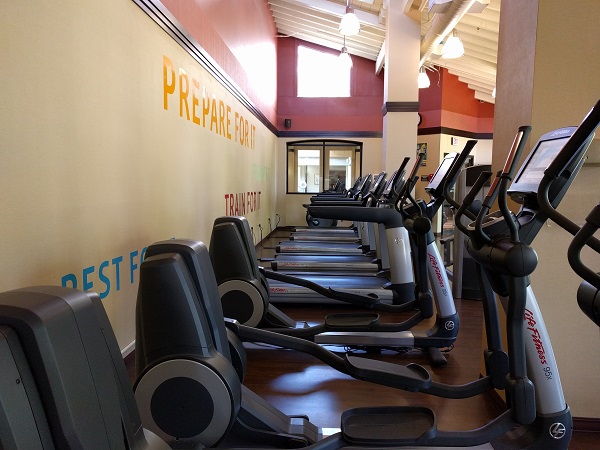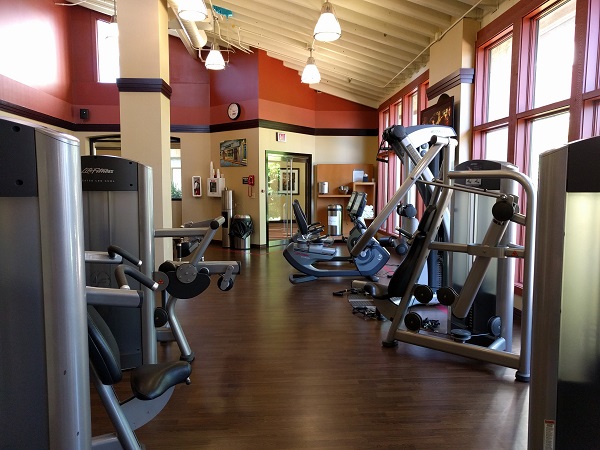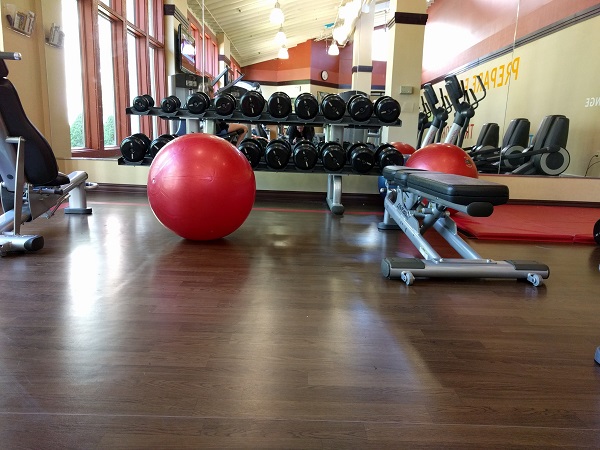 The Sheraton Roanoke hotel also has an indoor pool, an indoor whirlpool and an outdoor pool with seating area. These areas are open from 6:30am until 11pm, so much longer than many other hotel pools.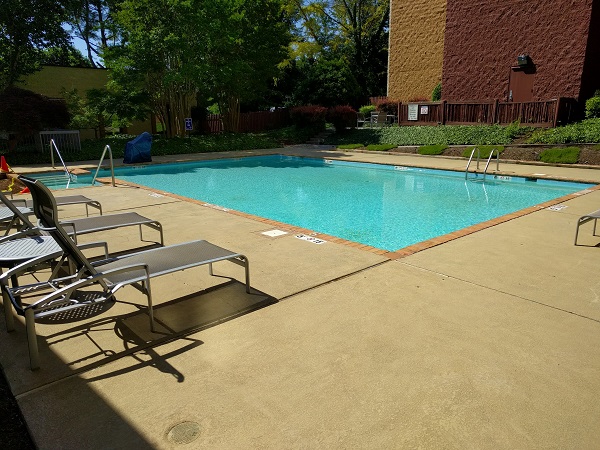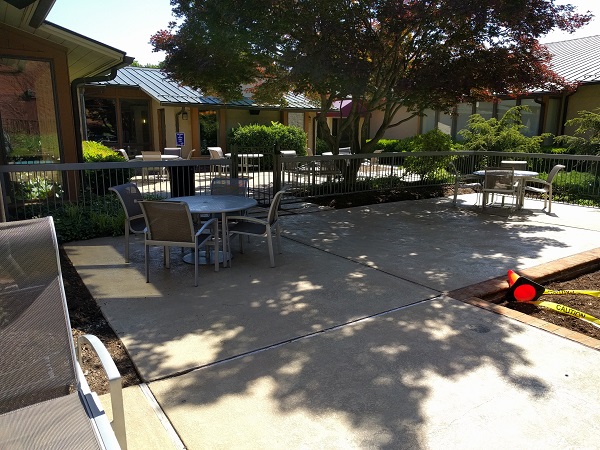 The hotel is surrounded by grassy areas which is perfect for dog owners like us, so there are a few poop stations around the outside.
There's also a nice outdoor area next to the gym. It has a gazebo if you need some shade, along with a small bridge over a water feature and a fish pond.
Club Lounge
The Sheraton Roanoke has a club lounge on the fifth floor. Although you normally have to pay extra for a room with access to the lounge, we got free access thanks to my SPG Business American Express card.
When we stayed at this hotel last year, the lounge offered a cooked breakfast in the morning and hors d'oeuvres in the evening. Their website still advertises this as being provided when booking a club room.
We went up there Saturday morning for breakfast, only to see it empty other than a coffee maker and mini fridge containing cans of soda.
There were a couple of other guests up there getting drinks at the time, so we asked if they knew what the situation was about breakfast. They'd been given coupons for breakfast in the Pi restaurant downstairs, along with coupons for appetizers at Shula's 347 Grill (the other on-site restaurant).
We were short of time as we were off to watch a game of Quidditch (!), so we ended up grabbing a granola bar at a nearby gas station for breakfast on our way.
Based on what the guests had been advised, the hotel no longer provides breakfast or hors d'oeuvres in the club lounge, which seems to negate the purpose of a club lounge.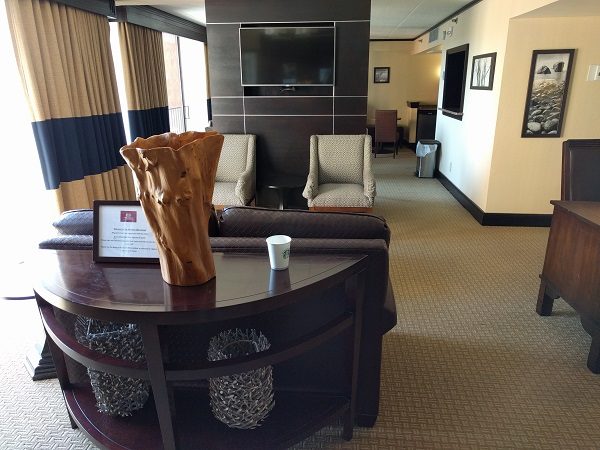 One good aspect about the lounge is that there's an additional business center containing three workstations.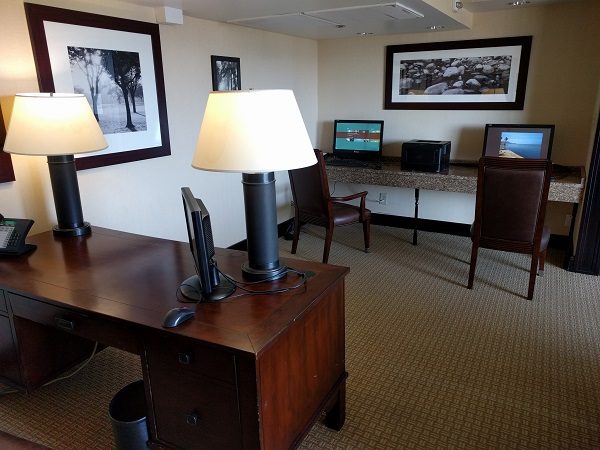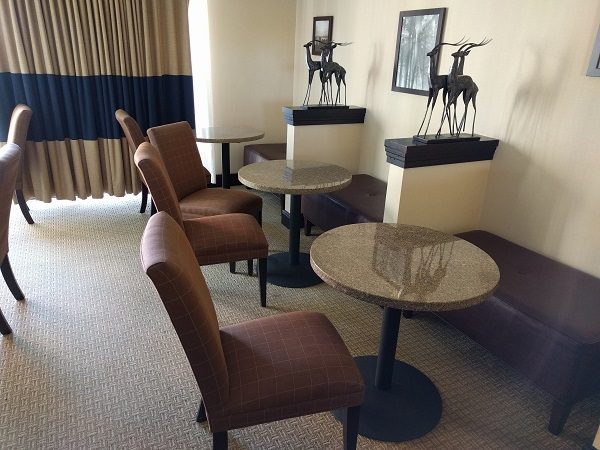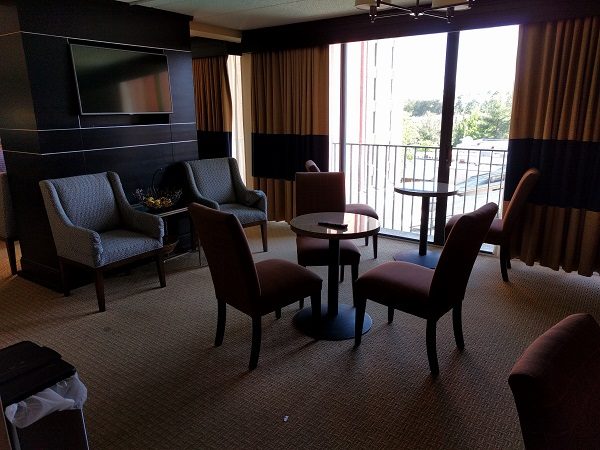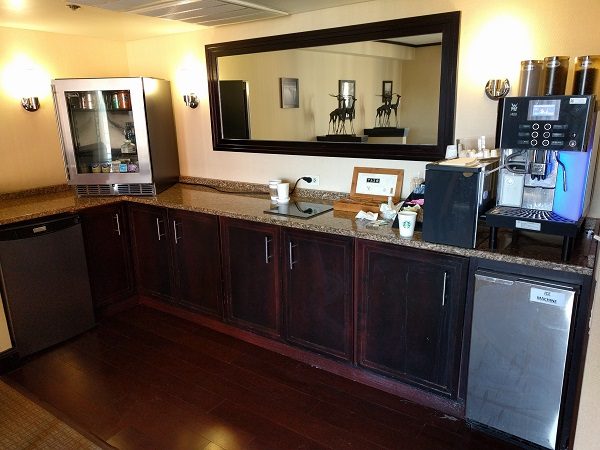 We stopped by the front desk that evening to ask about breakfast as we hadn't been provided with breakfast coupons even though we had club lounge access. The staff member gave us two free breakfast coupons at Pi restaurant for the following morning. However, he made it sound like this was a one-off concession and that even though we had access to the club lounge because of my credit card, we weren't actually entitled to breakfast.
Breakfast
Shae and I were both tired the next morning, so we didn't head down for breakfast until about 9:15am. We were shown to our table by a very friendly staff member who brought over orange juice while we went to the buffet.
There's quite an extensive spread at the buffet, with bagels, breads, pastries, hot food, oatmeal, fruit, cereals, waffles and more.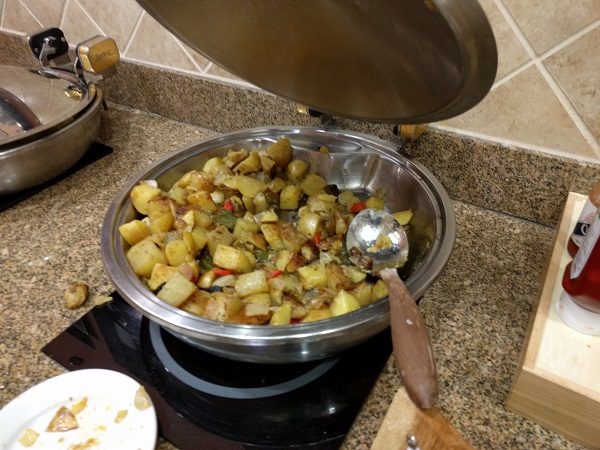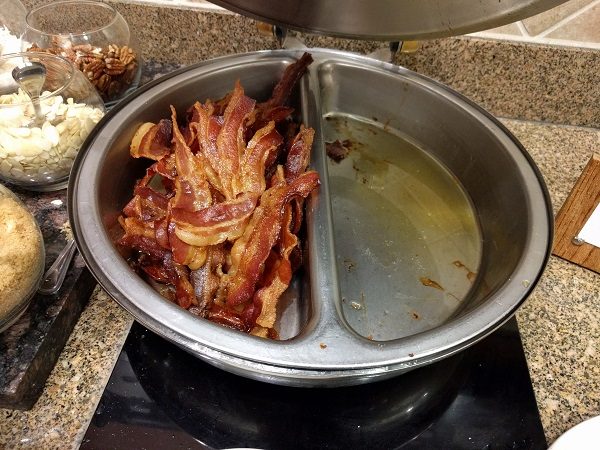 There were several other guests getting breakfast at the same time as us, so I wasn't able to get photos of everything.
The breakfast was actually pretty disappointing for a couple of reasons. Although there were a lot of options, several sections of the buffet were empty. The sections for sausages, pastries, bread and berries were all empty. The bacon had also been empty when we first arrived for breakfast, but that was refilled in time for me to have some.
The hot food options were also very disappointing taste-wise. The bacon wasn't great (I know – blasphemy!), the eggs were fairly soggy and the breakfast potatoes were extremely greasy and overly soft rather than crispy.
I didn't feel short-changed seeing as we'd been given coupons for a free breakfast. However, I wouldn't have wanted to pay for their breakfast.
Food Options
There are several different ways to get food at the Sheraton Roanoke. As we mentioned above, there's Pi restaurant which serves breakfast and lunch.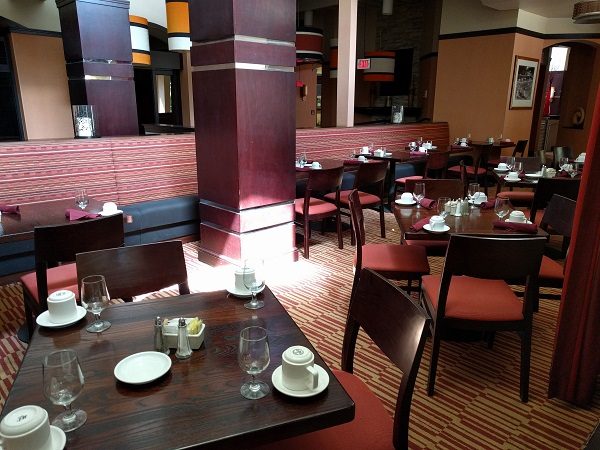 There's Shula's 347 Grill which offers dinner from 5pm.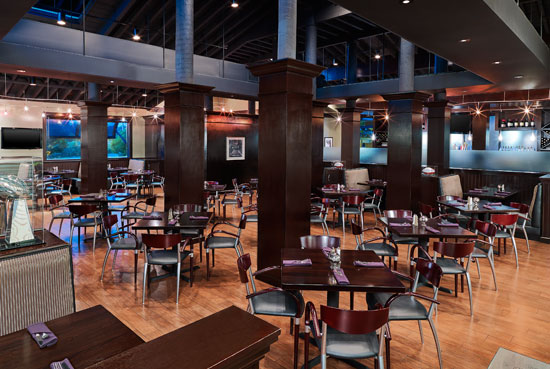 There's The Market between the lobby and the gym which offers Starbucks along with other beverages and snacks.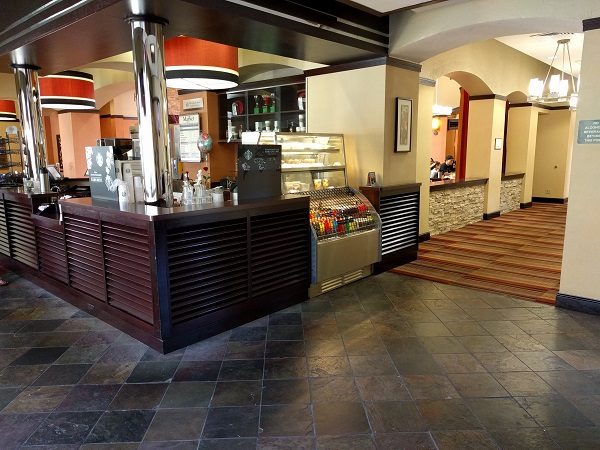 There's also The Pantry in the lobby that has various soft drinks and snacks for sale.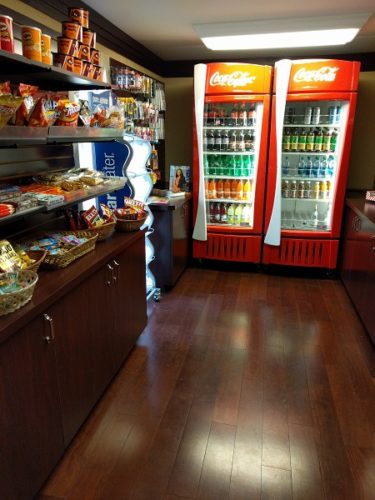 And last but not least, there's an extensive room service menu that's available from 6:30am to 11:00pm.
Internet
The internet service at the Sheraton Roanoke was very poor. It consistently cut out and was extremely slow even when it did work.
Given that it's a conference hotel, it's surprising that the internet service is so unreliable. We were advised that it was because the hotel was so busy, but the internet was just as bad on the Sunday even though the hotel was much quieter by that point.
Pets
One of the great features of this hotel is that it's pet-friendly and doesn't have a pet fee. You're allowed to bring dogs weighing up to 80 lbs, with a limit of two per room.
Parking
There's a lot of free parking available at the Sheraton Roanoke. There are parking spaces all around the building, so it might be worth moving your car once you know where your room's located.
Summary
I was really looking forward to our stay at the Sheraton Roanoke. However, I left feeling a little disappointed with our experience, especially seeing as we'd had such a great time at the hotel a year earlier.
There weren't any major issues; instead it was the small things that were negatives. Poor internet service, a club lounge which doesn't provide any kind of food, a not-very-tasty breakfast buffet and only two luggage carts for a large spread-out hotel detracted from what the hotel has to offer.
On the positive side, it's pet-friendly, has some excellent amenities, is in a great location and has nice outdoor areas.
Given that we stayed here using 3,000 points per night, I feel like we got pretty good value. If we'd paid the cash rate of ~$220 though, I'd have been much more unhappy. I should note though that the cash rates are usually lower – they seemed to be higher that weekend because of the demand due to the college graduations.
Truffles Approval Rating

Truffles gives the Sheraton Roanoke hotel four paws out of four – pawfect! She loved the large room which meant she had plenty of room to chase after her ball. There were also lots of grassy areas outside for her to explore.
She's also pleased on our behalf that it was free for her to stay at the hotel 😉
Our Own Hotel Rating
Room = 3.5 / 5
Hotel Amenities = 4.25 / 5
Food = 2.5 / 5
Location = 4.25 / 5
Overall Value = 3.75 / 5
Total = 3.65 / 5
Hotel Address
Sheraton Roanoke Hotel, 2801 Hershberger Road Roanoke, Virginia 24017