Washington, D.C. mini-trip for Shae's birthday:
Review: Stone's Cove, Herndon VA
After checking in at the Staybridge Suites Herndon Dulles, we were ravenous.
Shae had thankfully already done some reconnaissance on restaurants in Herndon and found an interesting-looking one called Stone's Cove.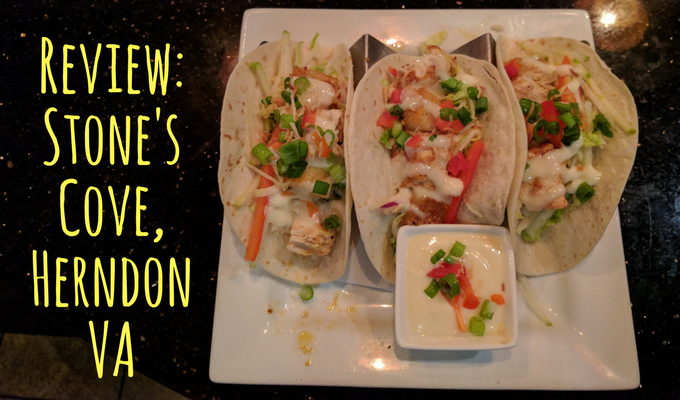 We didn't realize until we arrived, but Stone's Cove is next door to Red Hot & Blue, a restaurant we ate at the last time we were in Herndon.
All the lights were out at Red Hot & Blue though, so we think that location might have closed down recently. That's not too surprising given that we were almost the only people eating there when we visited.
We legged it inside Stone's Cove as it was pouring down with rain when we arrived, but we still managed to get fairly damp in the ten seconds it took to get from the car to the restaurant. I'd left my phone in the car which I needed for photos, so I got more than fairly damp going back out to get it.
They seated us straight away at one of the corner tables at the far end of the bar. All the seating is located in a rectangle around the area where the food and drinks are prepared (the Kitbar).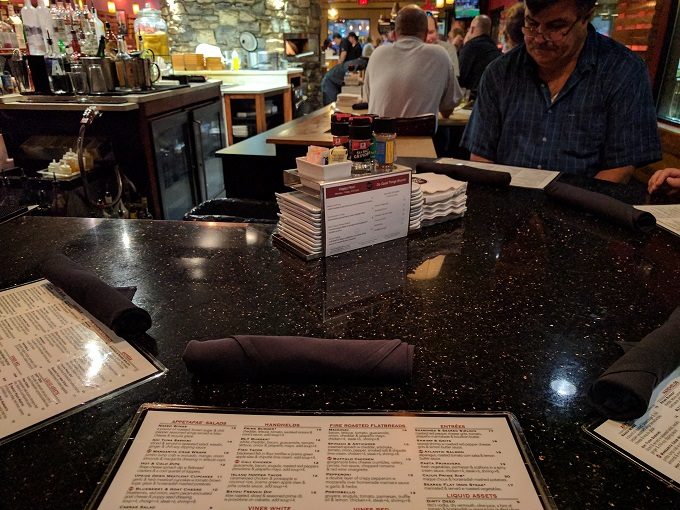 Given that they don't have a huge kitchen to work with, the food menu isn't particularly extensive. However, they do have a lot of interesting and creative meal options.
There are appetizers, salads and desserts…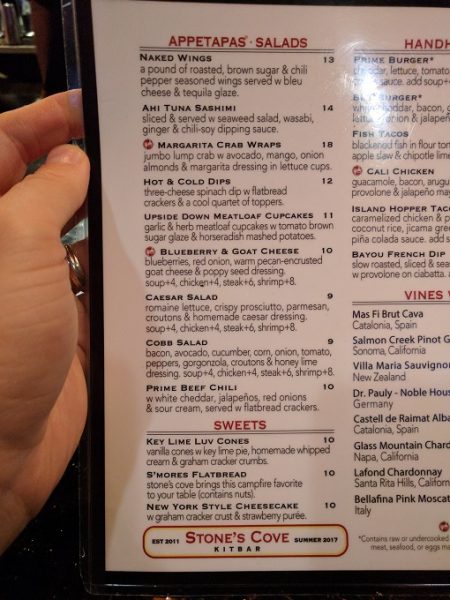 …burgers, tacos and sandwiches…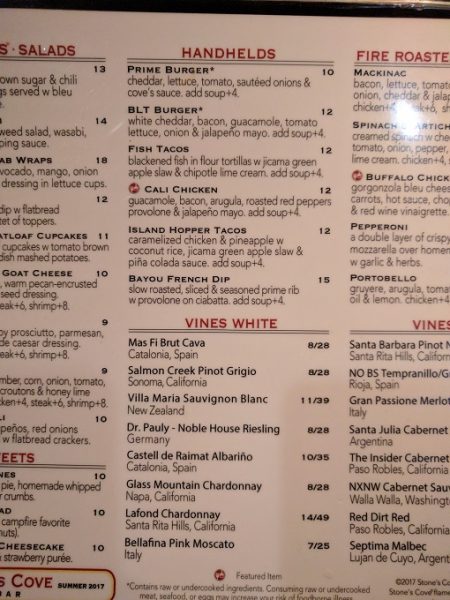 …flatbreads…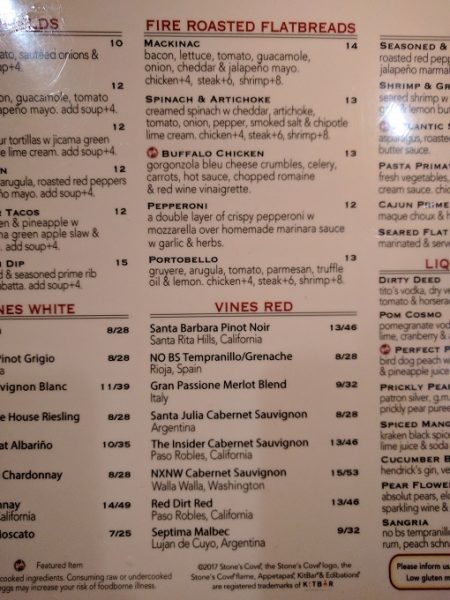 …and several other entrees: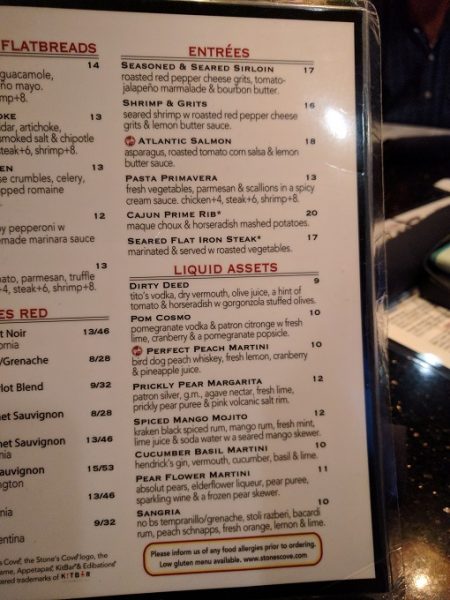 Stone's Cove doesn't assign you a specific server – instead you're served by whichever server is walking by. In theory that sounds disorganized, but we didn't have to wait long to place our orders.
First up, a friendly server called Al took our drink orders. A burrito bar near our home has a delicious mango mojito, so I figured I'd try Stone's Cove's Spicy Mango Mojito to see how it compared. It was good, but not as mango-y as I'd been hoping. On the plus side, it was a decent size!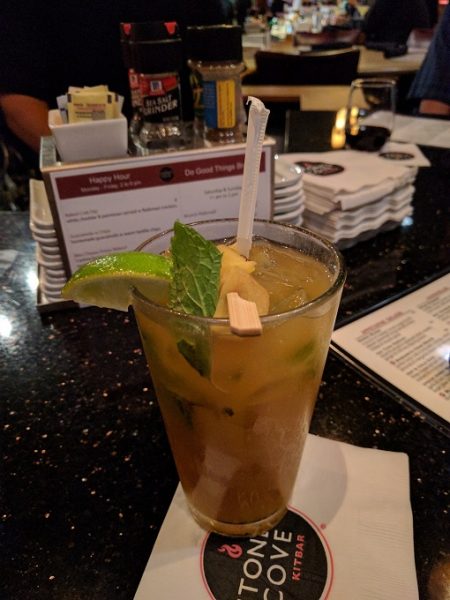 Shae went for the Pom Cosmo which came with a pomegranate popsicle.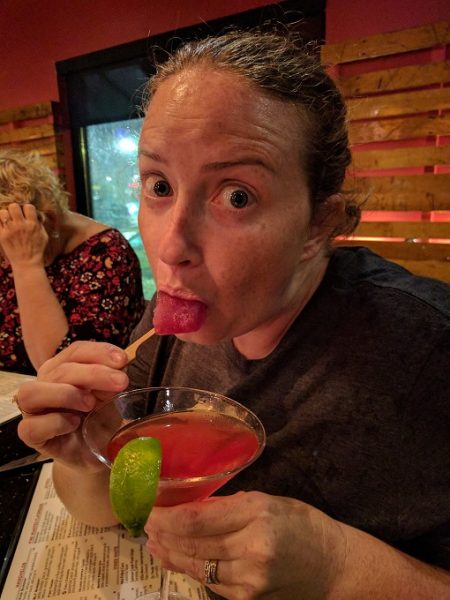 Al ended up taking our meal orders too. I was in two minds as to whether I should order the fish tacos or Island Hopper tacos. He recommended the fish tacos which he said were your regular savory tacos, whereas the Island Hopper tacos were much more sweet.
Having had fish tacos fairly recently at LunaSea in Virginia Beach though, I figured I'd try the Island Hopper tacos to see what those would be like (I know, why ask for a recommendation if you're going to ignore it?!). Chicken, pineapple, coconut rice and pina colada sauce sounded like it could either be amazing or a really terrible taco combination.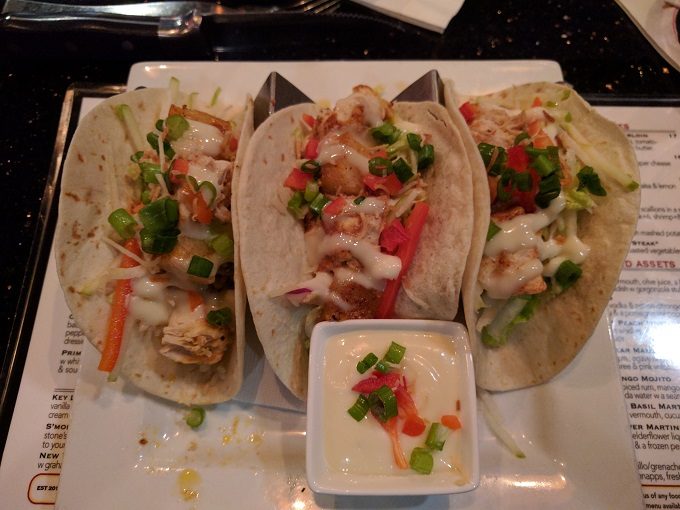 My verdict – OK. It was certainly an interesting taste sensation as they were very sweet like Al had said – almost too sweet. They also had a bit too much rice inside for my liking.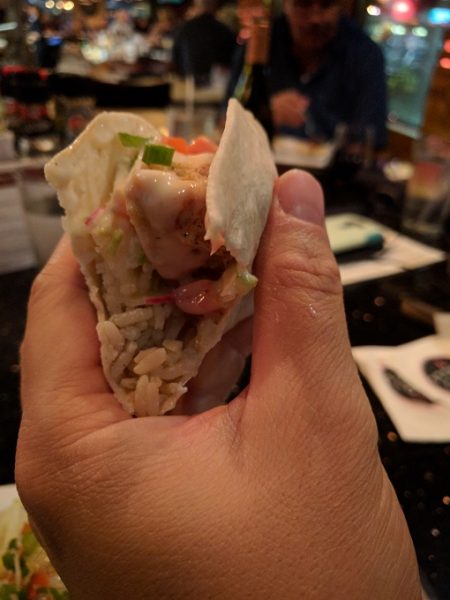 Shae went for the spinach & artichoke flatbread with chicken added on top.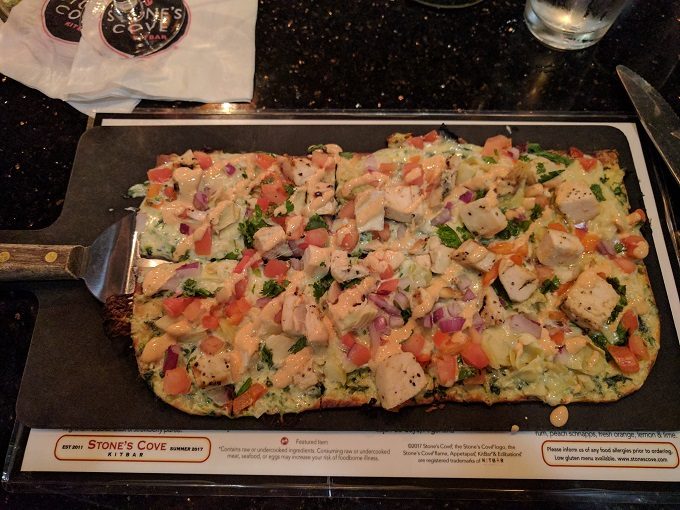 She absolutely LOVED it. I'm pretty sure I might have seen a tear drop to the table as she finished the last slice.
Shae's mom ordered the hot & cold dips. It came with crispy pita chips, spinach & artichoke dip and four bowls of dips. From the right, the dips were tzatziki, tomato remoulade, jalapeno dip and red pepper hummus.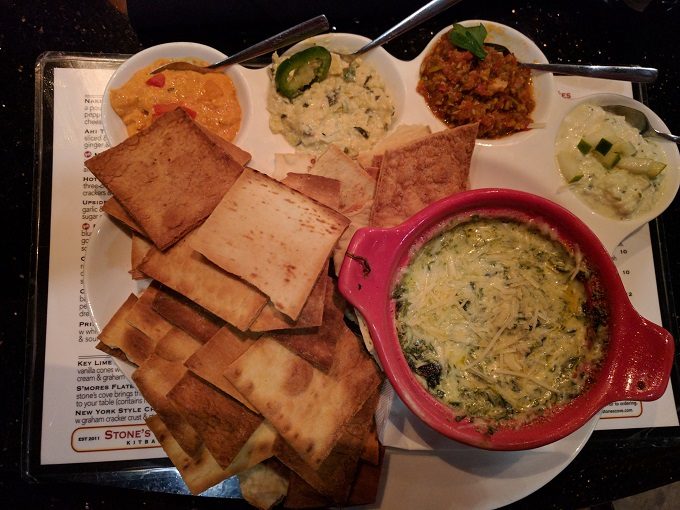 Al mentioned when she ordered it that it was a lot of food. Sure enough, she couldn't finish it so I took one for the team and polished off the chips.
I'm not a big fan of tzatziki, so I didn't try that dip. The tomato remoulade was OK but nothing special while the jalapeno dip was pretty good.
The red pepper hummus though…
I'll be honest – I've never tried red pepper hummus as I've always assumed it wouldn't taste that good even though I like red peppers. (I think it's because the word 'hummus' puts me off as I don't care for chick peas.)
I gave this a try though and wow. I'm not sure if it's all red pepper hummus or just the red pepper hummus made by Stone's Cove, but it was really good and had a decent kick to it.
Stephen's assumptions 0. Trying new foods 1.
Shae's stepdad ordered the upside down meatloaf cupcakes. I'd thought that looked interesting when originally checking out the menu – garlic and herb meatloaf on top of horseradish mashed potatoes – but didn't order it as I assumed it'd be a fairly small portion given that it was an appetizer.
I was wrong.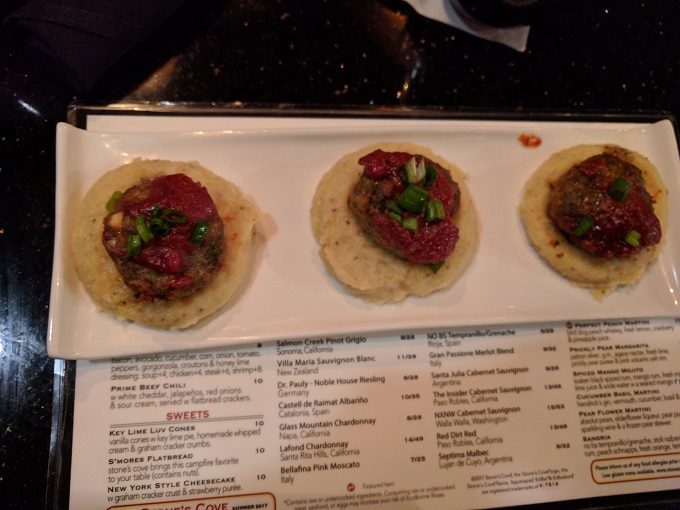 The serving size was generous and he enjoyed his meal.
Stephen's assumptions 0. Appetizer sizes 1.
We were all pretty full by the time we'd had our mains, but Shae was eyeing up the S'mores flatbread. As we were celebrating both her and her mom's birthdays, I mentioned that I'd made them a birthday "cake", so they may not want dessert.
Thankfully Shae didn't order the S'mores dessert, as the birthday "cake" I'd made was S'mores sushi.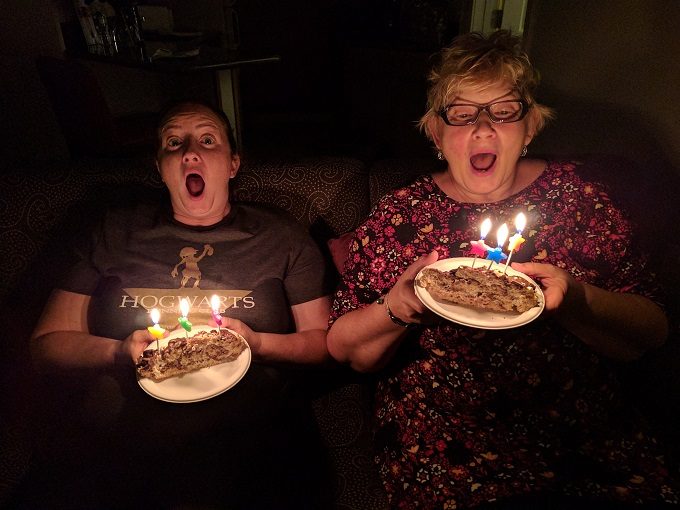 I should mention that that's the shadow of her mom's glasses, not the craziest painted eyebrows you've ever seen 😉
The S'mores sushi was delicious, even if I do say so myself given that I made it. However, it was a Pinterest fail. Well, Facebook video fail. This video shows what it was meant to look like.
The reality wasn't quite as great. The sushi collapsed on me as I rolled it, so it ended up looking like this: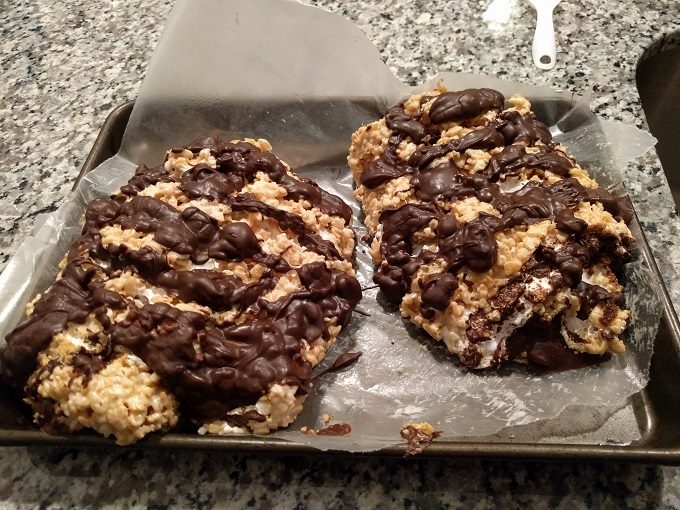 Stephen 0. Always-too-good-looking-to-be-achievable-Facebook-food-videos 1.
Anyway, back to the review of Stone's Cove.
Shae ended up going back to Stone's Cove the following night while I was at the Lifehouse and Switchfoot concert. She ordered the blueberry & goat cheese salad and also the non-Facebook video fail S'mores flatbread.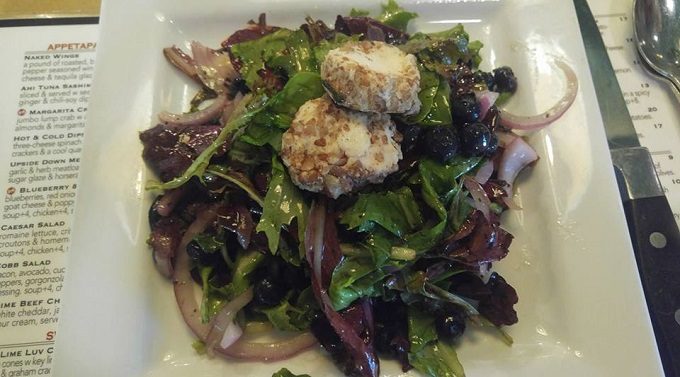 She liked both of these, although the salad apparently wasn't quite as amazing as the spinach & artichoke flatbread, but very tasty nonetheless.
Summary
If you're visiting Herndon, you could do a lot worse than to eat at Stone's Cove. The service was very good, the food was extremely tasty (even though my tacos and mojito weren't my best thing ever) and the prices were reasonable.
Our Rating
Food = 4.5 / 5
Price = 4 / 5
Atmosphere = 4.5 / 5
Decor = 4 / 5
Service = 4.25 / 5
Total = 4.25 / 5
Address
Stone's Cove, 2403 Centreville Road, Herndon, VA 20171