Prior to our flight from San Francisco to Auckland, Shae and I had never flown in business class. Knowing that we'd only have six days in New Zealand, we wanted to ensure we could hit the ground running, awake and alert.
We therefore decided to splurge some of our miles in order to book business class flights with United (more on that here). That would provide us with a lie-flat bed which should – in theory – help ensure we'd get some good rest on the way there.
We were obviously excited to experience business class for the first time. I was also pleased that we'd get to experience United's new Polaris seats. At the time we took our flight, the seats had only been installed on some of their airplanes, so we were fortunate to be flying on a 777-300ER which had been kitted out with the new seats already.
Here are the details of our flight:
United 917
San Francisco (SFO) – Auckland (AKL)
Depart: 22:45
Arrive: 08:55
Departure Date: November 29, 2017
Arrival Date: December 1, 2017 (as we crossed the International Date Line)
Seats: 2D (me) and 2G (Shae)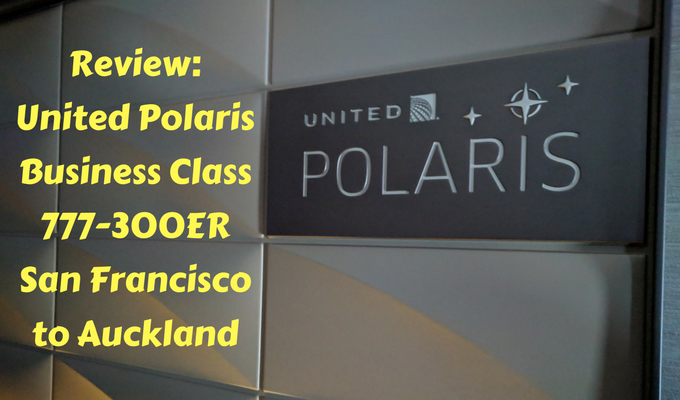 Boarding was well underway by the time we boarded the plane. As it was an evening departure, the cabin was softly lit with blue / purple lighting.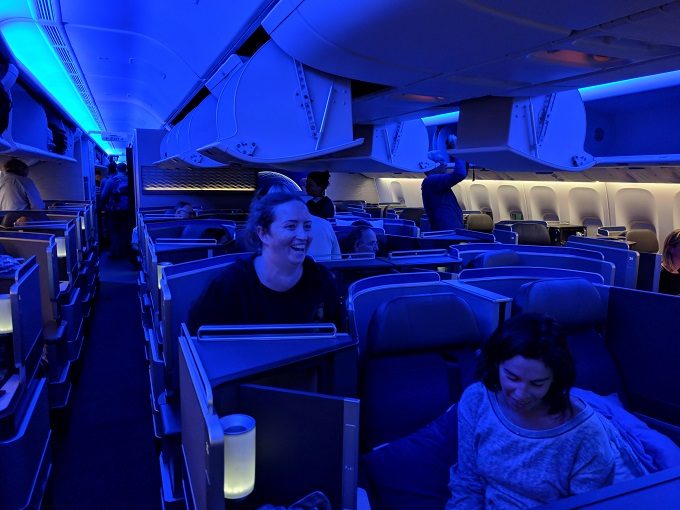 Each row had four seats, so each seat had direct aisle access. The angles of the center seats alternated based on their row number. Rows with odd numbers were parallel and adjacent to each other, facing straight ahead. Rows with even numbers (which is where Shae and I were seated) had seats that angled away from each other towards the aisle.
Despite being angled towards the aisle, the seats still felt like they provided a lot of privacy thanks to the curved exterior.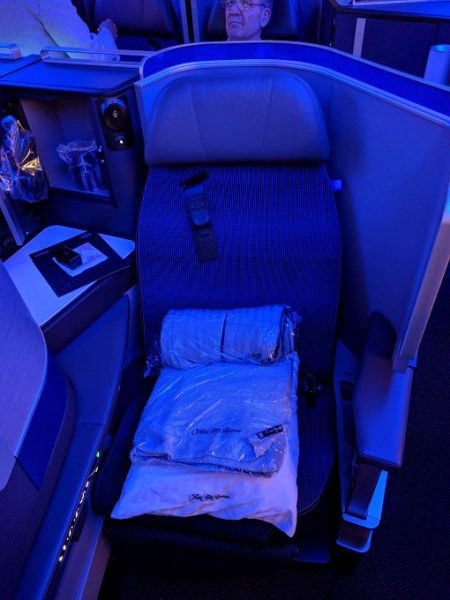 Our seats contained our bedding, all provided by Saks Fifth Avenue. There was a soft pillow, a day blanket and a thicker blanket.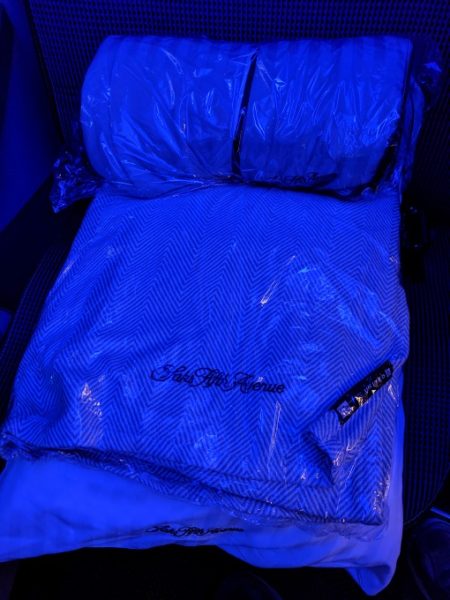 Next to the seat was a counter holding the menu and a small box of two chocolates.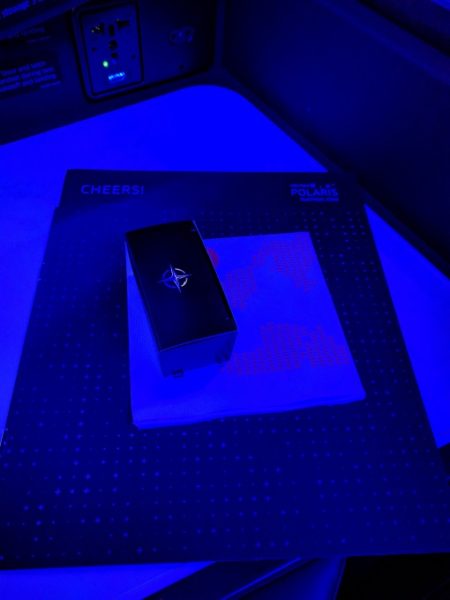 Beside that counter was a power outlet, USB port and headphone jack.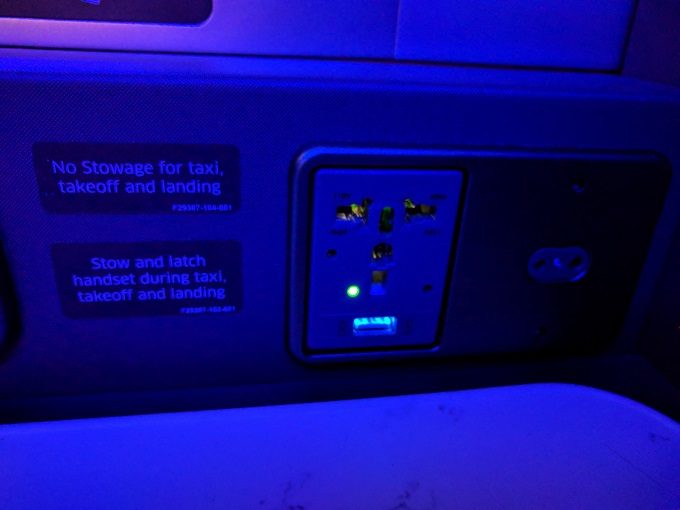 To the right of that was a cupboard containing noise-cancelling headphones and the amenity kit.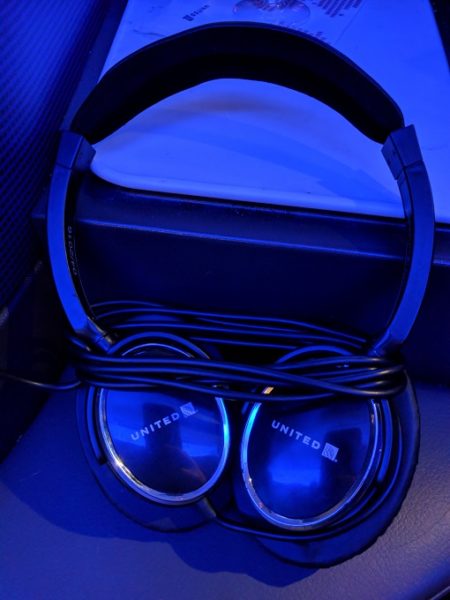 The amenity kit was provided in a metal tin which celebrated the 747.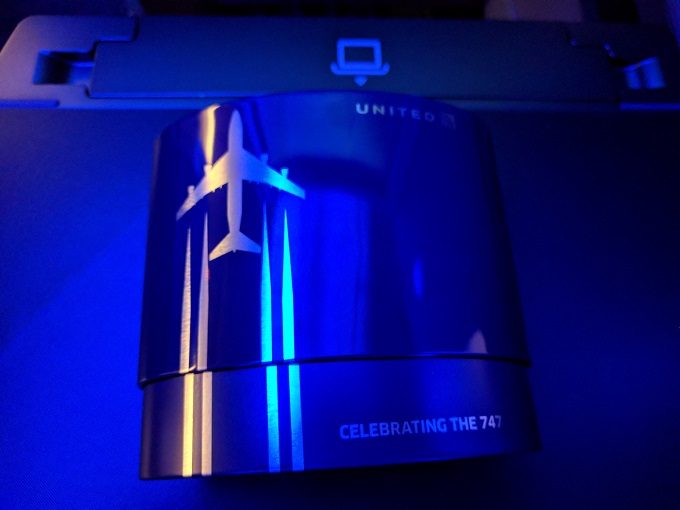 Contained in the amenity kit were socks, an eye mask, hand sanitizer, 747 trading cards, Cowshed amenities (lip balm, hand cream and pillow mist), facial tissues, earplugs, toothbrush, toothpaste and a pen.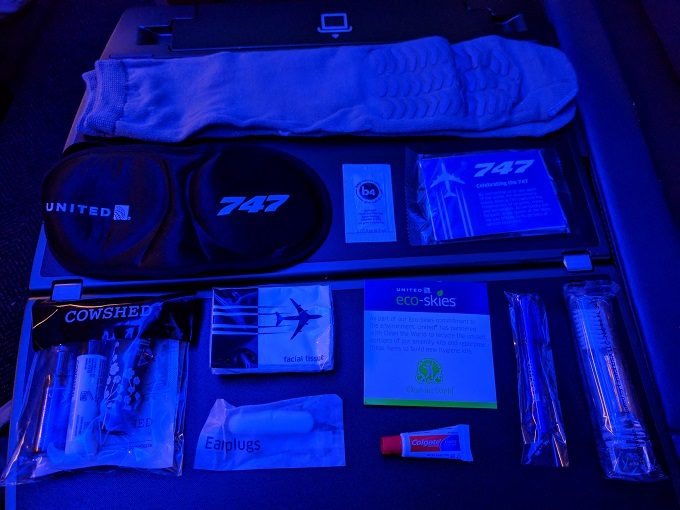 Opposite the cupboard was a lamp (not pictured), while there was also a small individual light aimed at the tray table and for reading.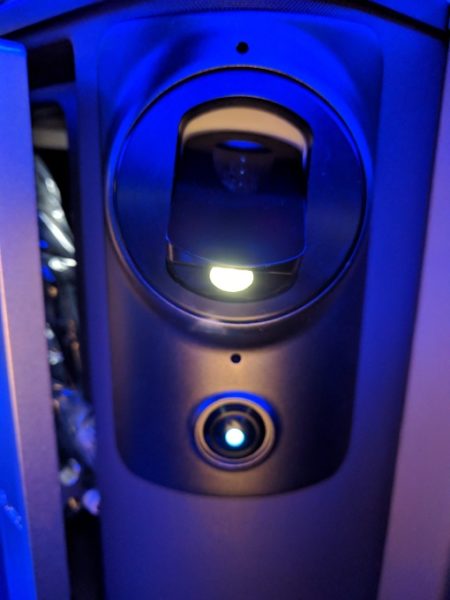 While we were getting settled in, a flight attendant came by to offer a drink. Never one to say no to free booze, I asked for some champagne which was served in a plastic cup. (n.b. he offered champagne, but it tasted more like sparkling wine – my taste buds might've been mistaken though.)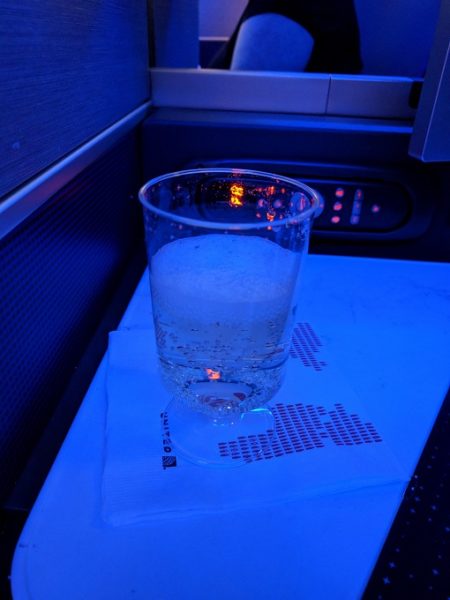 To the left of the seat (the aisle side) was a small storage area, along with the safety card, in-flight magazine, etc.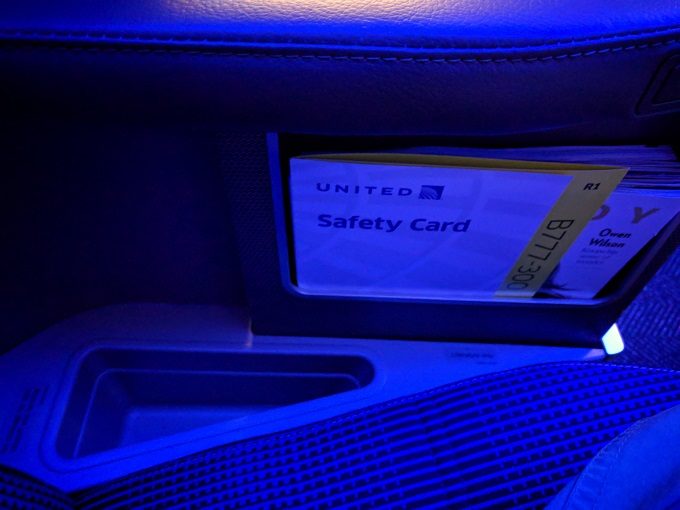 To the right of the seat were the seat controls. These were fairly self-explanatory, although they were highly temperamental. You can press the up and down arrows or the + and – symbols to adjust the seat, but the controls on my seat only seemed to work on about the 17th attempt each time. The left and right dial worked without an issue though.
I'm fairly sure it wasn't operator error (although it is me, so you never know); the buttons simply didn't seem to work as they should.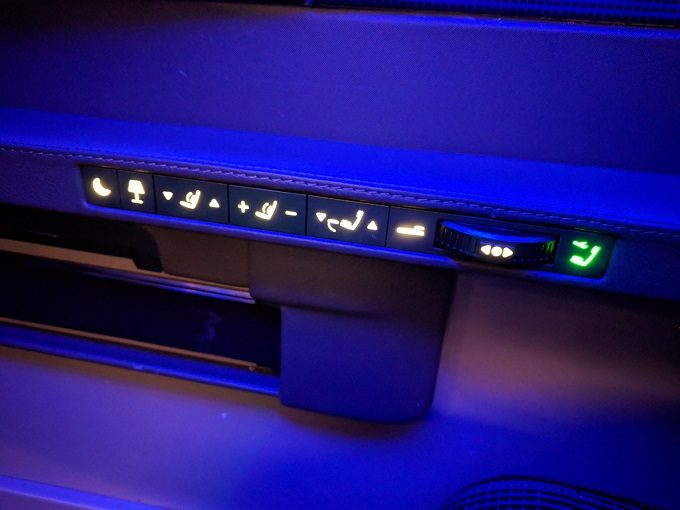 There's a partition between the center seats you can raise that offers more privacy if you're not traveling with someone.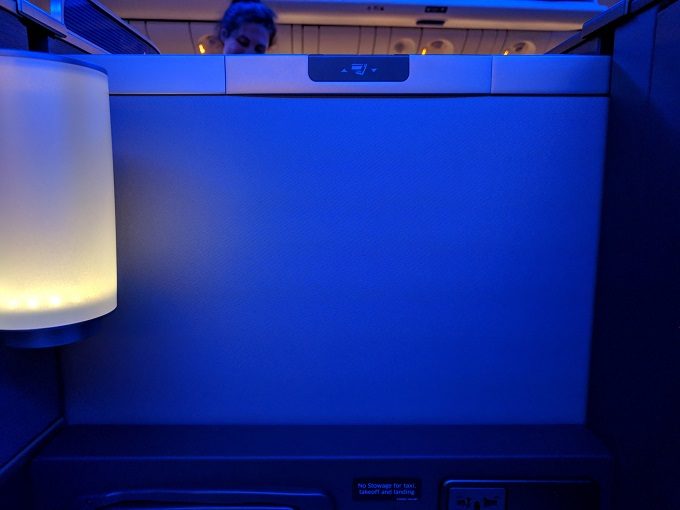 If you want to be able to chat to a traveling partner though, just press the down button and it'll lower itself.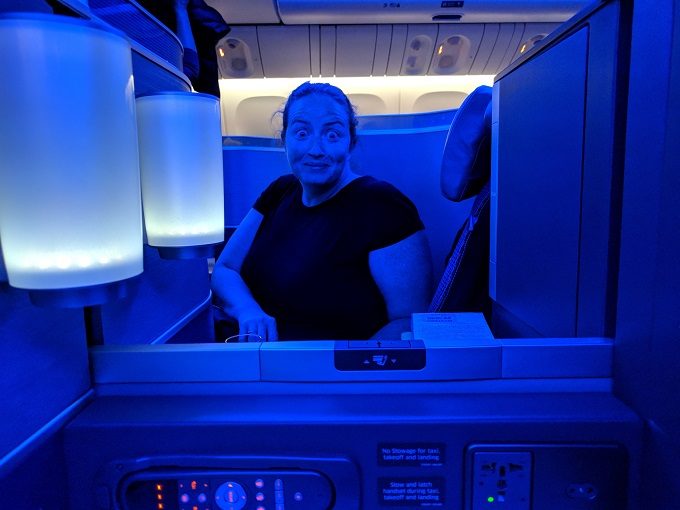 Beneath the partition and to the left of the power outlet was the entertainment controller. This was attached to a cord that could be pulled out. To return it back to its original position, pull the cord out as far as it'll go, then it'll retract itself.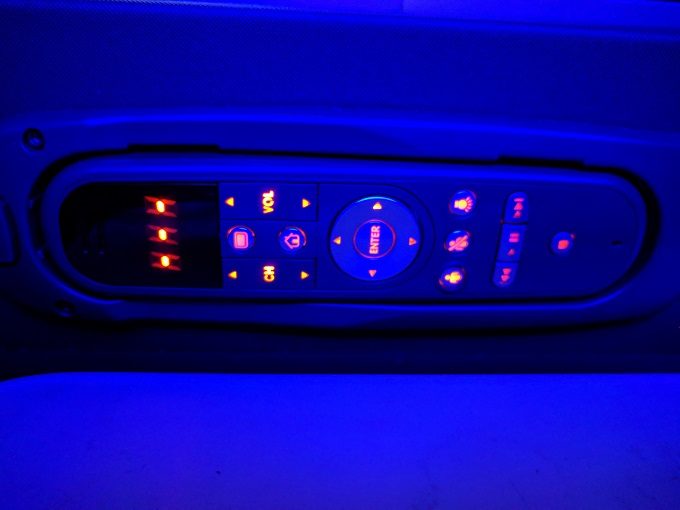 I'll come back to the entertainment options later on.
Beneath the In Flight Entertainment (IFE) screen was another storage area. This was where I stored my glasses during the flight.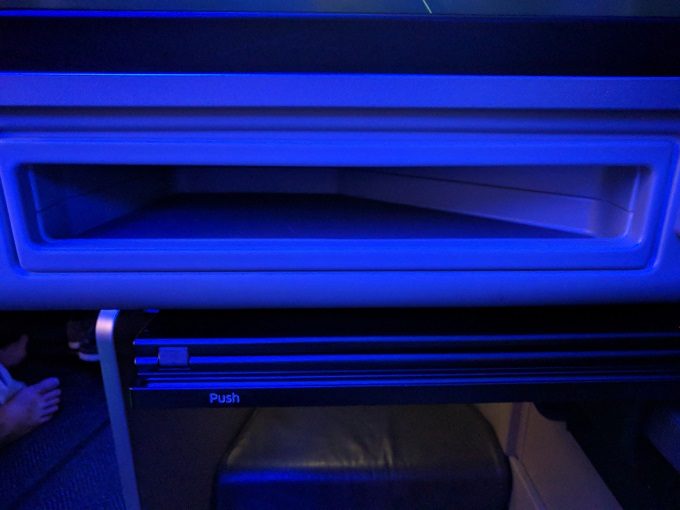 To the right of that was another USB port, so the storage area was also a good location for charging your phone.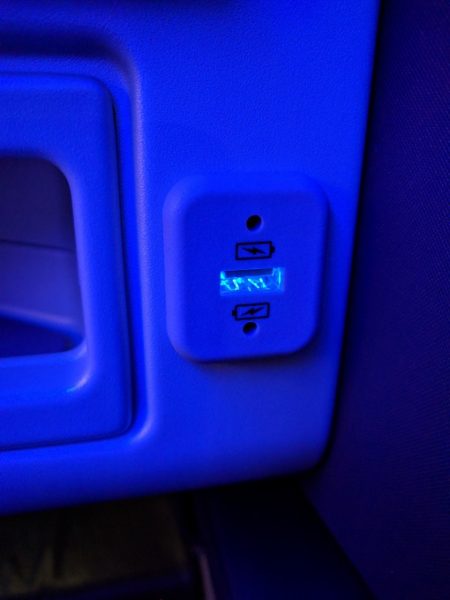 To the right of that was a coat hanger…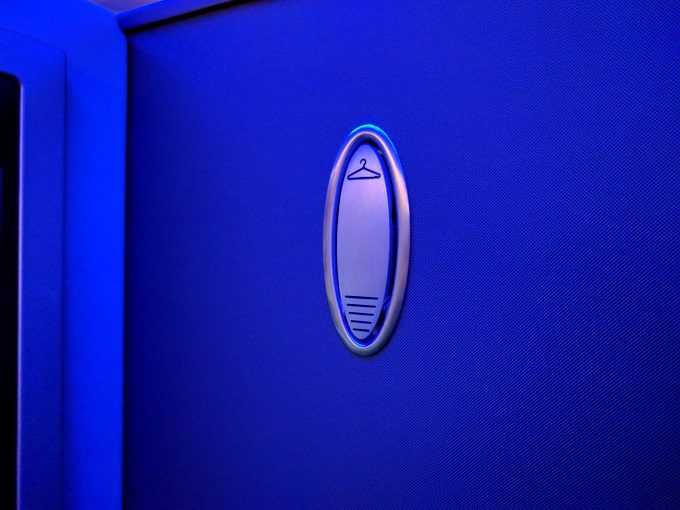 …and beneath was the tray table which you have to press in in order to pull it out.
There were two nice design elements about the tray table. The first is that it could be folded over so that you could have a small or larger table. The second is that it could be slid back while still fully extended, making it easier to get out of your seat so that you didn't have to remove everything from the tray table.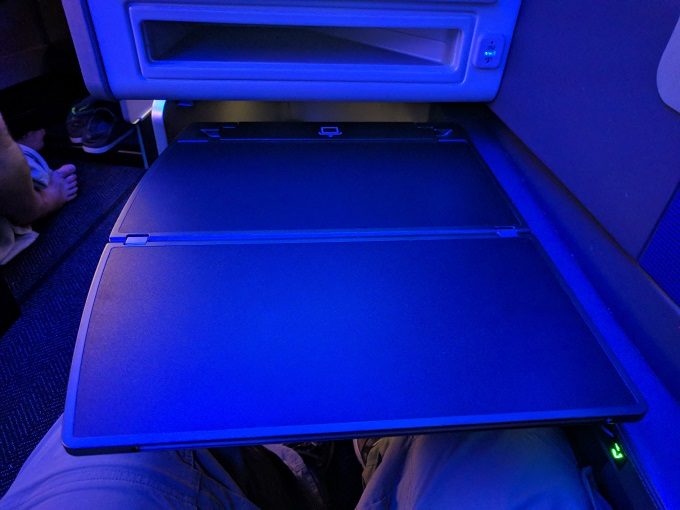 Beneath the tray table was the footwell. The padded area is where your feet rest when the seat's fully extended for sleeping. The area beneath that is where I stored my shoes during the flight.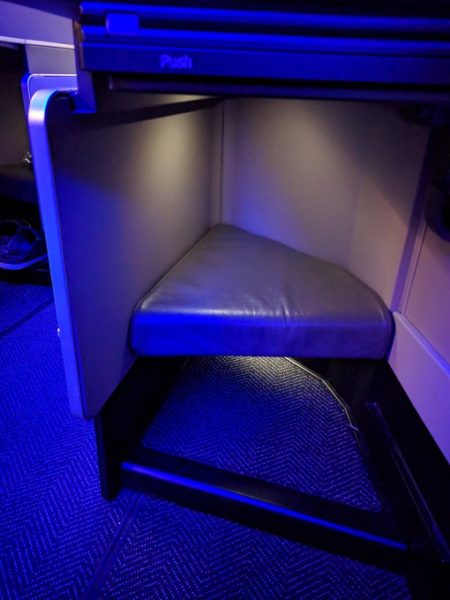 Boarding was busy but quick, so the door was closed at 22:28 and we left the gate at 22:35, ten minutes ahead of schedule. The captain announced that our flight time would be 12 hours 36 minutes which was shorter than I'd been anticipating.
Once we were in the air, the flight attendants came down the aisle with a cart containing wine, champagne and mixed nuts.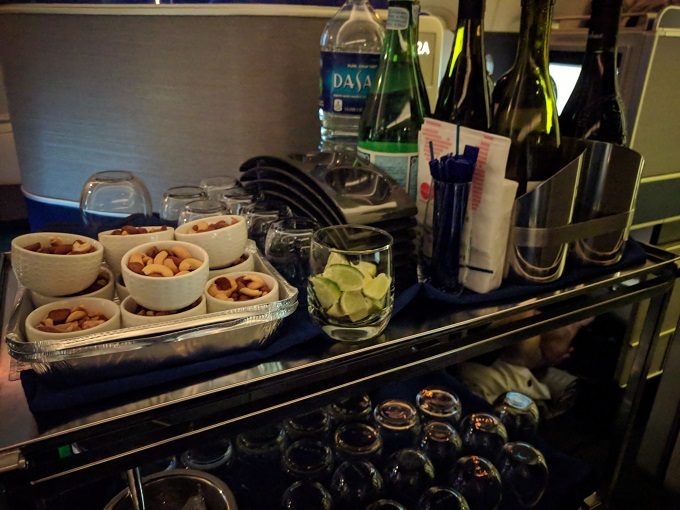 I was tempted by the wine flight option but decided to continue quaffing champagne. It actually tasted like champagne this time and was served in a glass rather than the pre-departure plastic cup. I also asked for a glass of water; both drinks and the nuts were served atop a blue tablecloth.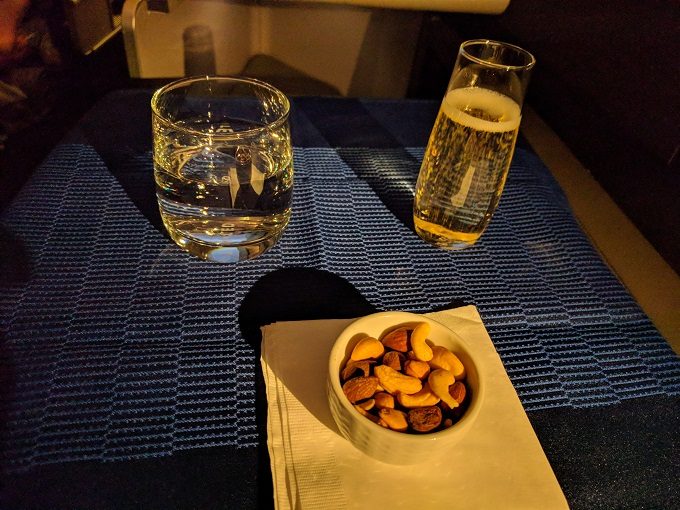 Prior to takeoff, the flight attendant had taken our first and second choices for our entree. Here's the full food and drinks menu.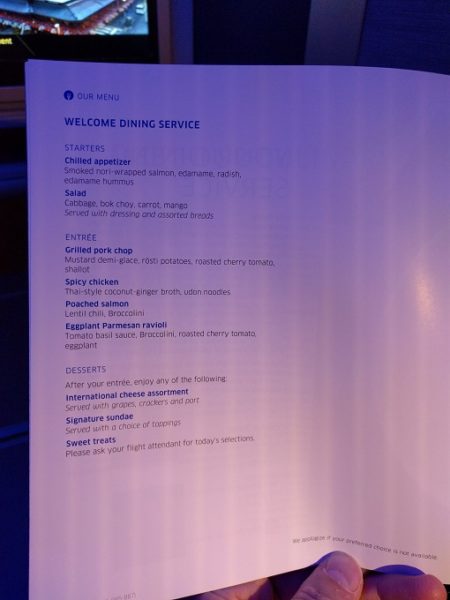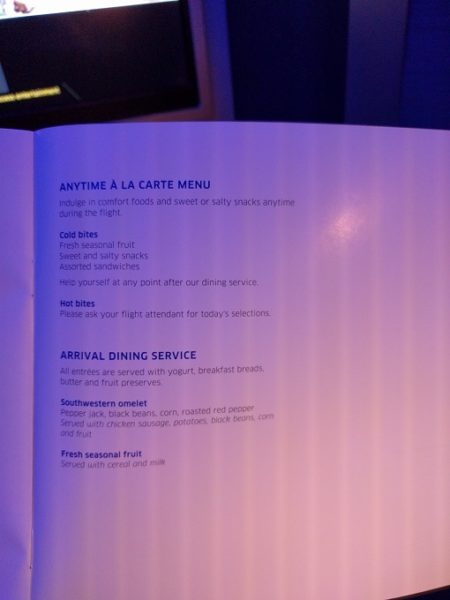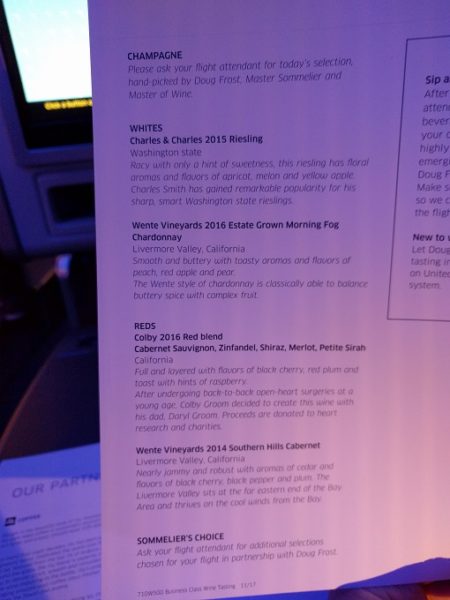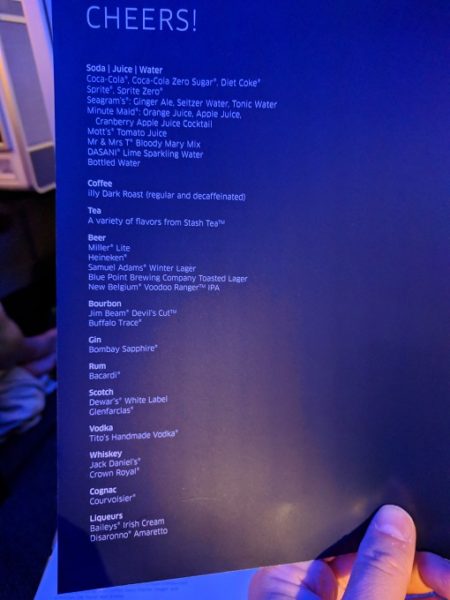 About 15-20 minutes after the mixed nuts and drinks were served, our appetizers were brought out. This consisted of a salad, smoked salmon with edamame hummus, a slice of garlic bread and a bread roll.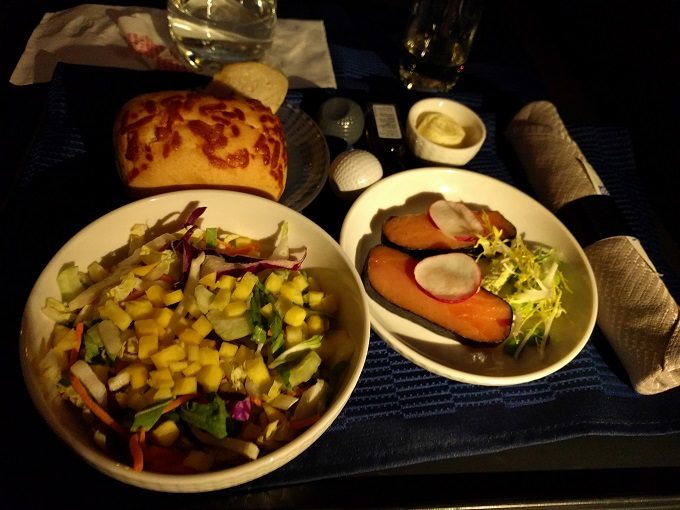 Even with the balsamic olive oil dressing, the salad wasn't particularly flavorful. The smoked salmon on the other hand was delicious – I could've quite happily eaten that for all three courses.
For her entree, Shae ordered the Thai-style spicy chicken with udon noodles. She loved it – I got to try a little of hers and it was indeed very tasty.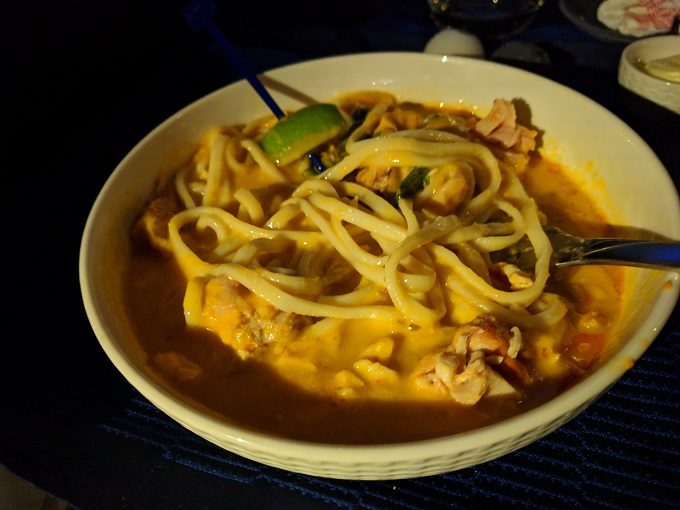 My choice was the poached salmon with lentil chili and broccolini. I was a little dubious beforehand about the lentil chili, but that was actually the tastiest part of the dish. The poached salmon on the other hand was disappointing as there simply wasn't much flavor to it (I much prefer my Instant Pot hoisin salmon recipe!)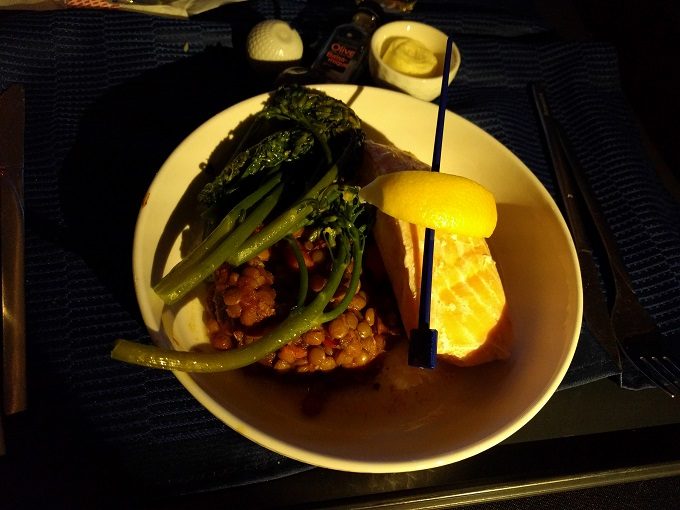 I don't care for cheese, so I passed on the cheese course. Here's a photo of Shae's instead: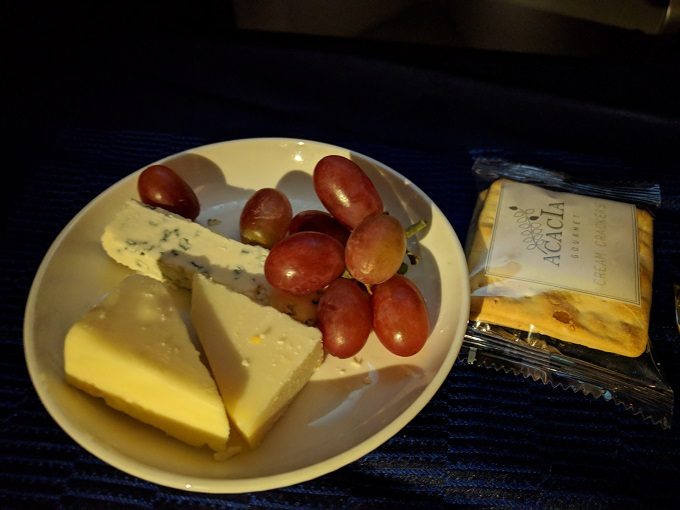 They then brought round a dessert cart with a few different individual-sized dessert options.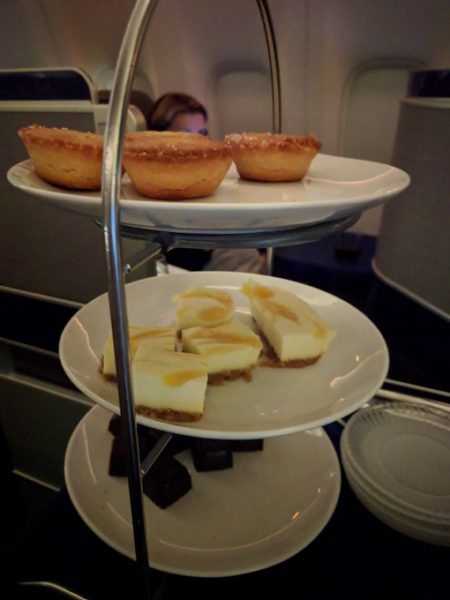 I wanted something a little lighter, so I ordered a strawberry sundae.
Overall, the meal service took about 1 hour 15 minutes. After I'd finished eating, I went to the lavatory to brush my teeth. I'd expected the lavatories in business class to be a little more spacious than economy, but they seemed to be the same size.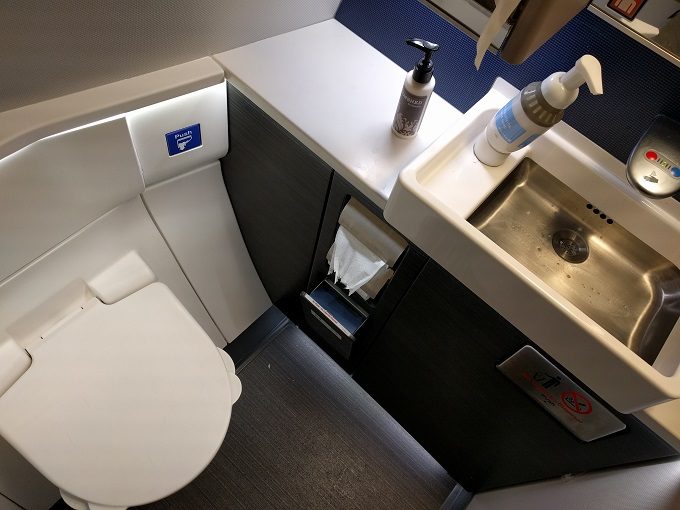 I think the only difference between business class and economy lavatories is that there were Cowshed amenities in there.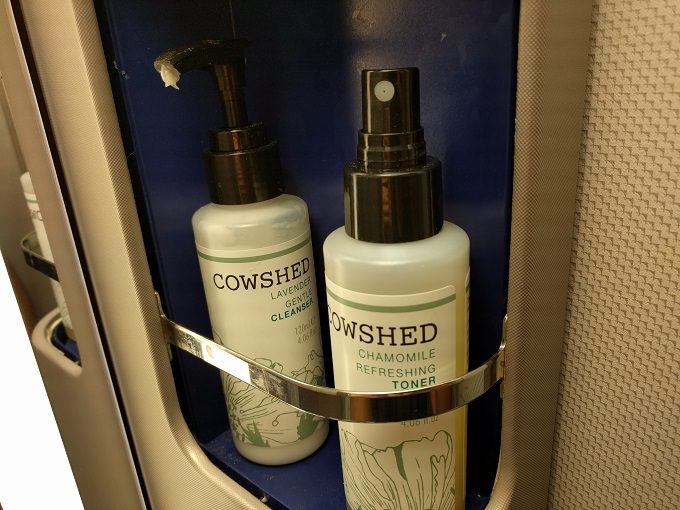 Returning to my seat, I decided to check out the In Flight Entertainment (IFE) system. There was an excellent selection: 200+ movies, ~100 TV shows, 20+ games, audiobooks, music and more. The screen was a good size – probably 15-20 inches.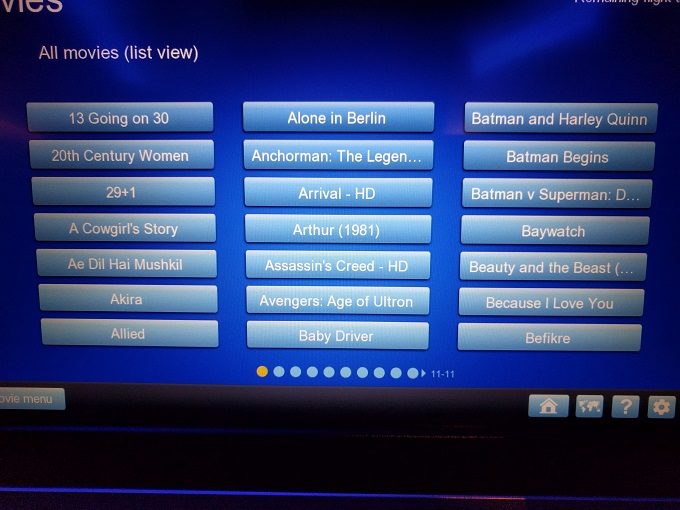 I wasn't feeling very movie-y, so I watched and listened to a couple of Vevo music playlists from the 90s and 00s.
After an hour or so (and about three hours into the flight), I figured it was time to try sleeping in an airplane lie-flat bed for the first time. I used the controls to fully recline the seat and made the bed.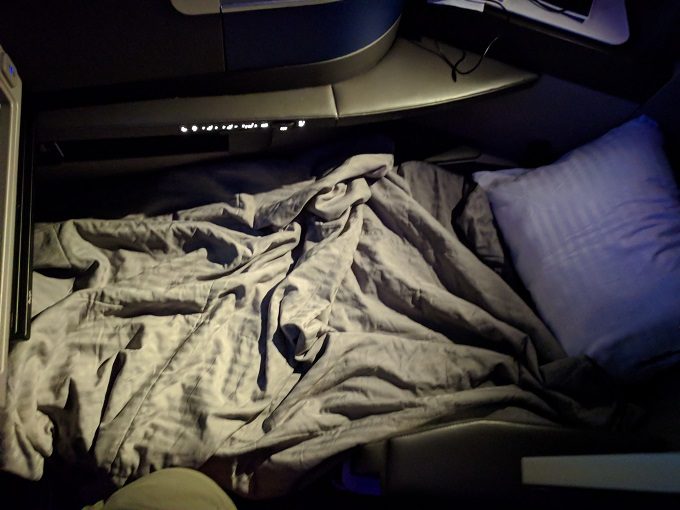 In total, I think I got about four hours of sleep which is less than I'd hoped for. The biggest problem I had was falling asleep and staying asleep due to turbulence. We didn't have any particularly bad turbulence – there just seemed to be consistent rough air for several hours which kept waking me up.
The thicker Saks Fifth Avenue blanket ended up being too warm, but I couldn't be bothered to get up to retrieve the thinner blanket from the overhead compartment, so I slept mostly uncovered.
After a few hours, my pillow was warm on both sides which also affected my sleeping. I therefore got up and asked a flight attendant for a cooling gel pillow. They're not proactively offered, but I'd thankfully read online before the flight that they're available in United business class upon request.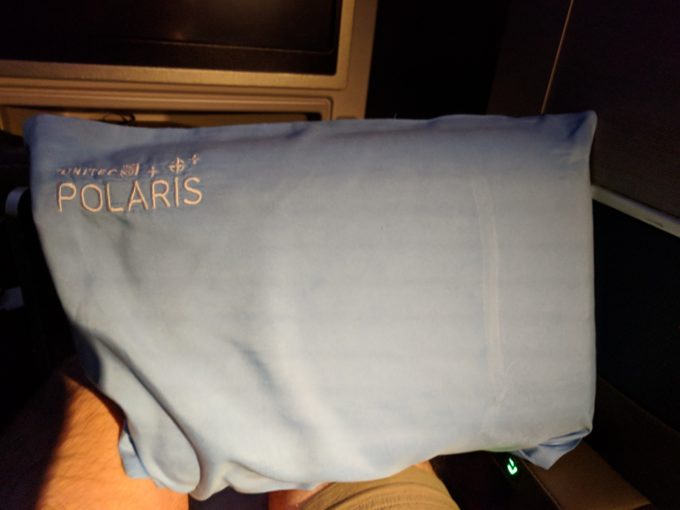 The cooling gel pillow helped make me more comfortable, but I was too awake having gotten up to request it, so I didn't get much more sleep after that.
Giving up on getting any more rest, I decided to watch The Big Sick. This was the best movie I'd seen in a long time, so it was a couple of hours well spent.
While I was watching the movie, breakfast was served. This consisted of a southwestern omelet with potatoes and chicken sausage, a croissant, vanilla Greek yogurt and fresh fruit. The breakfast was nice, but wasn't particularly superior to meals I've had in economy in the past.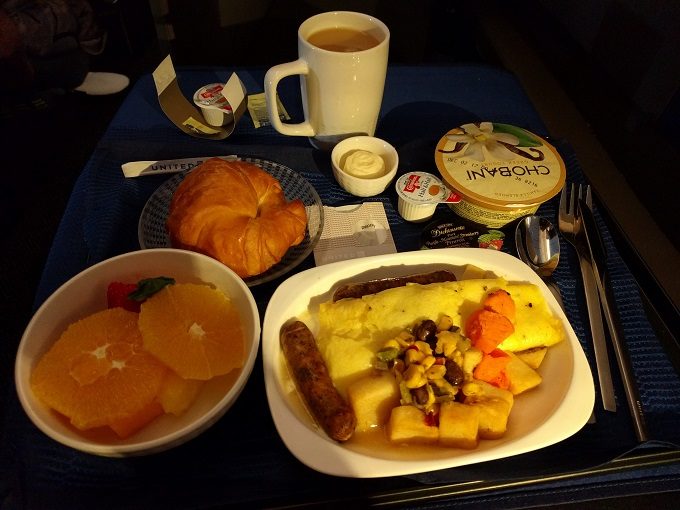 Within about an hour of finishing our breakfast, we touched down in Auckland.
Final Thoughts
I mentioned at the start of this review that this was both mine and Shae's first time flying business class. We were both very excited ahead of the flight, but we found United's Polaris business class to be somewhat underwhelming.
The Pros
The seat was very comfortable and provided a lot of privacy. There were a lot of entertainment options and the food alternated between fair to very good.
The Cons
The seat controls (on my seat at least) didn't seem to work as well as they should and the lavatory was smaller than I was expecting.
The biggest letdown on the flight though was the service. My best description would be that it was meh.
None of the 4-5 flight attendants that Shae and I interacted with were warm and fuzzy. They were competent and weren't rude, but we've had significantly better service in economy class on Virgin Atlantic, Asiana, Qantas, Virgin Australia and more.
We're not high maintenance and certainly don't need to be made to feel like we're the mutt's nuts. However, we received significantly better and friendlier service at the grocery store checkout today than we did on our United Polaris flight and our groceries didn't cost us 70,000 miles per person!
Overall, I'm glad that we flew business class rather than economy as it was a more comfortable experience than we would've had. However, I wouldn't go out of my way to fly United Polaris again (although I wouldn't try to avoid it either).
We're flying home in business class on both Thai Airways and EVA Air, so it'll be interesting to see how they compare.
Follow Our Entire Trip Down Under
Be sure to also check out all our other posts from our trip to New Zealand and Australia:
Review: United Polaris Business Class 777-300ER San Francisco to Auckland