I'm someone who loves figures, spreadsheets and other nerdy stuff.
I therefore figured it might be fun to keep track of a bunch of different stats as our road trip progresses and share them here with you. How many miles we drive, how much money we spend each month, how many points we earned and redeemed, etc.
This should give you a better idea of how we're able to afford to go on this 50 state road trip. I'm also hoping that it'll help show how you might be able to travel more using points and miles.
To kick off the series of road trip stats, here's where we were as of December 31, 2017, the day before the road trip started.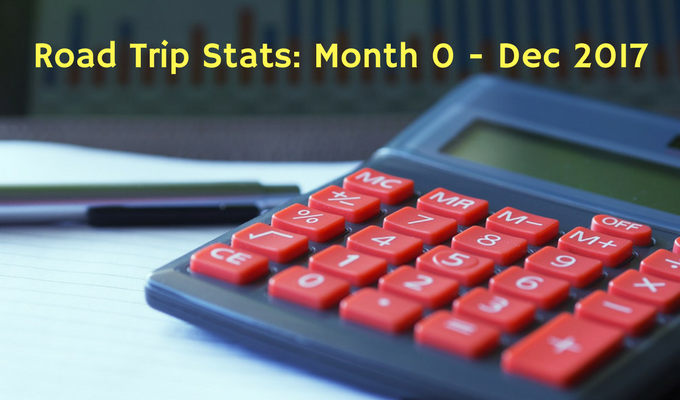 Miles Driven
As our road trip hadn't started yet, our road trip mileage was zero. The reading on our odometer though was 79,378.
Money Spent
Again, the road trip hadn't begun at that point, so we effectively hadn't spent any money.
Opening Points Balances
This is where it starts getting a bit more interesting. Shae and I have spent a few years building up our hotel points accounts, so we have quite healthy balances.
A lot of these points were earned from credit card signup bonuses, as well as category bonuses, shopping portal rewards and more. Check out Frequent Miler's Start Here page for a good overview of the various methods Shae and I used to build these points balances.
To make it a little more concise, I've totaled our points together when we both have accounts with the same loyalty schemes. I've added our Ultimate Rewards balances into the mix as we'll likely transfer some of those points to Hyatt over the coming months and years.
IHG Rewards Club – 539,282
Hilton Honors – 752,003
SPG – 131,511
Marriott Rewards – 307,230
World of Hyatt – 40,318
Club Carlson – 356,230
Choice Hotels – 34,465
Chase Ultimate Rewards – 351,539
Final Thoughts
So that's how we started out on the road trip. This road trip stats series will obviously get juicier from the end of this month once we have some actual stats to report.
In the meantime, are there any other figures or stats you'd like us to share about the trip that aren't mentioned here? Let us know in the comments below and it might be something we include in future reports.