Mini-Trip Report
Tailside At The Trailside: Washington & Old Dominion Trail, Herndon VA
Truffles and I are always looking for ways to keep our girlish figures while enjoying all the treats that being on the road has to offer.
We found a great park and walking trail while staying at the Sheraton Herndon Dulles Airport. It's called Trailside Park and is about a 15 minute drive from the hotel. We headed there early Saturday morning while Stephen was still asleep.
In addition to being reasonably close to the hotel, it had great amenities including a picnic shelter, playground and skate park. The park had a nice grassy area good for playing ball games or frisbee (does anyone even play frisbee anymore!?) as well as porta-potties for emergencies.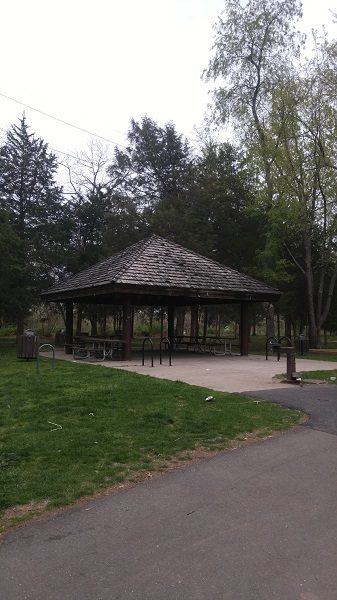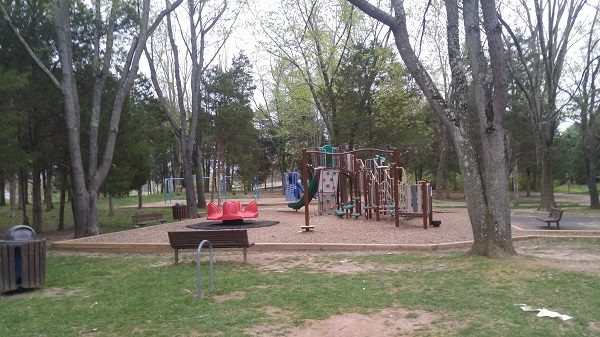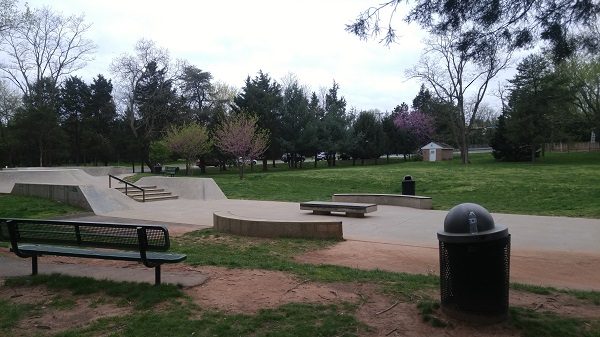 Towards the rear of the park there's a golf course and an entrance to the Washington and Old Dominion (W & OD) Trail. (More on the significance of the W & OD later.) The trail was actually the reason we came to the park. I was looking for a nice long walk for Truffles and I and this seemed like as good a trail as any. We weren't disappointed.
When we arrived at the trail we could go in either direction. Not having any clue what lay either way, or a friendly brainless scarecrow as my guide, I randomly picked right.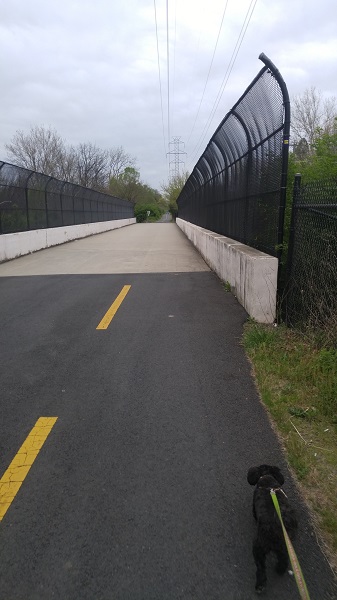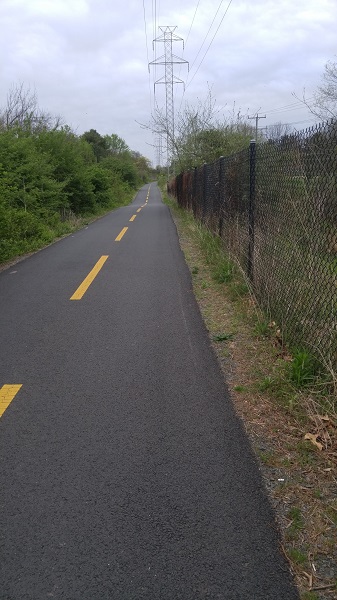 The Washington & Old Dominion trail was beautiful. It was nicely paved with a lane for walkers and cyclists in both directions. The trail was surrounded by trees and bushes making the path really picturesque.
It also had a path off to the side for those with dogs (although dogs seemed to be welcome on the paved path as well) and other animals (like horses!). We switched back and forth between the paved route and the off-road pet-friendly route. One of the nice things was that the crossings over the streets were very safe and well-marked.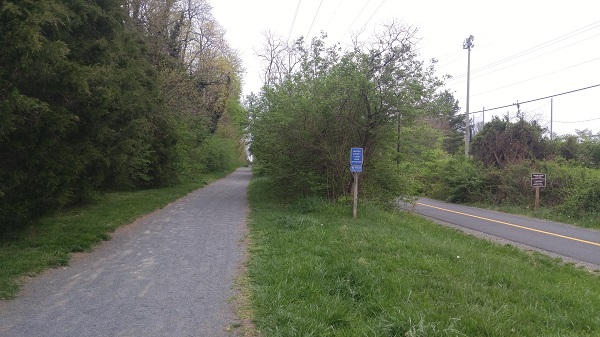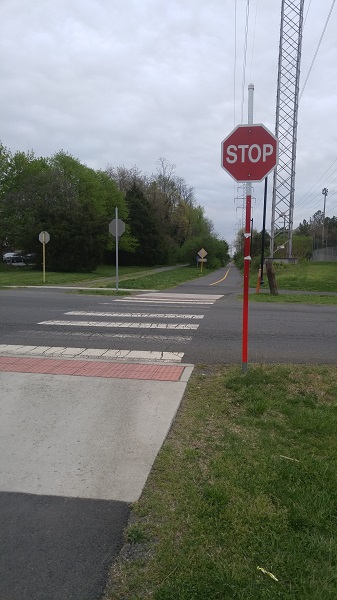 It took about ¾ of a mile to find ourselves on the outskirts of a town – the historic district of Herndon VA.
It was a fantastic surprise. There was a railway car from the old Washington and Old Dominion Railway. The W & OD Railway used this line to transport goods in to and out of Northern Virginia until cars, trucks, ships and planes became the primary methods for moving items across the country.
As a result, the railway line was paved over and turned into a walking and biking trail that's 45 miles long! But in Historic Herndon you can find a quaint town, including a railway car and an old-timey train station and depot.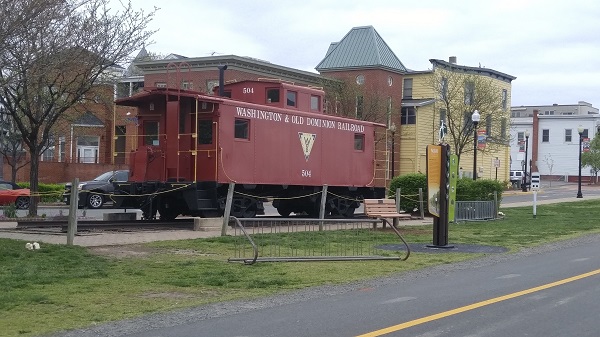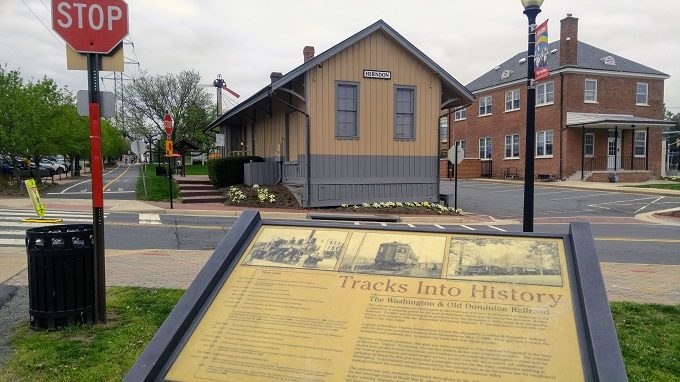 The depot is in the center of the square and provides seating, nearby restrooms and one of the cutest Little Free Libraries I've seen in person. Within eyesight, Historic Herndon also has a general store, court house, shops and eateries.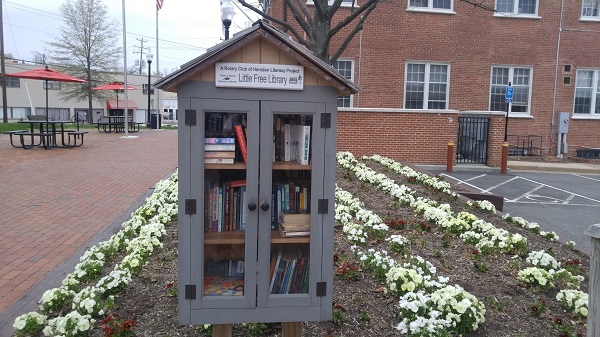 Truffles and I walked about 1 & 1/4 miles before turning back. We passed some great signs with historic information about the W & OD Railway, including information about the railway strike of 1916.
I decided to share this information with my current (and future) students through a Traveling Teach practice video. Truffles really appreciated the break for five minutes while I filmed my video once…realized I didn't press record… then filmed it a second time.
While The Traveling Teach isn't officially launching for a few more months, here is the practice video that I filmed while in Historic Herndon.
Truffles and I headed back the way we came. It was a great walk. I kept one earphone out to listen for passing cyclists which seem to use the trail for group, race and long distance activities. Everyone was friendly and courteous.
Truffles loves a good walk, especially one with so many good smells. We enjoyed it so much we took Stephen back with us the next day and all shared some ice cream in the sun. Truffles has much better portion control than either of us and only has a few licks so as to not upset her tummy. Now, Cheerios on the other hand, she has no self-control around.
We got a total of 2.5 miles completed along the W & OD Trail and would highly recommend it to anyone visiting the area.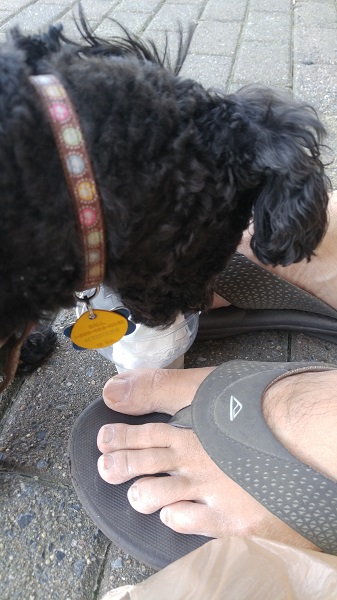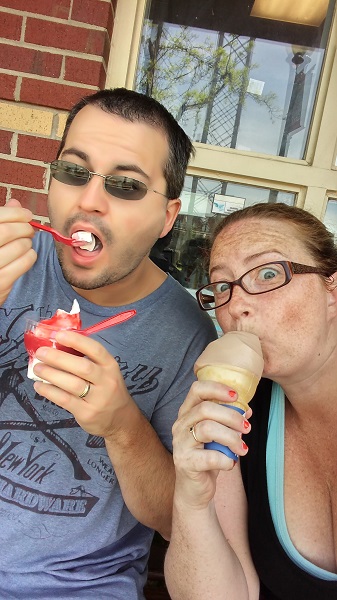 Truffles Rating

Truffles gives the W & OD Trail the 3 paw rating of furbulous.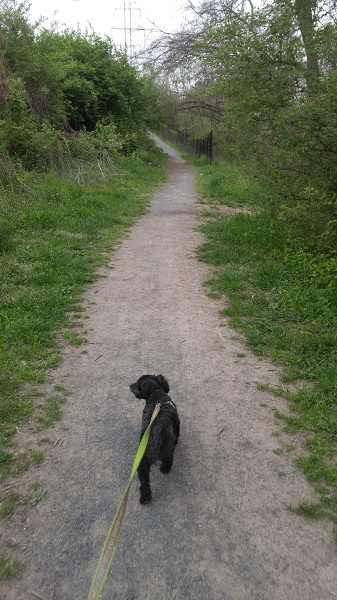 I's really enjoyed dis walk. It was doggy friendly, had many good sniffs and shade along the ways. But the parts of the trail that are paved would needs to be continuously checked for paw-safe temperatures for me and my other fur-friends during the warmer months. All the underbrush along the sides will necessitate checking for ticks and other biting beasties as well. But the promise of ice cream along the walk did make up for many of the small inconveniences fur me.