The day's finally here. Shae, Truffles and I have moved out of our apartment and are now living in hotels full-time.
We'll be living like this for the next five years on our 50 state road trip, usually moving every 5-7 days. Living in hotels has its benefits, so I thought I'd put together a list of the 10 best things about living in hotels.
This list isn't in any particular order. There's also a good chance that we'll discover some other benefits once we've been living this lifestyle for a few months / years, so I'll publish an updated post in the future if that happens.
We also know that there are some not-so-great aspects of this lifestyle, so be sure to also check out our list of the 10 worst things about living in hotels.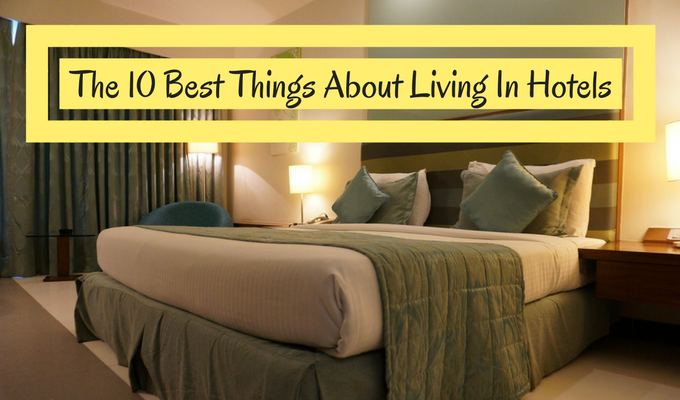 1) You Can Live Anywhere You Like
This is the primary reason we're living in hotels in the first place. It means we can explore the entire country more easily without being tied down to one place.
We can head south for the winter, north for the summer and anywhere in between whenever we want.
2) You Have No Chores
I think this might be one of the best benefits. There's no vacuuming, no dusting, no making the bed – you don't even have to clean the toilet!
It's like having your own personal maid but it's all included as part of your "rent."
3) You Can Easily Earn Status And Benefits With Multiple Hotel Chains
When you're spending 365 days a year in hotels, it's easier to earn top-tier status with more than one hotel chain.
The benefits vary from loyalty scheme to loyalty scheme, but it can often include lounge access, upgraded rooms, suites, bonus points and more.
4) You Get A Cooked Breakfast
Several hotel brands include a cooked breakfast as part of your room rate, including Holiday Inn Express, Hampton Inn, Embassy Suites, TownePlace Suites, Country Inn & Suites, La Quinta and more.
If you have status with hotel chains, you can often get free breakfast at brands that don't include breakfast as part of your room rate. This includes Hilton, Marriott, Hyatt, Sheraton and more. That free breakfast will sometimes be in the lounge and other times in the main restaurant.
5) You Have No Yard Work Or House Maintenance
I hate mowing the lawn and I've never enjoyed – or been good at – house maintenance. Those hassles are eliminated when living in hotels (and, to be fair, in many apartment complexes).
6) You Get A Great Night's Sleep
I find that I nearly always sleep incredibly well in hotels, mainly thanks to their blackout curtains, comfortable beds and clean, crisp linen.
7) You Can Live More Simply
If you're living in hotels – particularly if you're frequently moving from hotel to hotel – you don't want to cart a bunch of stuff around with you.
That's why we did our Extreme Minimalism challenge. We got rid of nearly everything we owned and only kept the possessions we'll actually need. It's incredibly freeing and helps you focus on the items that'll enrich your life.
8) You Get Access To Great Amenities
Many hotels have swimming pools, whirlpool tubs, fitness rooms and more on site. Granted, you might have these at a house you own or at an apartment where you live, but the majority of people don't.
The fitness rooms are also helpful if you take advantage of all the free cooked breakfasts mentioned above 😉
9) You Can Go Where The Jobs Are
More and more people are freelancing – whether as a full-time job or as a side gig – or taking short-term contracts. Living in hotels opens up even more opportunities so that you can go where the jobs are.
10 ) You Have Fewer Bills To Keep Track Of
Mortgage / rent. Internet. Cable TV. Homeowner's / renter's insurance. Property tax. Gas. Electric. Water. Sewage. Pest control. Yard service. Security system.
All of these are bills you might have to pay and keep track of when you own or rent a home. You don't have to deal with any of them when living in hotels.
Your Thoughts?
What do you think? What other benefits are there with living in hotels full-time? We'd love to hear your thoughts in the comments below.