Washington, D.C. mini-trip for Shae's birthday:
The Birthday Queen's Royal Visit to Washington, D.C.
To say that I love holidays is an understatement. Any reason to celebrate anything is good enough for me. Chocolate chip cookie day? Lost sock memorial day? Honey bee appreciation day? I'm in!
But one of my most favorite days of the year has to be my birthday!! Why? Well… frankly… it's all about ME!! And I've met me – I'm awesome and worthy of celebration AT LEAST once a year. So, I donned my crown as the Birthday Queen and off we went for a day seeing the exhibits at the Smithsonian in Washington, D.C.
Smithsonian Castle
We started at the Smithsonian Castle which is the welcome and visitor center for the Smithsonian Museums. There were two really neat features of the welcome center that need to be highlighted.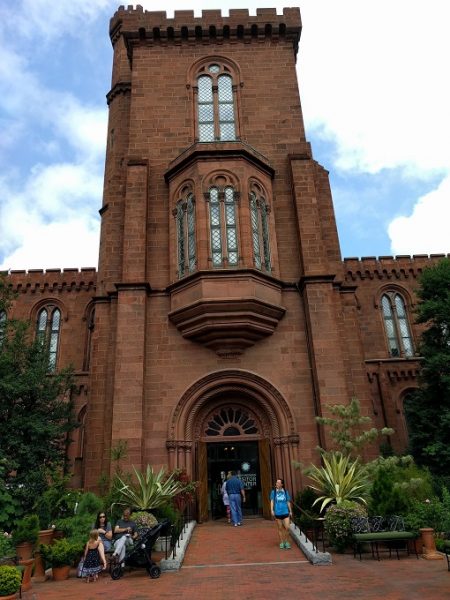 Firstly, the trip planner (pictured below). You can choose what you're interested in, how much time you have, what size and demographics (old/young) your group is and it creates a custom itinerary you can email to yourself!
This was a game changer, let me tell you. We were able to see everything (Almost… Dorothy's shoes were off exhibit for the year) on our visit in the time allotted.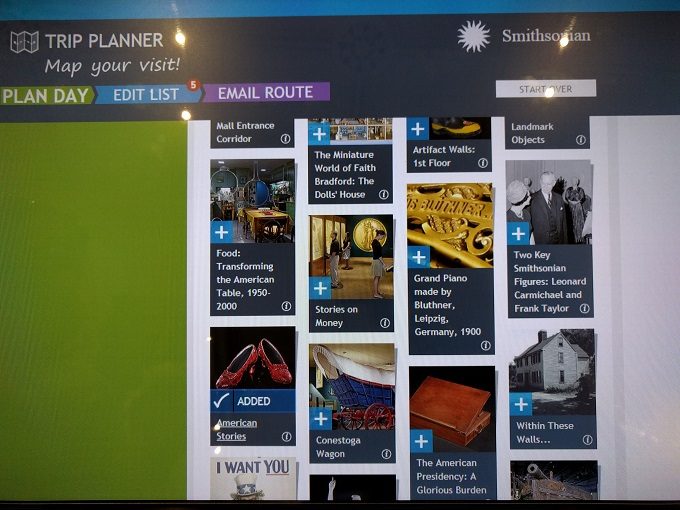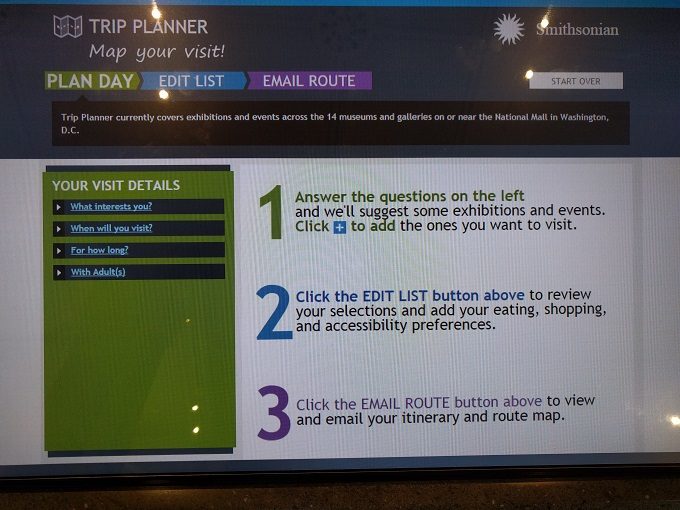 The other cool feature (not pictured) is the Teen Docent program. As a youth worker, I love seeing teens getting a chance to do awesome stuff. We spoke to the Teen Docent who was in charge of getting groups ready for the Smithsonian Castle Scavenger Hunt game. She was friendly, polite and knew her stuff!!! I loved chatting with her and seeing her have the opportunity to volunteer in such a public way.
National Museum Of Natural History
Next we made our way to the National Museum Of Natural History. We'd hoped to see dinosaurs and mummies – we weren't disappointed (OK, maybe a little with the dinosaur exhibit, but still DINOSAURS!!)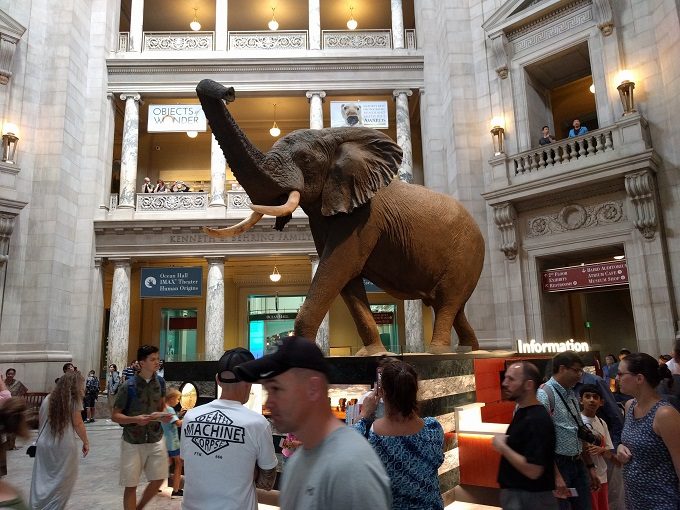 On our way to the mummies and dinos we were waylaid by the Hope Diamond!! Gotta say, not as fancy as I expected. Don't get me wrong, I mean it's beautiful, but I expected it to be as big as my head which sadly it was not.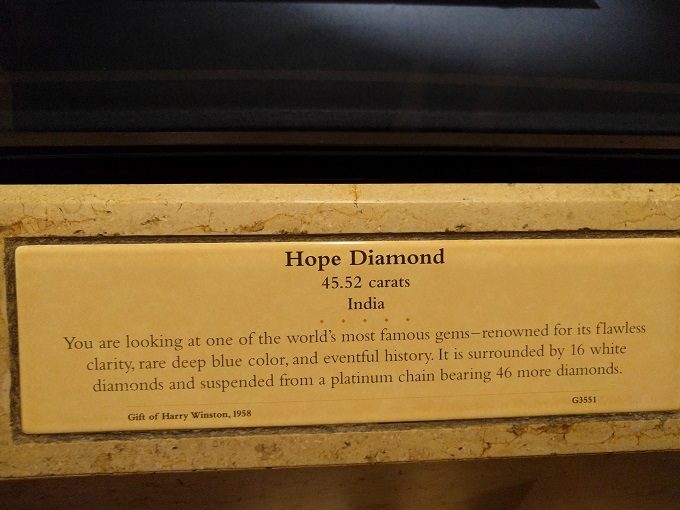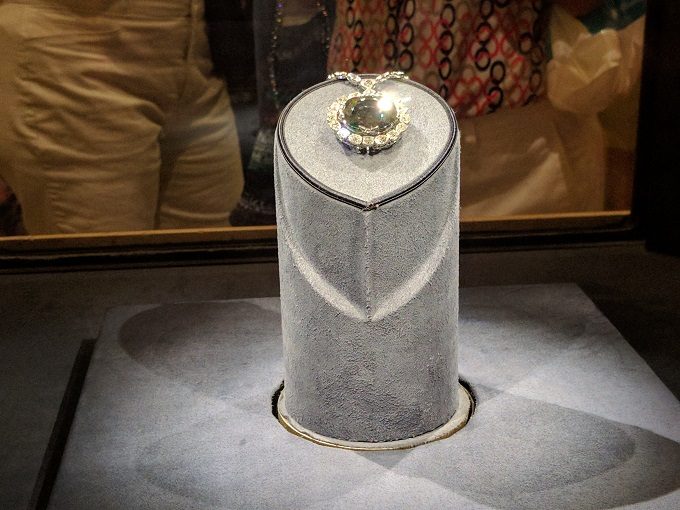 Once I'd sufficiently drooled in the gem section of the museum and found my own Birthday Queen Tiara…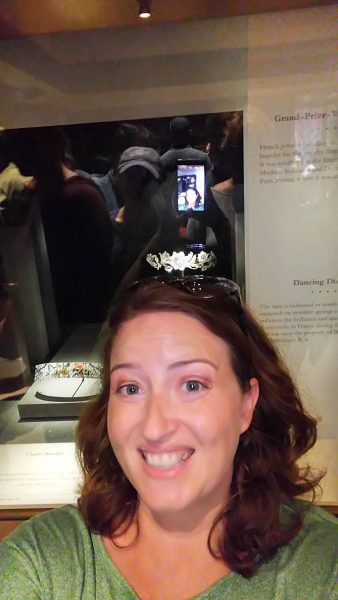 …it was time to get back to the wonderfully mapped-out itinerary we got at the castle and headed to the mummies.
The Egypt display was smaller than I'd anticipated but the mummies were no less cool because of it. When you think about the fact that these were people, and have been so well preserved over hundreds if not thousands of years, it's pretty creepily amazing.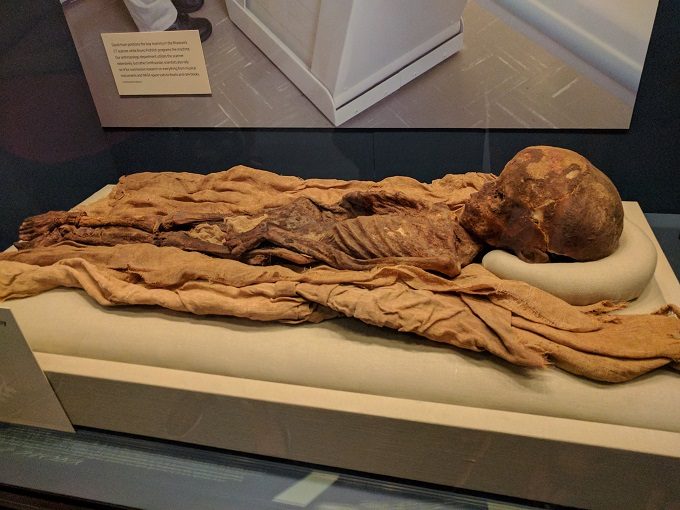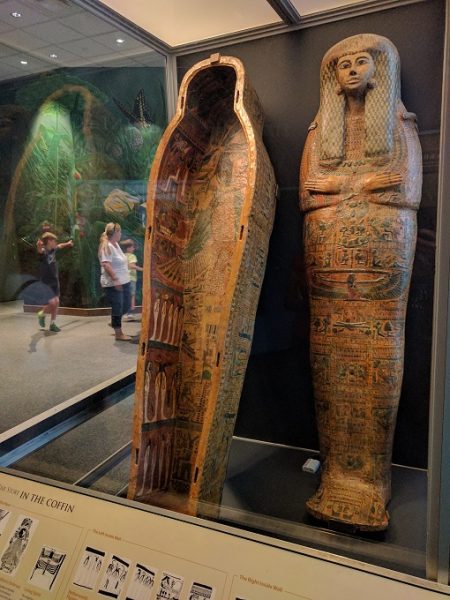 When we moved on from the mummies we headed straight into the dinosaurs. Truth be told, I was disappointed. I expected a display like the Natural History Museum in New York or London. There were only a couple of skeletons here in DC and thus we only stayed a couple of minutes to walk through. However, I did learn that a Triceratops brain was incredibly small (which I kind of remember from school but was reminded with a visual display) when compared to its massive head.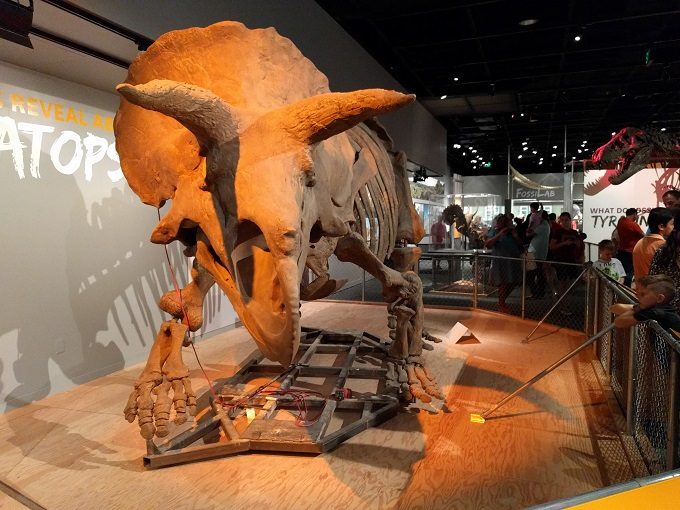 One unexpected pleasure was the Windland Smith Rice International Nature's Best Photography Awards.  I could have stayed here all afternoon I think. I love photography and have been taking classes to improve my skills for our road trip. The photos were incredible. I had quite a few favorites but there was a seal wink image that really made my day – how can it not, it's a baby seal winking at you!?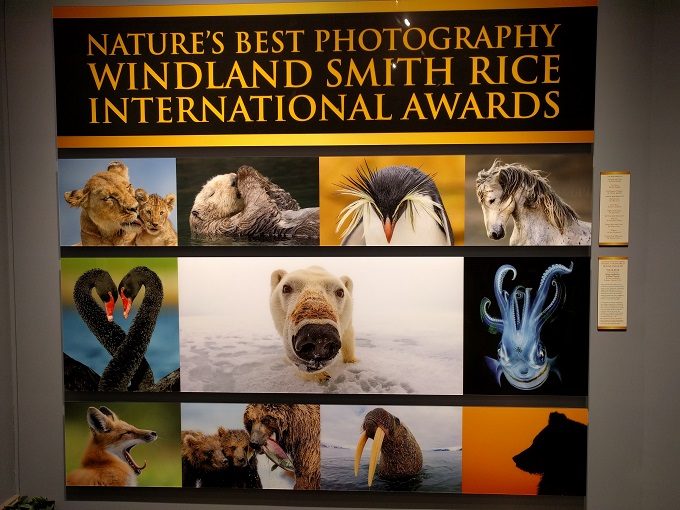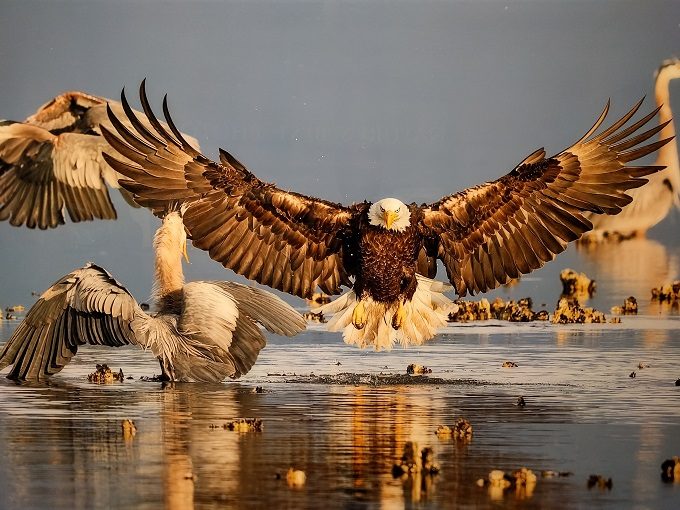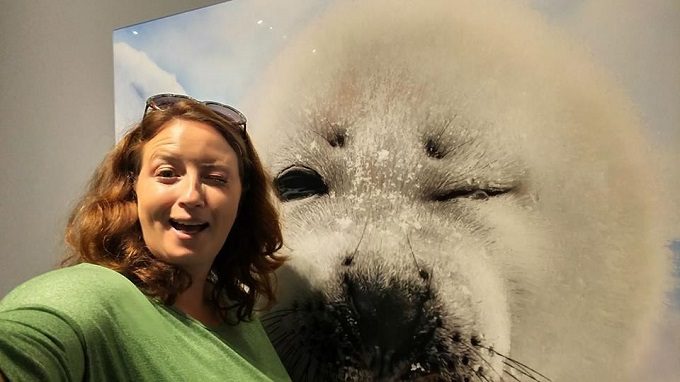 We left the Natural History Museum and made our way to lunch at b DC Penn Quarter. After lunch we went to the National Archives and the American History Museum.
National Archives
I know you might be thinking "seriously, you spent your birthday at the National Archives!?" but honestly, I enjoyed it all. I love learning, I love going new places and I think that it's important for everyone, especially Americans, to see important documents like the Magna Carta and the founding documents of our country.
The line wasn't too long at the National Archives and we headed straight for the Magna Carta and then on to the Founding Charters which includes originals of the Declaration of Independence, the Constitution and the Bill of Rights.
You wait in a group and then get to head straight to the documents. We had a really personable security guard, which was surprising in such an important and solemn venue, but he made what can seem dry… reading historical documents… very fun.
One of the best parts about the National Archives is that there's no line system, so you just walk up and look. Don't like it? Too bad. There is no line system! So it meant we were able to see the important documents and get out to make the most of our limited time. While no lines is amazing, there's also no photography allowed inside at all. So there are no pictures of the documents to share with you. However, here is the outside.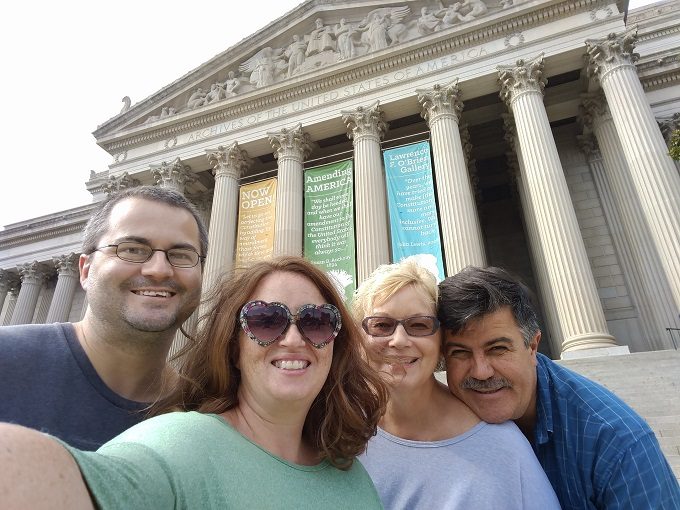 National Museum Of American History
We made our way to our final stop of the day, the American History Museum. On our itinerary we had a few things outlined. The First Lady's dresses, Abraham Lincoln's Top Hat, The Star Spangled Banner, Julia Child's Kitchen, Within These Walls (a home from Massachusetts that's been occupied by five families since Colonial times) and Dorothy's Ruby Slippers.
Upon viewing Martha Washington's dress I had the distinct impression that I'd been here before. It turns out that a few years ago when we took a weekend excursion with our foster daughter, her friend and a couple of our friends, us girls had checked out the dresses. Nonetheless, it was still fun seeing them again.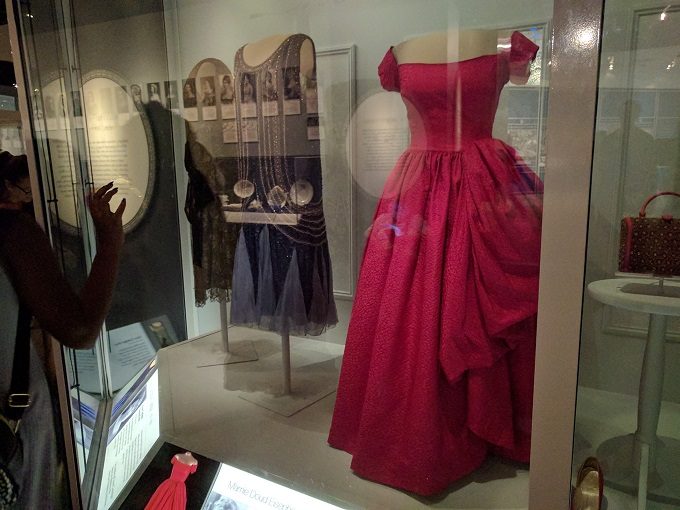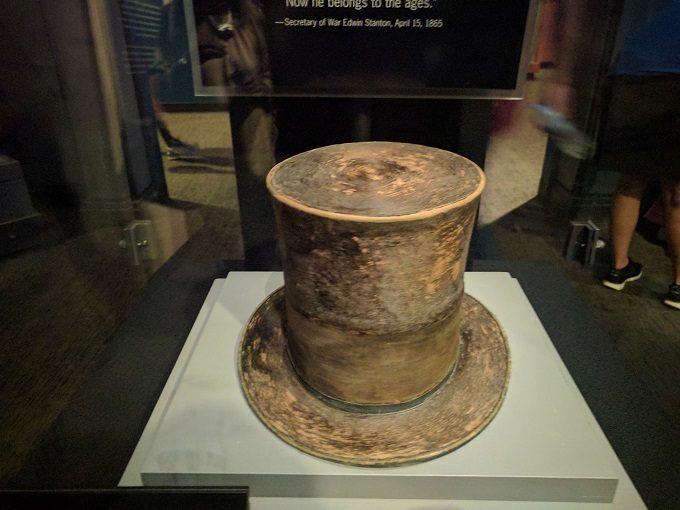 The Star Spangled Banner was incredibly hard to photograph since it's 30 x 32 feet. Several pieces are missing from when people cut them out in celebration and as mementos. The sculpture outside the flag's display is very impressive as well.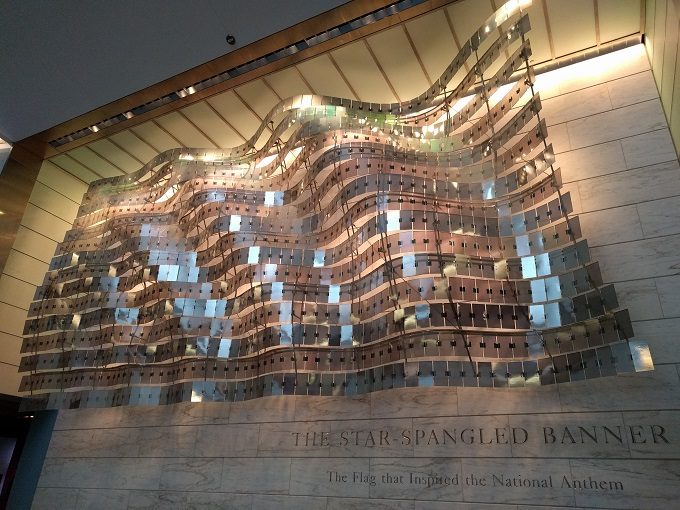 In addition to seeing Julia Child's kitchen (which turned out to be the kitchen from her home that they adjusted to film directly from her house), there were a lot of interesting food displays and information. This included the evolution of the to-go coffee cup lid.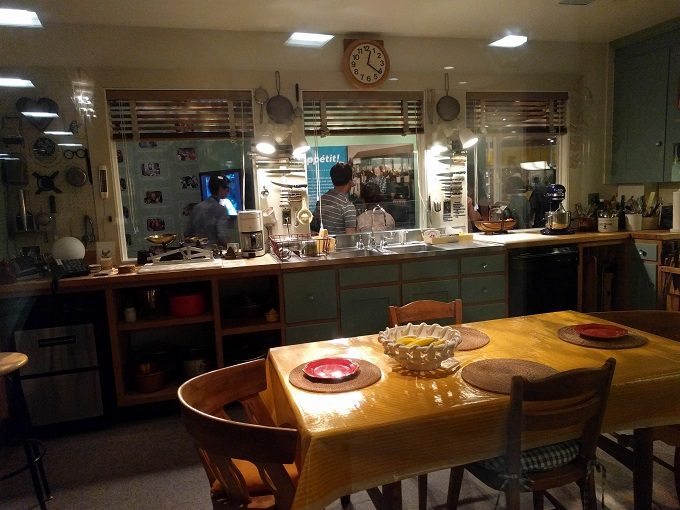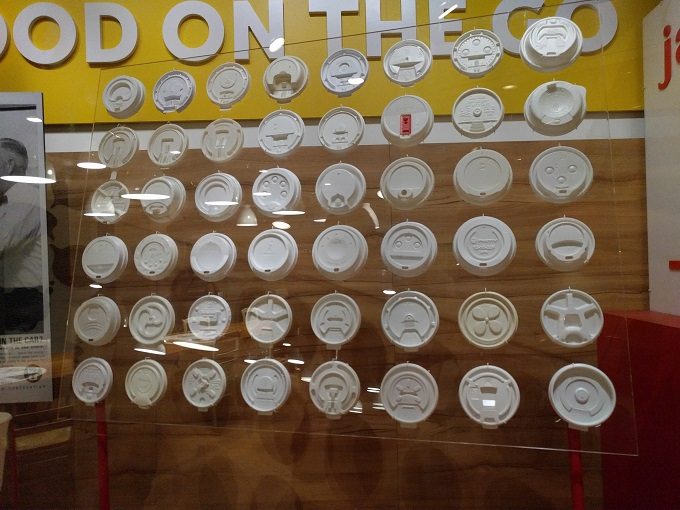 As my mom and stepdad own their own real estate brokerage, they often like to find interesting things on our travels relating to houses. The 'Within These Walls' exhibit showed a property that's been maintained and occupied since Colonial times. They then disassembled the house and moved it to the Smithsonian when it was donated.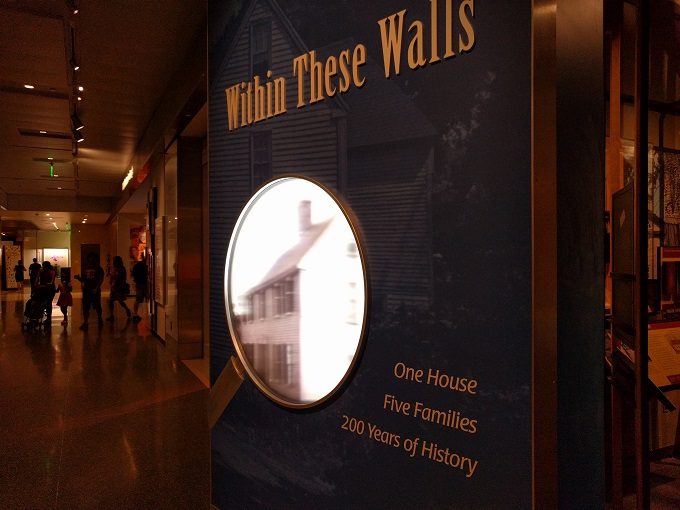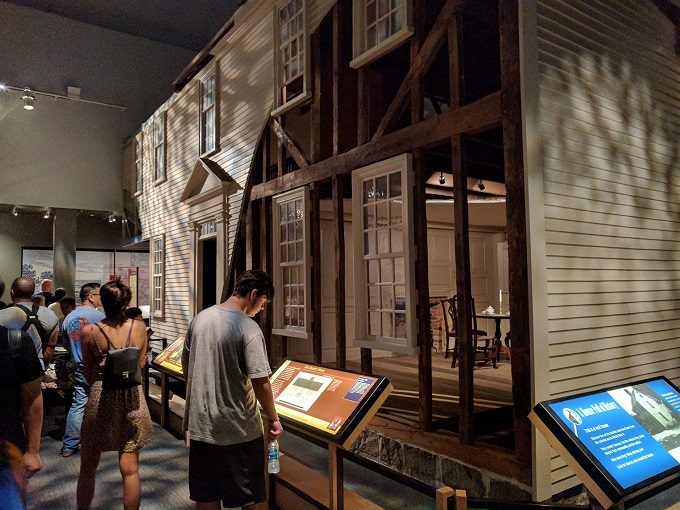 Finally… it was time. The moment I'd been waiting for… Dorothy's Ruby Slippers. As our time was running low, I approached a guide. I told him it was my birthday and I needed to see Dorothy's slippers. He just stared at me… and said that he was sorry to disappoint me on my birthday, but that Dorothy's slippers were off exhibit for the YEAR!! What!? Le… Sigh…
So I asked if there were any other items we should see that might console me. Bert and Ernie, Archie Bunker's Chair and Mohammed Ali's gloves were the only parts of the original exhibit on display right now. So, with a face of courage, I trudged off to view these 'lesser' treasures. They actually turned out to be really fun to see in person, so I'm glad that I was able to overcome my immense disappointment and salvage the final minutes at the museum.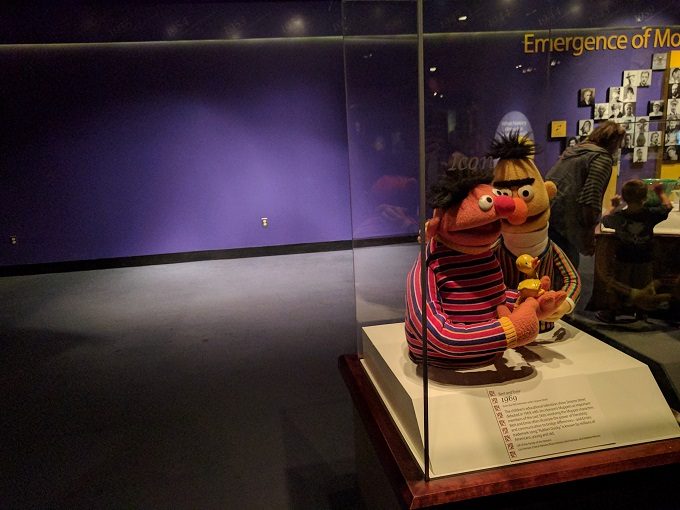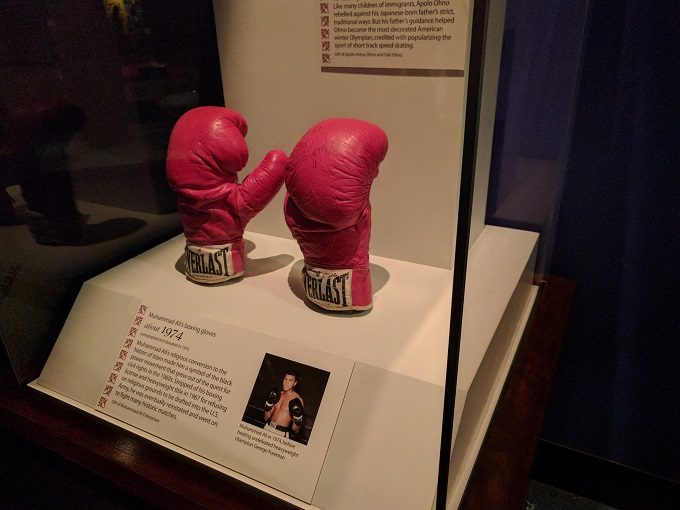 That was our day. Full to the brim with learning, history, good food and great company. I loved every minute of it (except when the news of Dorothy's shoes were broken to me) and I'm so grateful to have a wonderful family that treats me like the queen most days, not just on my birthday.