Virginia Beach Mini-Trip Report
The Ultimate Virginia Beach Mini Golf Tournament
When we were planning our stay, we realized that our Hampton Roads Entertainment Book had coupons for most of the mini golf courses at Virginia Beach oceanfront.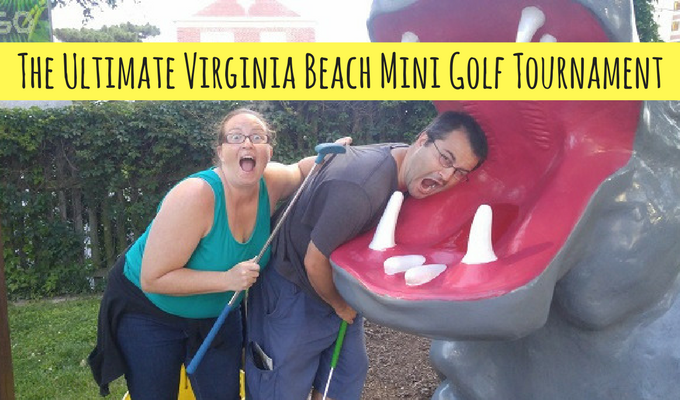 That got us thinking – why not have a tournament playing at loads of Virginia Beach mini golf courses. So on the Saturday morning of our stay we made our way to the first course…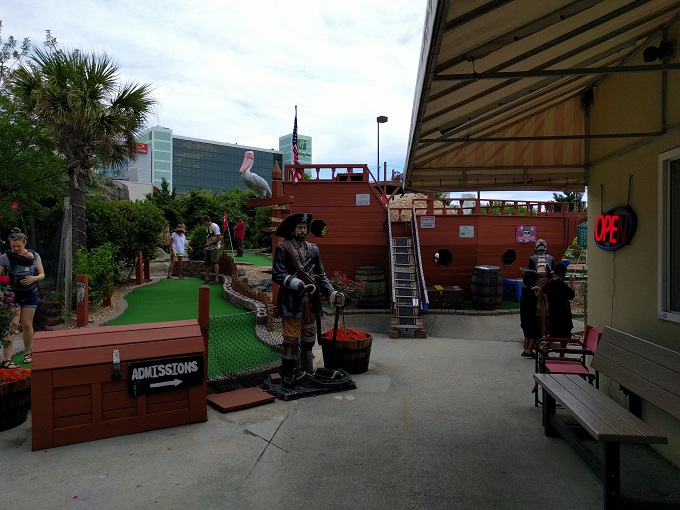 Pirate's Paradise Mini Golf
This is an 18 hole course and costs $11 for adults and $9 for children and seniors. We had a coupon for Buy One Get One Free, so it only cost $11 for the two of us.
After four holes, I'd taken a four shot lead, thanks in part to Shae hitting the water hazard.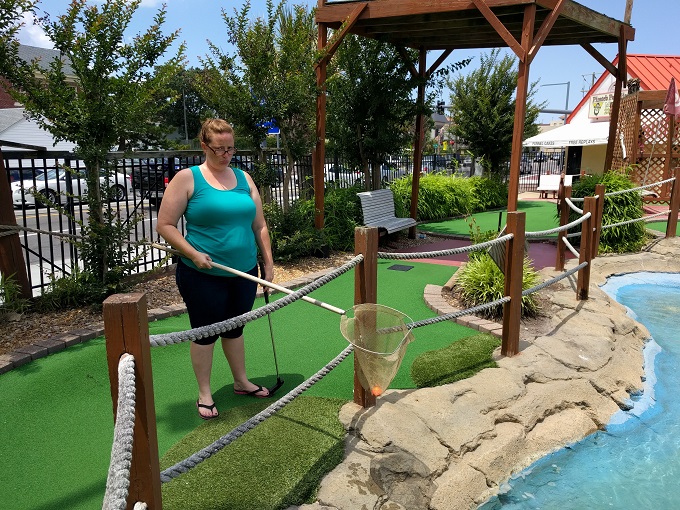 She made her way back into contention and the scores were soon level.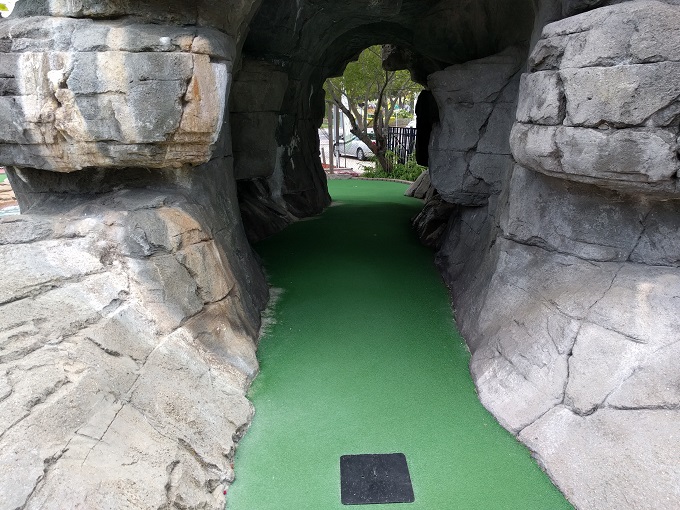 Shae ended up taking the lead going into the 13th hole, but it was all downhill from there as I stormed back to win the round.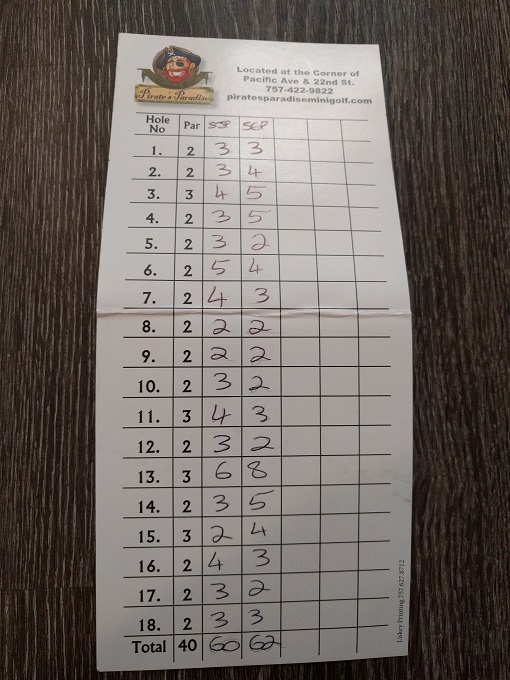 As we were at Pirate's Paradise, I wanted to make her walk the plank. Alas, there was no plank so I had to throw her overboard instead.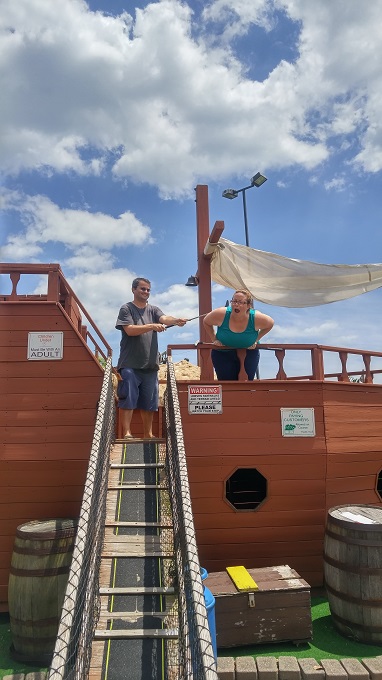 It was a scorching day, so we stopped for a quick drink at nearby LunaSea. The service was fantastic, so we decided to return later that evening for dinner – here's our full review.
Feeling better hydrated but still really hot, we made our way to an indoor mini golf course – Top Gun Mini Golf.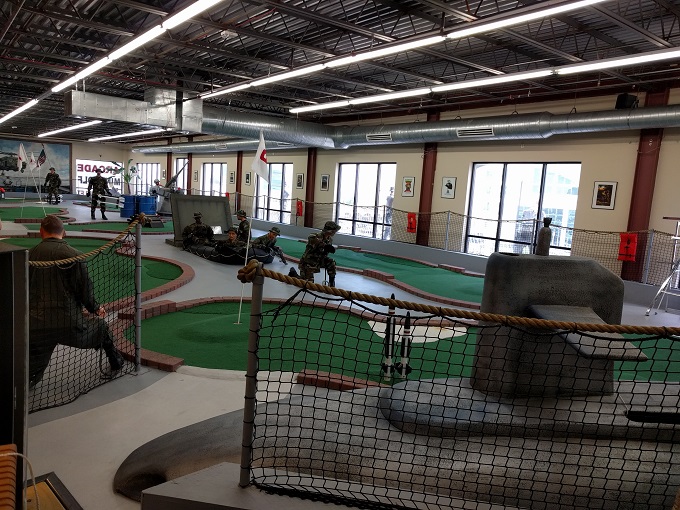 Top Gun Mini Golf
We'd played this course in the past, but it's changed since we were last there. It used to be 18 holes covering the entire upstairs floor, but the course is now only 9 holes. The rest of the floor sells resort stuff like T-shirts, beach towels, salt water taffy, etc.
We didn't have a coupon but the 9 holes only cost $5.99 per person. For some reason they added tax, so the total was $12.70 for the two of us.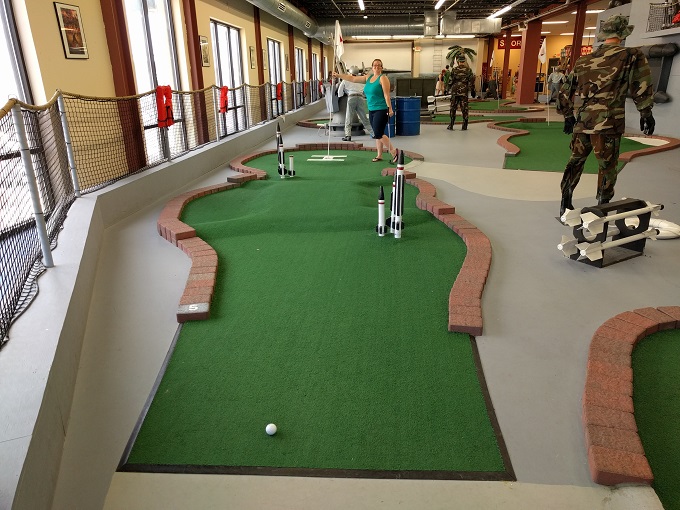 Some of these holes are much harder than normal as the "green" is raised. It's therefore all too easy to hit the ball too hard and have it roll down the other side.
I went out into an early lead and the result was never in doubt from there. It was helped by me somehow getting a hole in one.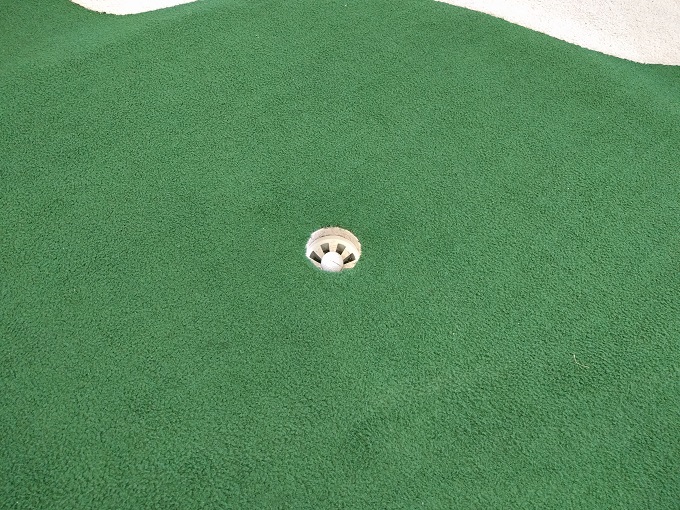 I messed up on the final hole, but still won by a convincing 25-30.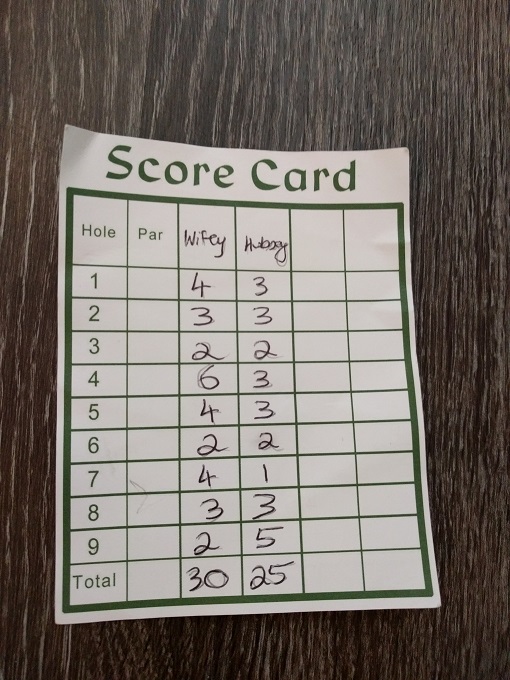 There was no boat to throw Shae off this time, so I had to collar her.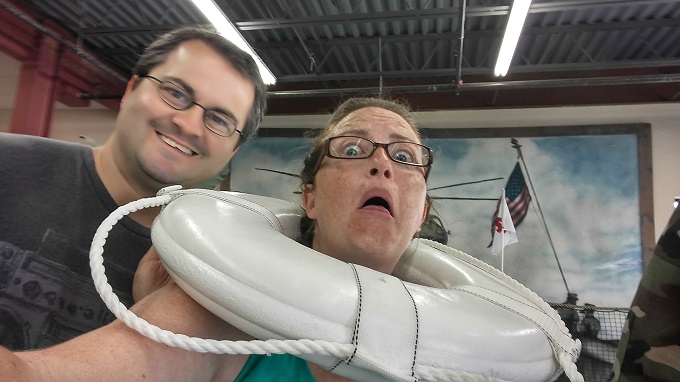 That put our total scores at 85 for me and 92 for Shae with two courses still to come. Who'd win out in the end? We had to wait a few hours to find out as we headed back to the hotel to nap for a while and then take Truffles out for a walk.
We met up with Shae's Dad later that afternoon for dinner at LunaSea and he also joined us for our third round at Jungle Golf.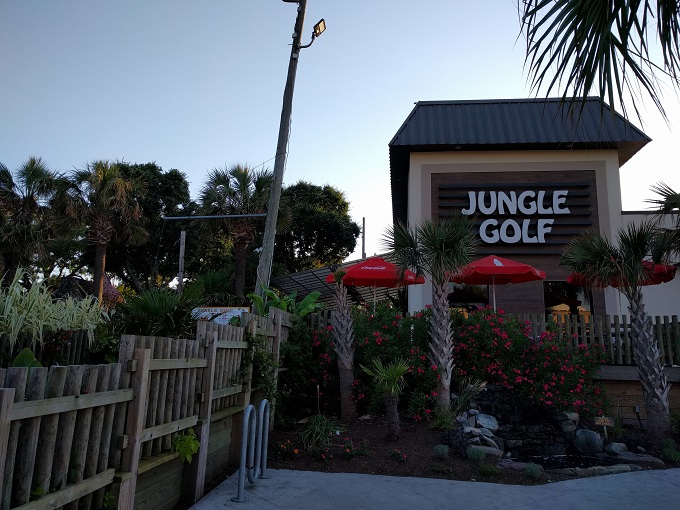 Jungle Golf
This is my favorite Virginia Beach mini golf course. The holes are fun as they have some unique elements, it's decorated well with the jungle theme plus they have coupons in both the Entertainment Book and the coupon books found throughout Virginia Beach.
It's also a great location for kids birthday parties as there's an arcade with video games, beverages, snacks and more.
Tickets were $12 each for adults, so our Buy One Get One Free coupon meant Shae and I only had to pay $12.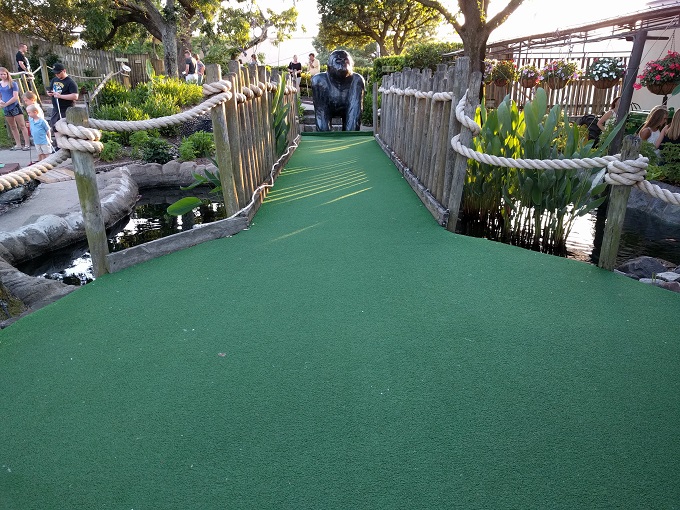 Things started off OK but quickly went downhill when Shae screwed me over at the fourth hole. One of the fun parts (in theory) about Jungle Golf is that a few of the holes have spinners.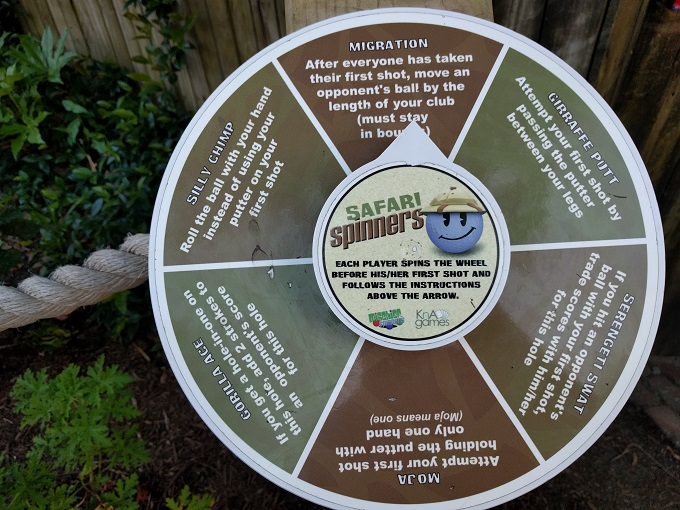 Shae spun the Gorilla Ace which meant she could add two strokes to an opponent if she scored a hole in one on that particular hole. Sadly for me, she aced it and added the two shot penalty to my score 🙁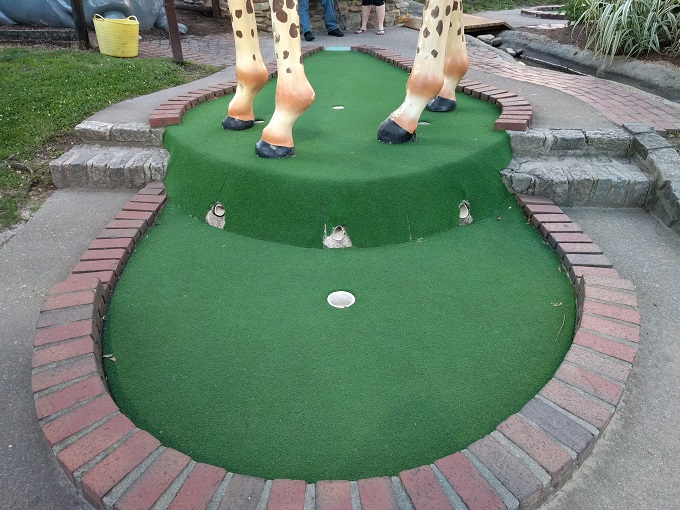 Despite hitting a hole in one myself on the next hole, things didn't really improve for me. Shae and her Dad meanwhile battled each other for the lead, with Shae winning the round.
That could only mean one thing – it was time for Shae to feed me to the animals.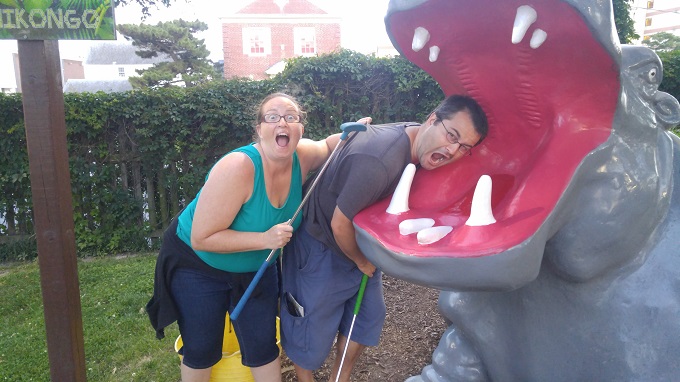 I'd had a seven shot lead from the first two games but gave it all up during this round, so we were tied at 129 each by this point.
That meant our final game would decide the entire tournament – we couldn't have planned it better than that!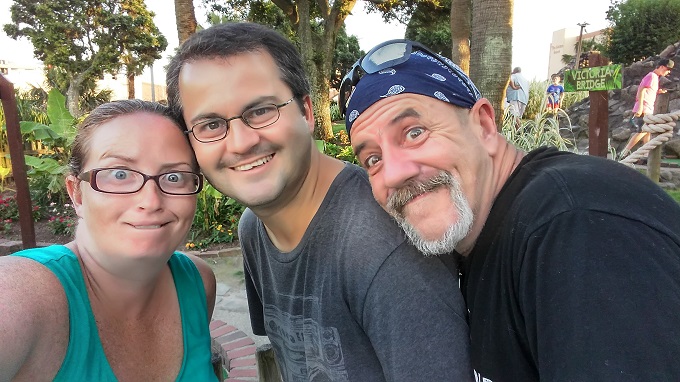 We bade farewell to Shae's Dad and walked over to our deciding course – King Neptune's Indoor Blacklight Mini Golf.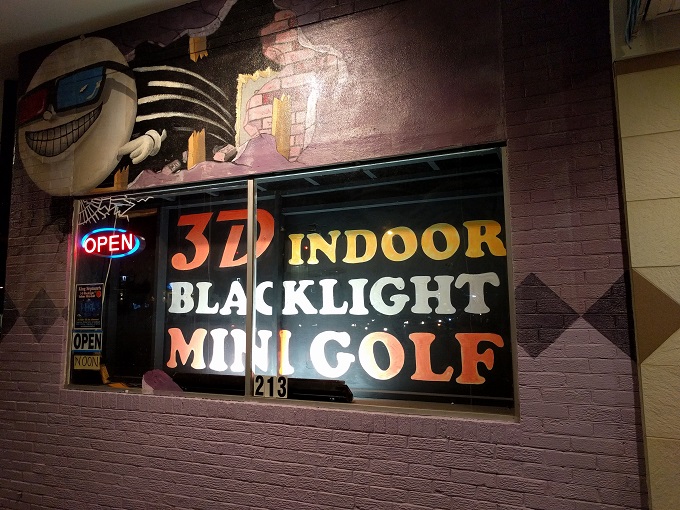 King Neptune's Indoor Blacklight Mini Golf
This is the most trippy of all the Virginia Beach mini golf courses. The walls and obstacles are painted in neon blacklight paint and you're given 3D glasses which do actually have an effect.
The photos below don't really do the course justice – the whole place looks much cooler with the 3D glasses on.
It's a ten hole course, so it's priced a little cheaper than the two outdoor 18 hole courses we'd played that day. Tickets are $7 per person no matter whether you're an adult or child. We had a Buy One Get One Free coupon, so that meant our tickets cost $7.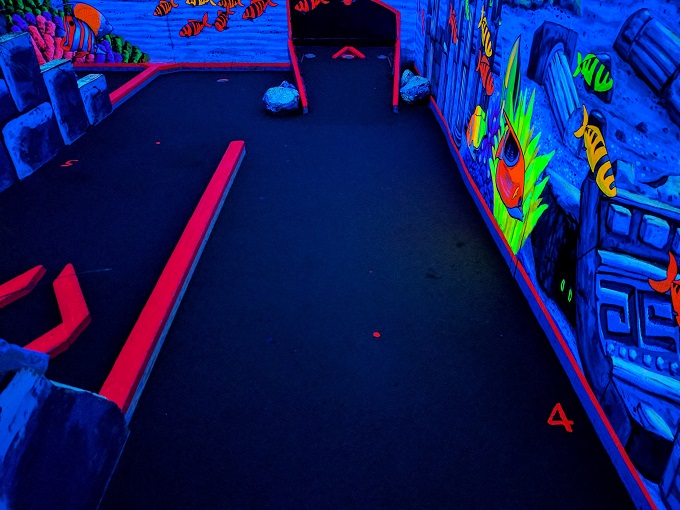 It's a small indoor course, so the holes are all fairly narrow. King Neptune's is also more challenging than the other courses, partly due to the 3D glasses making it harder to see!
Things started off close as we matched each other's scores on the first three holes. I took a two shot lead on the next three holes before doing badly on hole 7, handing Shae a one shot lead.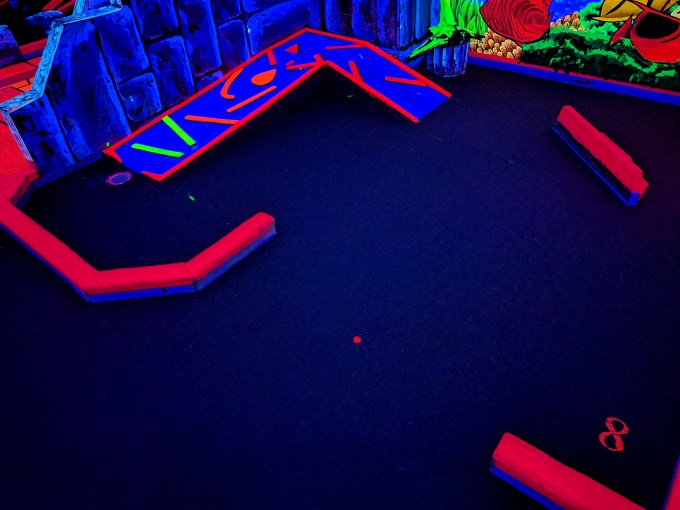 Things didn't get any better on the 8th hole as I gave up another shot, but I put myself in touching distance by winning the 9th hole. This one's harder than it looks as the 3D glasses make it look like there are steps, plus the hole's actually just beyond the lighter blue neon circle – very sneaky!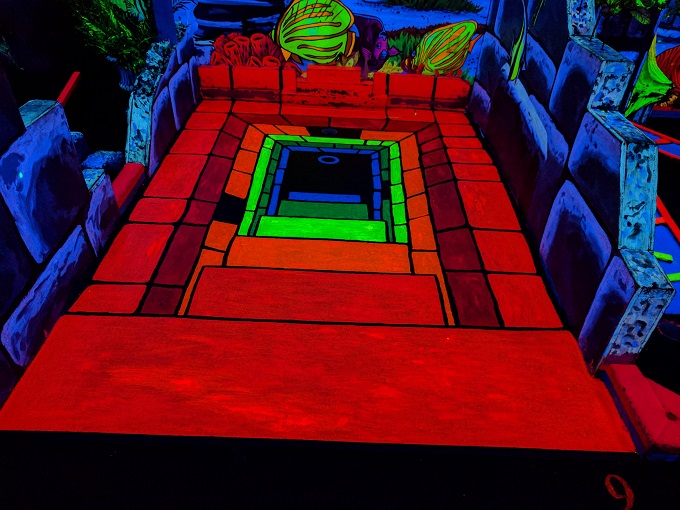 That meant Shae was one shot ahead going in to the final hole. As I won the previous hole, I went first and got extremely lucky by putting the ball in only three shots. The hole is at the top of a short ramp, so it'd be easy to have missed.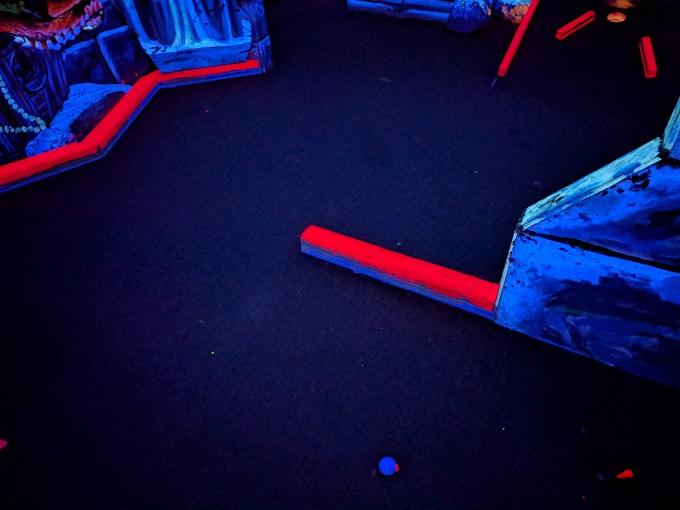 My score meant Shae needed to putt her ball within three to win or four to tie. Would it really come down to a playoff?!
Shae got herself into a putting position on her second shot and missed. She lined herself up for her third shot to win the tournament and…
DISASTER!
Disaster for her that is 😉
She missed.
And missed again. And again. And again. It was like watching the England soccer team during a penalty shootout 😛
It ended up taking her eight shots to finally putt the ball, giving me a four shot lead at the end of both this course and the entire tournament.
Defeating my fierce rival wasn't sufficient though – she had to be fed to the sharks.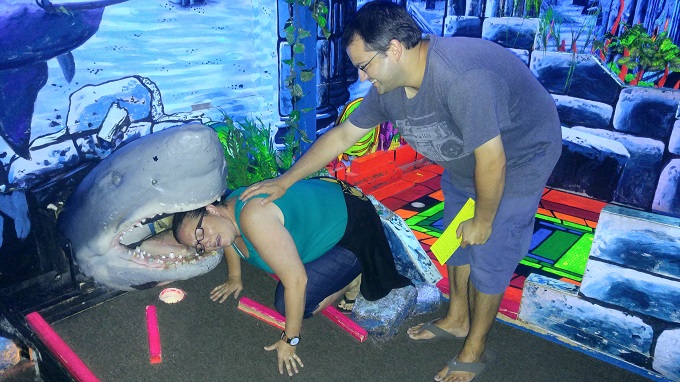 Summary
I was the winner and I'm expecting the PGA to send me a green jacket any day now.
Overall, we had a fantastic time playing this Virginia Beach mini golf tournament. Especially me. Because I was the winner. Did I mention that yet?
It cost us a total of $42.70 which isn't that bad for a day of fun for two people at a resort destination – we'd probably spend more than that going to watch a movie.
We can definitely recommend playing a mini golf tournament if you find yourself out at Virginia Beach oceanfront, especially if you can take advantage of as many coupons as we did.
If you don't have time to play that many courses, here's a list in order of how much we enjoy the courses:
Jungle Golf
King Neptune's (this just edges out Pirate's Paradise because of the 3D effects and because it's inside and so much cooler in the summer)
Pirate's Paradise
Top Gun
Addresses
Pirate's Paradise Mini Golf, 2109 Pacific Ave, Virginia Beach, VA 23451
Top Gun Mini Golf & Arcade, 2500 Atlantic Ave, Virginia Beach, VA 23451 (it's found upstairs)
Jungle Golf, 302 23rd St, Virginia Beach, VA 23451
King Neptune's Mini Golf, 213 25th St, Virginia Beach, VA 23451