After checking in at our Airbnb in New Plymouth, NZ, we started thinking about dinner for later that evening.
Our wonderful hosts had a folder prepared for guests containing information about the apartment and the local area, as well as leaflets for local restaurants and takeaways.
While flicking through the leaflets, one of them caught my eye – Hell Pizza. It wasn't the name so much as the special pizzas they offered.
There were pizzas with venison. Pizzas with seafood. Dessert pizzas. Pizzas covered with all the meats you could imagine and more.
Pizza's not usually high on my list of foods to eat, so the fact that I was so keen on ordering from there should give an idea of how great it looked.
To give you a better idea of what was on offer, here's the menu (apologies for it being a little blurry):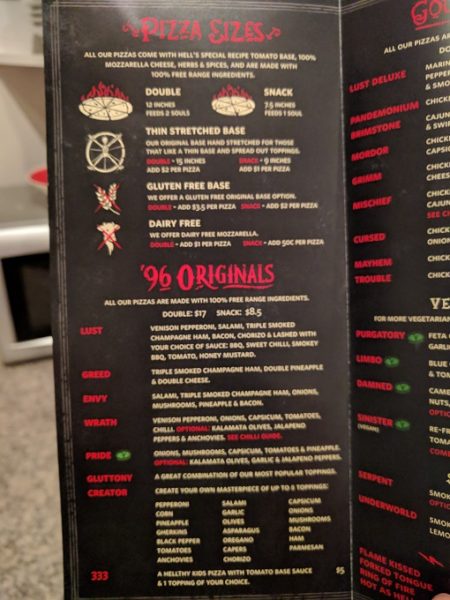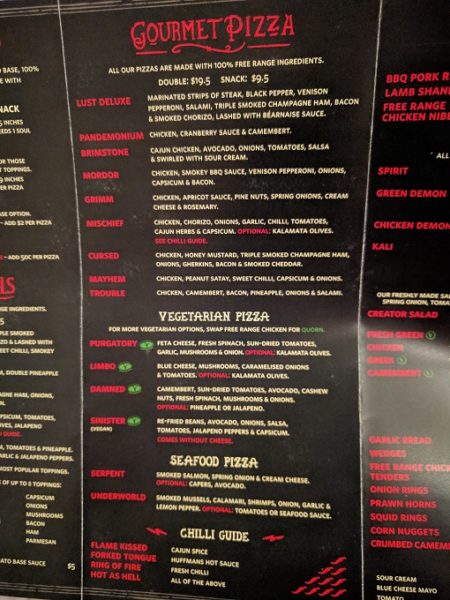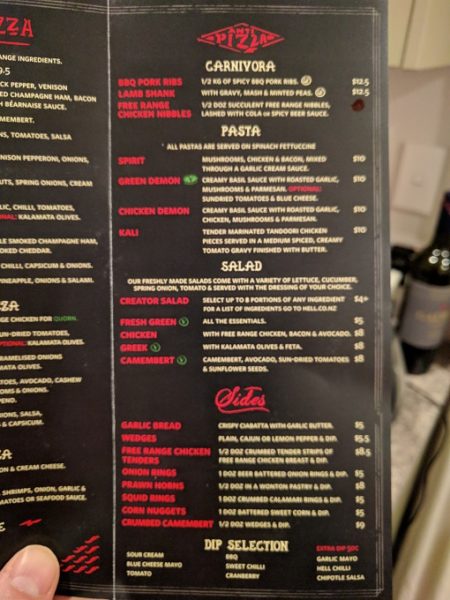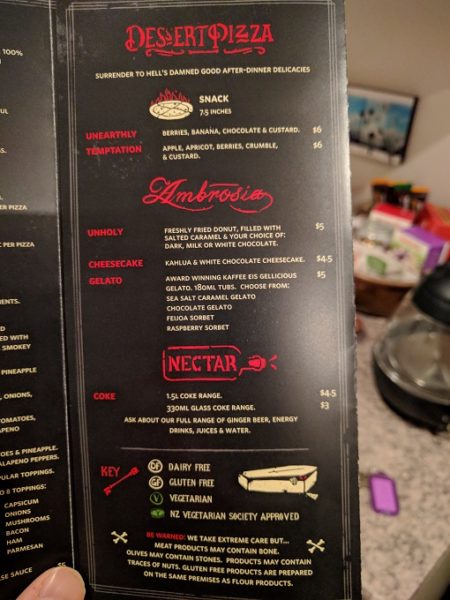 Thankfully all four of us were intrigued enough to want to get food from Hell, so I placed our order online. Service was incredibly quick, as our pizzas were ready for pickup within about 15 minutes.
We each ordered a snack-size pizza which is 7.5″ wide. They cost $8.50-$9.50 NZD (~$5.75-$6.50 USD) which was great value, especially considering the unique topping options.
I ordered the Lust Deluxe. This had steak, black pepper, venison pepperoni, salami, triple smoked champagne ham, bacon and smoked chorizo. It usually comes with Bearnaise sauce, but that was a little too weird even for me. Concerned that Bearnaise sauce might spoil an otherwise delicious-sounding pizza, I subbed it for BBQ cola sauce and asked them to go light on the cheese.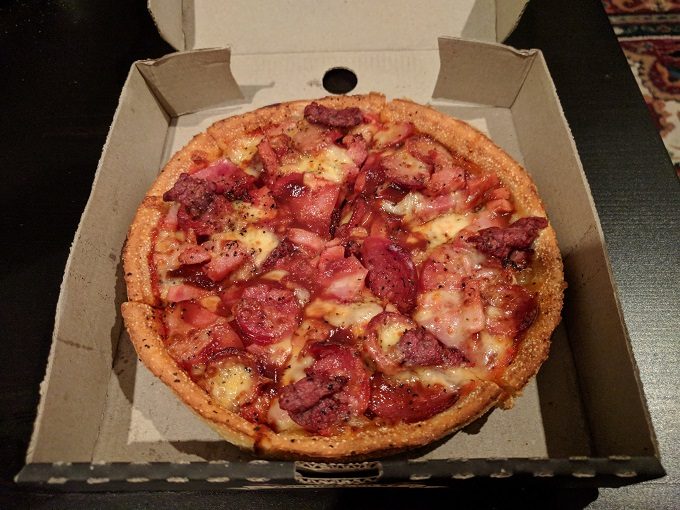 My Lust Deluxe pizza was soooooo good. It was the perfect portion size, the pizza crust was excellent and the flavors all went well together.
Shae ordered a Pandemonium which comes topped with chicken, cranberry sauce and Camembert.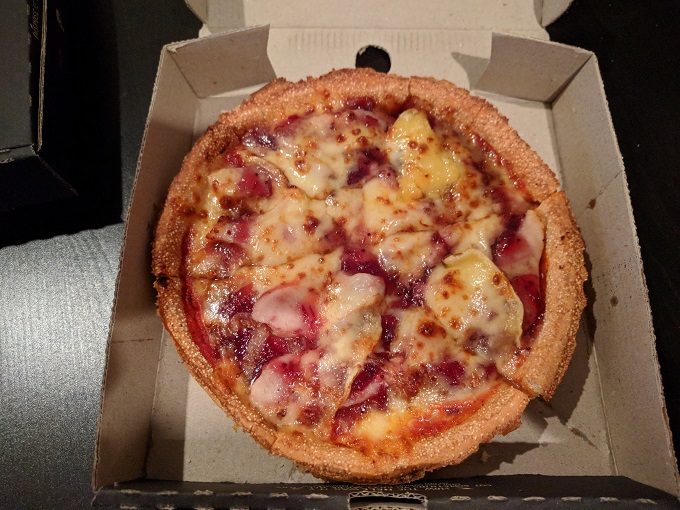 She pushed the boat out a little with this one as she's more of a plain cheese and tomato pizza kinda girl. She did seem to enjoy it though.
Shae's mom ordered an Underworld pizza which was one of the most fascinating options on the menu. That's because it came topped with smoked mussels, calamari, shrimp, onion, garlic and lemon pepper.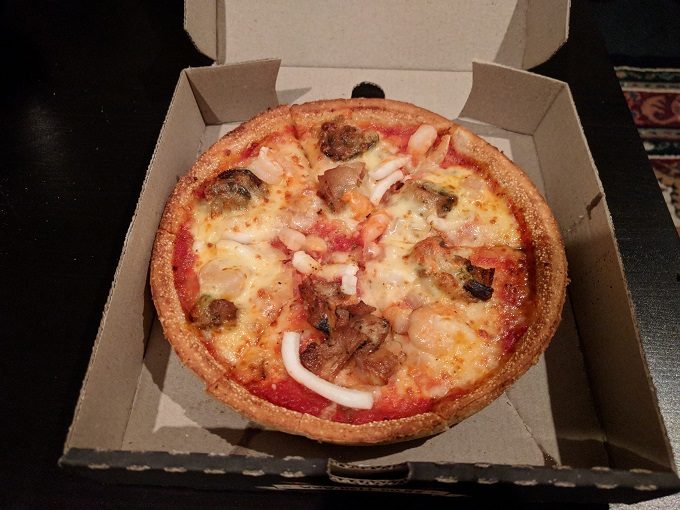 I'm not convinced she'd necessarily order that same pizza again, but she liked it enough to finish it off.
Shae's stepdad Steve ordered a similar pizza to me, except he went for the Lust rather than the Lust Deluxe. The Lust pizza from Hell comes topped with venison pepperoni, salami, triple smoked champagne ham, bacon and chorizo. You also get a choice of several different sauces – he went for tomato.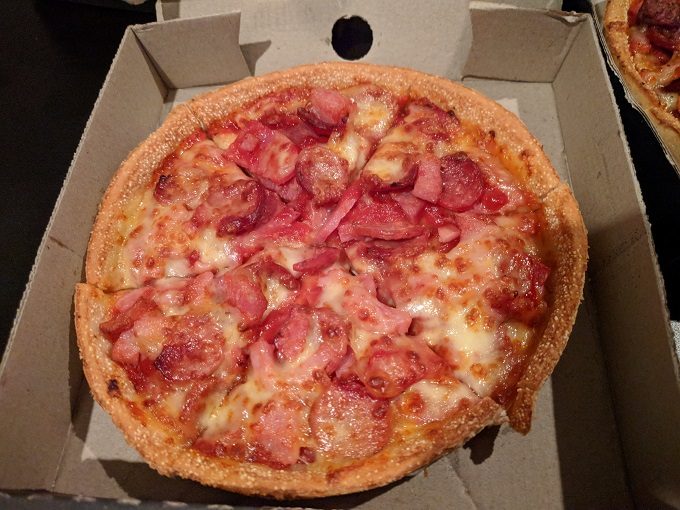 He liked his pizza too and finished it off. Steve also ordered a side of onion rings with a side dip of Hell chili sauce. Apparently the onion rings were great and he adored the chili sauce.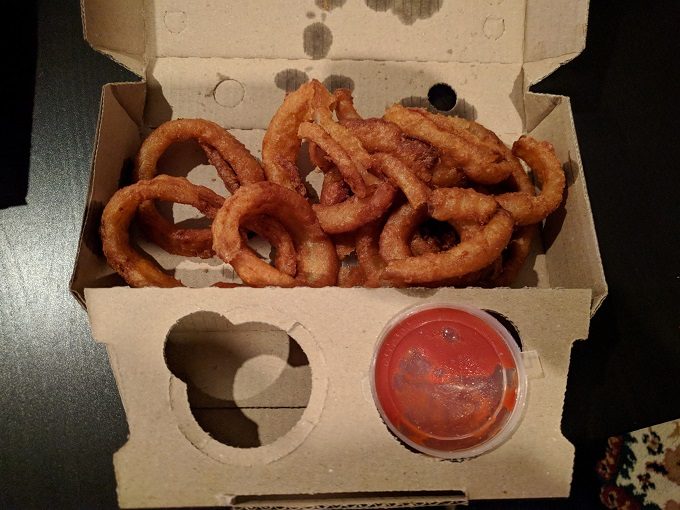 We also ordered a couple of desserts. Shae's mom got the Unholy – a freshly fried donut filled with salted caramel and a choice of chocolate (she went for milk chocolate).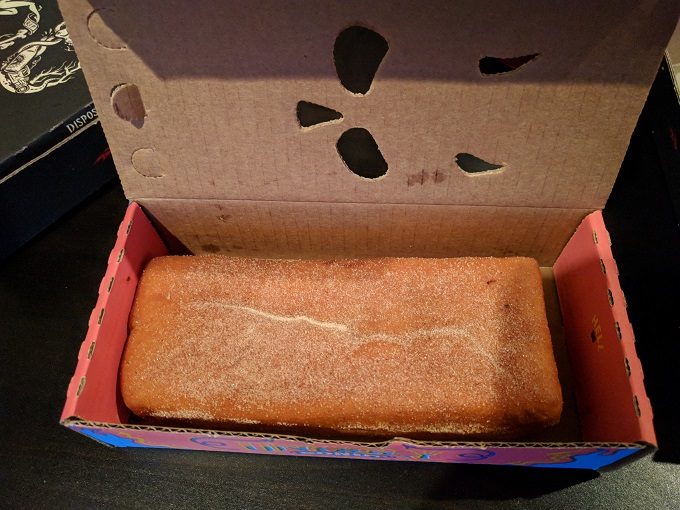 Her verdict on the Unholy: amazing. She polished it all off before I was able to steal any from her.
Shae also ordered the Unearthly dessert pizza. This had a regular pizza base but came topped with berries, banana, chocolate and custard.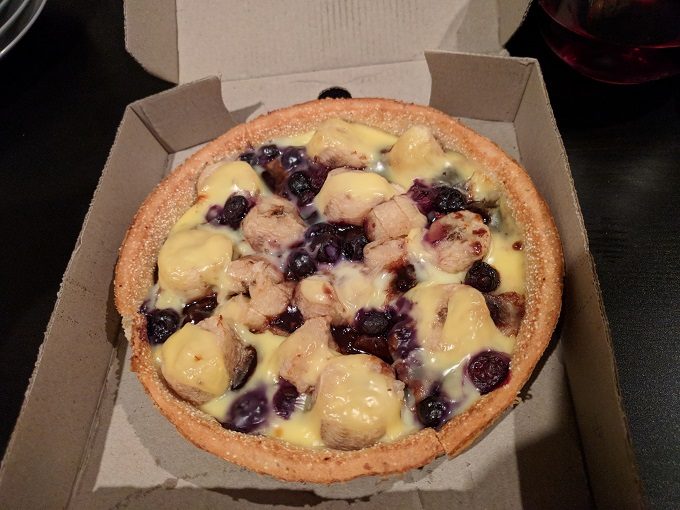 I wasn't sure at first what to make of the dessert pizza, but it was delicious. Chocolate and banana always go well together, but the custard and berries really round it off and was surprisingly tasty on a pizza base.
Shae and I could each only manage a slice of the Unearthly as we were both full from our "regular" pizza. I therefore stuck the other two slices in the fridge and had them for breakfast the following morning (it's good cold too).
Final Thoughts
Hell have more than 15 stores in New Zealand, so you should definitely check them out if you go for a visit (or if you're lucky enough to live in NZ). It's a fun and unique pizza experience, the pizzas are delicious and they're made extremely quickly.
They're also great value – our bill came to $53 NZD (~$36 USD) which was excellent considering we got four individual-sized pizzas, onion rings and two desserts. Eating out in New Zealand seemed to be more expensive than eating out in the US, so getting all this food for $9 USD per person was fantastic.
Follow Our Entire Trip Down Under
Be sure to also check out all our other posts from our trip to New Zealand and Australia:
You Should Go To Hell For Great Pizza